IZOLYATSIA Foundation continues its activities remotely!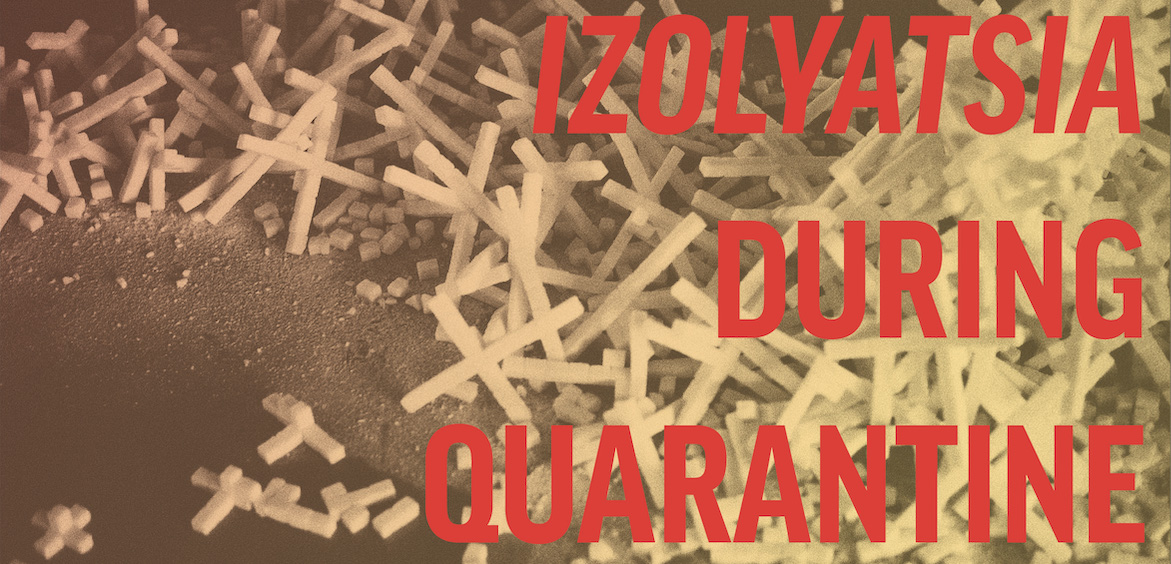 Adhering to quarantine and self-isolation guidance, the Foundation's team is with you and is looking for new ways to deal with this crisis, reformatting usual practices and methods of operating, overcoming social isolation and continuing productive work.
We would like to thank our partners, donors and artists for their prompt communication and cooperation, and we would like to announce that:
The Coming Out of Isolation 2.0 program is ongoing, and the artists (unless it violates quarantine conditions) are continuing their work. The launch date for the video-almanac presentation will be announced. You can find out more about the project by reviewing the latest press releases.
Art Wednesday, which over the past few years has provided an open platform for presentations to artists and creative representatives, will soon introduce a new and innovative format for curated meetings.
The Foundation's residency program is temporarily suspended and residency dates will be determined individually with each artist according to quarantine rules.
The exhibition of French residents Juliette DeGuet and Matilda Fage which was planned for the spring has been rescheduled and will be held at the end of June 2020.
Recent activities related to the DEVELOPMENT project: Living Heritage / Reconfiguring Memory will take place online. Details will be announced later.
The American Arts Incubator — Ukraine 2020 project has been reformatted to take place online and launch in late April.
Preparation for the 2020 Donbas Studies summer school continues. Changes to the schedule will be announced when possible.
Deadline for applications to the Gurtobus Open Call for local partners has been extended until April 1st. Changes to the schedule will be announced soon.
The Grounding topic, which was announced as a key conceptual framework by the Foundation in early 2020, has become even more relevant now, as a virus outbreak is a fundamental expression of this era of human activity in geological time. The quarantine situation prompts us to rethink our attitude to the many systems that define our life in the anthropocene era, namely the political and economic structure of society, the format of interactions between people, communities, non-human entities, and ultimately the planet.
Accordingly, starting next week we will begin to share our experiences and findings in the form of links to texts, videos and podcasts. At the same time, the Foundation's team continues to work on additional more complex digital and analog formats to express the theme.
Let's join together, even if we need to temporarily maintain (physical) distance!
We also recommend that the precautionary measures identified by the Ukrainian Ministry of Health are followed:
do not leave home unless urgently necessary;
wear medical masks in public spaces;
routinely clean working surfaces with antiseptic products;
keep public contact to a minimum;
wash hands frequently.
Most importantly, take care of yourself and your loved ones!
Follow the activity of the Foundation: facebook, twitter, instagram.

Photo: Sugar Democracy, 2016, Brendan Jamison and Mark Revels.
Published:
25 March 2020, 15:17