IZOLYATSIA at Hybrid Madrid Art Fair 2019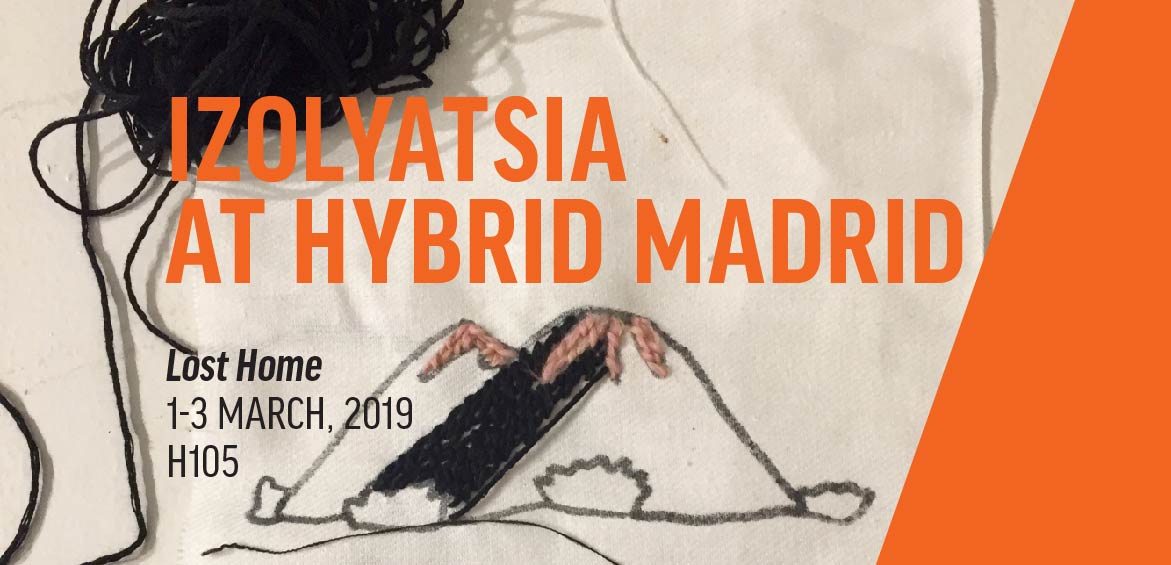 March 1-3, 2019, IZOLYATSIA was an exhibitor at at the international art fair in Madrid. Hybrid Contemporary Art Fair is an annual fair showcasing independent art spaces from around the world, promoting emerging artists on a global scale. This year, the art fair's central concept was Displaced, and IZOLYATSIA presented Lost Home.
IZOLYATSIA presented the artists and projects, including Alevtina Kakhidze, Piotr Armianovski, Maria Kulikovska, Lia Dostlieva, the IDP Adventure board game, pop-up exhibition Vostok-Dom/East-Home.
Lost Home was a site-specific installation rethinking spatial and conceptual dimensions of home. Specifically, this installation considered displaced individuals' vision of home. Due to the war in Eastern Ukraine, approximately 1.7 million people had to leave their homes in search of somewhere else to live. The artists and the projects in Lost Home were inevitably affected by or related to the conflict in the Donbas region of Ukraine. The multimedia interactive exposition Lost Home tries to reconstruct the shifting perception of home experienced by those who were displaced by the war.
At the same time, the issue of displacement has directly affected IZOLYATSIA, which had to relocate to Kyiv in 2014 after its complex was seized by mercenaries of the self- proclaimed "Donetsk People's Republic" to facilitate "humanitarian aid" arriving from Russia. Thus, to this day, IZOLYATSIA remains focused on the Donbas, and every year on June 9 it marks yet another year in exile with a series of events focused on the region. This is in addition to realizing versatile projects within the framework of Donbas Studies, an interdisciplinary research project aiming to consolidate an expert community around the issues of the Donbas region.
---
The Lost Home site-specific installation
Hybrid Contemporary Art Fair
March 1-3, 2019
Petit Palace Santa Bárbara Hotel
Plaza Santa Bárbara, 10 (Madrid, Spain)
---
Featured artists:
Piotr Armianovski
Lia Dostleva
Alevtina Kakhidze
Maria Kulikovskaya
Featured projects:
IDP Adventure board game (Stabilization Support Services: Olga Hordienko, Olga Ivanova, Dermot Hamilton)
Donbas Studies (Dmytro Chepurnyi)
Vostok-Dom/East-Home (Vostok-SOS in partnership with the Donbas Odyssey project: Yulia Kyshenko, Darya Tsymbalyuk, Yulia Filip'eva, Viktor Zasypkin)
The IZOLYATSIA's participation in the art fair was supported by the Ukrainian Institute.

Published:
7 March 2019, 17:32