Modern Provençal cuisine — meeting with a Michelin-star Chef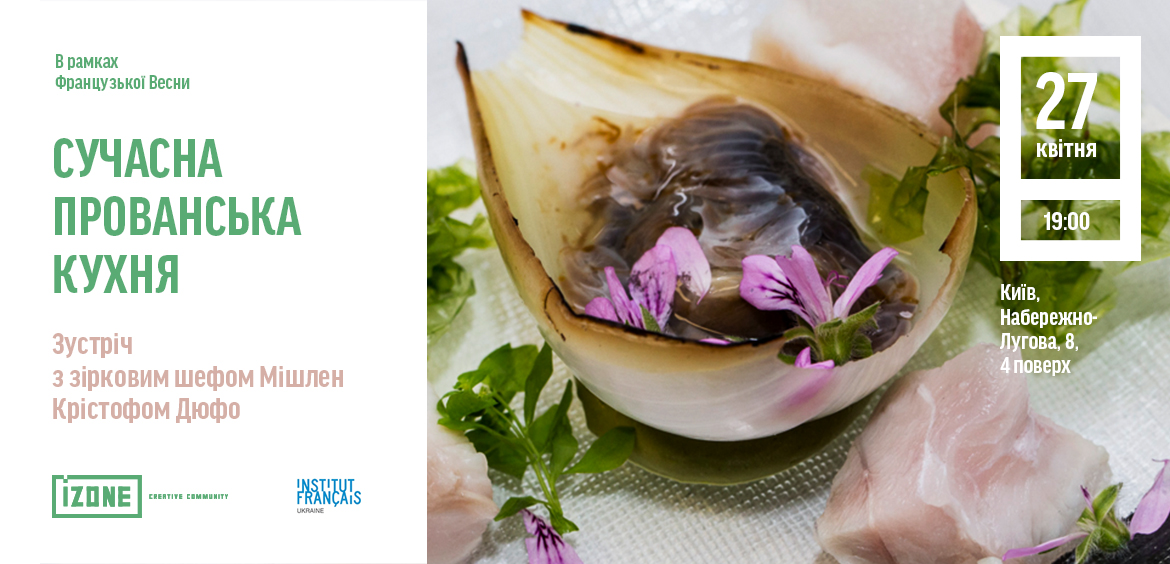 On April 27, at 7pm, Christophe Dufau, a Michelin-star chef, will talk about the Modern Provençal cuisine at IZONE. On April 29, he invites top-10 Ukrainian chefs to take part in his masterclass on gastronomy.
Events are held as part of the French Spring and with the support of the French Institute in Ukraine.
Christophe Dufau is the chef of Les Bacchanales (www.lesbacchanales.com), restaurant in Vence, France.
Alongside the official status of the restaurant owner and chef, Christophe travels a lot around the world, most notably to Malaysia, Italy, New York, and especially to Denmark. His kitchen windows look out on a large garden and the restaurant resembles a gallery, as the artists are the biggest fans of Dufau's culinary talents. His dishes are either prototypes of artworks or unique works of culinary art. The restaurant's menu changes every week. An advocate of the local agriculture and fisheries, Christophe finds his inspiration in the freshest seasonal products, which grow within a radius of 250 km around the restaurant, on the territory covering Provence, Corsica, and Piedmont. Dufau uses the little-known herbs and greens he finds during his walks around the neighbouring hills and along the seacoast.
Address: Kyiv, Naberezhno-Luhova 8, Second Floor.
The admission to the talk on April 27 is free, participation in the masterclass requires a fee of 150 Euro. For further information on the masterclass, please contact Iryna Hluboka ([email protected]).
Published:
8 April 2016, 13:55
Media partners