IZOLYATSIA (Kyiv, Ukraine) seeks Public Relations Director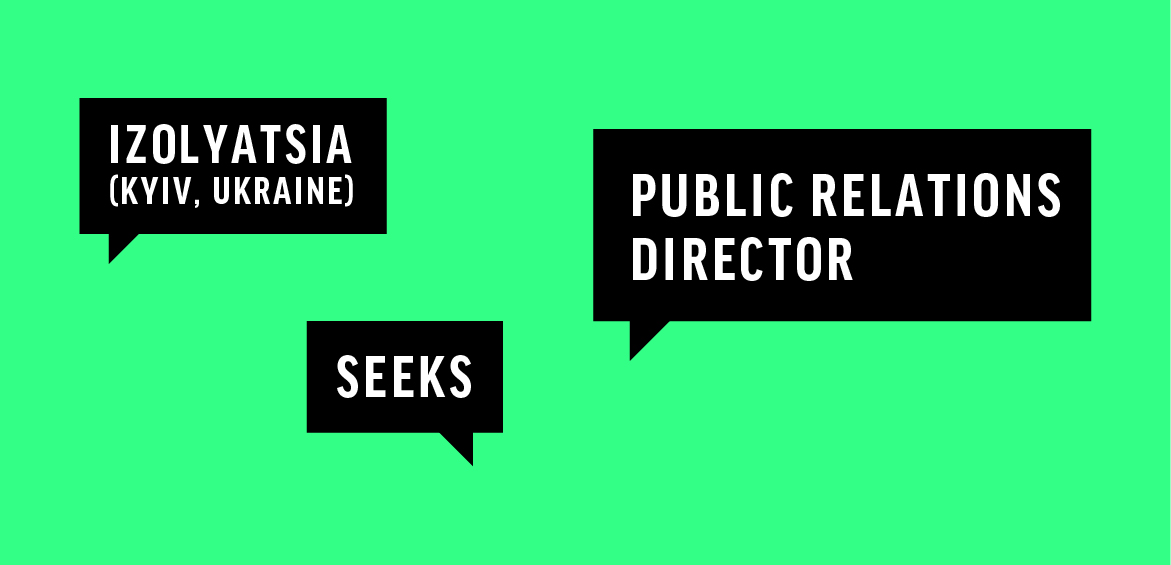 Founded in Donetsk during 2010 and relocated to Kyiv in 2014, IZOLYATSIA. Platform for Cultural Initiatives is one of Ukraine's leading cultural institutions working in the fields of contemporary art, education, research, and the creative industries. With over forty large-scale projects carried out in the past six years, IZOLYATSIA is an expanding multidisciplinary organisation acting nationally and internationally.
The previous two years have seen the foundation grow its international outreach and its presence in Ukraine's capital. Given the nature and scope of future proposals, IZOLYATSIA is currently looking for a Public Relations Director to take over the institution's communications.

Description of Responsibilities:
As PR Director, you will be expected to develop and implement the communication and marketing strategies of the foundation to improve the awareness of IZOLYATSIA with partners, media and the public. The successful applicant is expected to action but will not be limited to the following:
Maintain cooperation with existing and potential donors and authorities at all levels

Organise, moderate and participate in public events such as discussions, press conferences and interviews; acting as a spokesperson for the foundation

Maintain and develop a media database, including the research of new media partners

Promote the organisation's activities in Ukraine and abroad, via media outlets

Attend events and meetings to bring awareness to the public about the foundation and its activities

Report on PR activities through reports and analyses, culminating in recommendations for programming based on a thorough understanding of media context — locally (East Ukraine), nationally (Kyiv) and globally (the main international events)
Competences:
Ability to persuade others to follow

Ability to establish contacts with authorities and potential donors

Ability to improve performance

Ability to get things done

Ability to work effectively to deadlines
Requirements:
Knowledge of IZOLYATSIA's activities with substantial motivation to operate in Ukraine and be ready to travel within the country, including the frontline territories, and abroad

Five years of relevant, proven and fruitful experience in communications, preferably in culture, politics, economics, marketing, or human rights

Portfolio of at least five accomplished projects

Well developed database of media and opinion makers in such realms as politics, culture, social, economic, and humanitarian spheres in Ukraine and globally

Excellent project management skills

Fluency in spoken and written English and Russian. Spoken and written Ukrainian is desirable
Please send your CV along with your portfolio and statement of motivation, in English, to the following email: [email protected] with the subject "Public Relations Director".
The criteria set out above will inform the selection process. Izolyatsia will contact all successful applicants for an interview and placement tests. Telephone enquiries will not be accepted.
Published:
4 December 2016, 22:45
Media partners