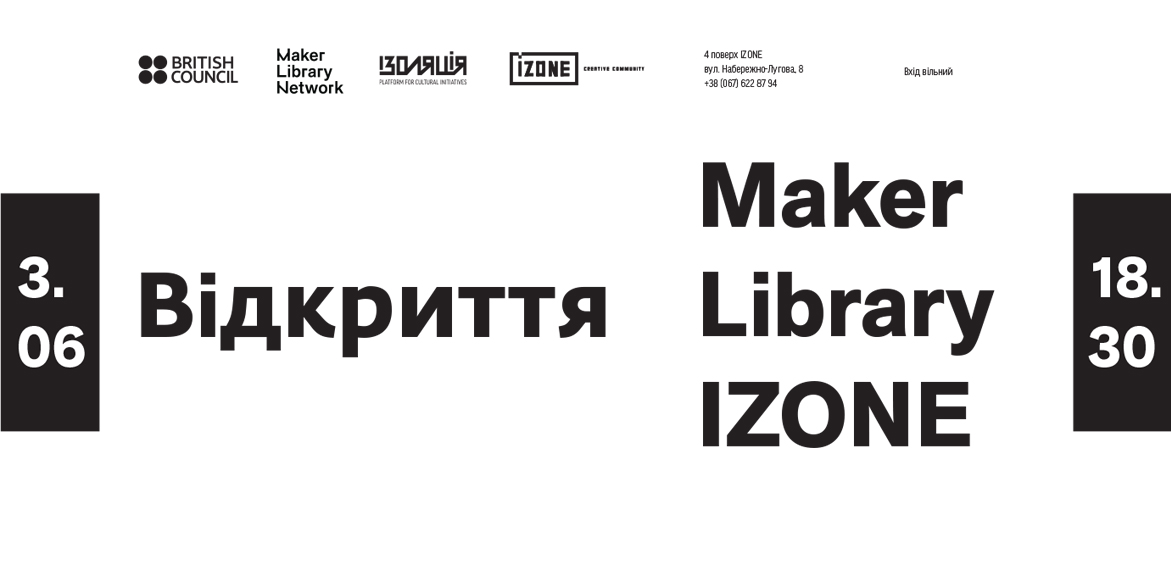 On Friday, June 3, 2016, at 6:30 PM, the Maker Library will open on the fourth floor of the IZONE Creative Community. The event will feature presentations by Adam Blencowe and Ella Reynolds from the Maker Library Network.
The Maker Library Network is a British Council project that connects designers and makers around the world. It facilitates knowledge and skills exchange amongst professionals and encourages public engagement with making. A Maker Library combines three elements of a makerspace, a library and a gallery. These spaces are connected online and through a programme of travel exchanges, exhibitions and events. The Maker Library Network engages with different forms of making, from traditional craft processes to digital technology and everything in between. Maker Libraries exist in the UK, South Africa, Turkey, Mexico, Nigeria and Ukraine, and there is a growing portfolio of interventions and pop-ups around the globe.
For IZONE, the Maker Library, which comprises a series of events running until November 2016, is a unique opportunity to broaden the field of activities of IZOLAB, the local Fab Lab, as well as to connect makers around Kyiv, giving them access to specialised books, knowledge and skills that are still hardly found in Ukraine. We hope that the Maker Library will become a useful platform for designers, architects, artists, craftspeople and curators to share their ideas, their practice, their process and their products around the world.
In the course of the evening, two presentations will be given. Designer Adam Blencowe will talk about his work, practice and experience of taking part in the Maker Library Network's Maker in Residence programme at the Machines Room makerspace (London, UK); while Ella Reynolds, Programme Manager, will speak about the key projects, activities and collaborations that have emerged from the Maker Library Network. The presentations will be followed by Q&A and a cocktail party.
Find out more about the Maker Library Network here
www.design.britishcouncil.org/projects/makerlibraries/

About Adam Blencowe:
Adam Blencowe graduated from the Design Products course at the Royal College of Art in 2015. He now works from his studio in Bow, East London. His approach to design combines existing materials and systems in new ways to produce unexpected results. In his work he examines traditional techniques and processes in forensic detail, exploring specific characteristics which enable him to reinterpret them in a contemporary way.
Adam has exhibited his work widely, and developed and facilitated many workshops including for the Crafts Council and SAM Labs.
www.cargocollective.com/adamguyblencowe

About SAM Labs:
SAM Labs creates wireless electronic kits that allow users to build their own smart inventions using hardware, software and apps through the Internet of Things. We aim to give everyone the powers of engineering and programming, whilst simultaneously improving motor skills and cognitive development through play.

About IZONE:
IZONE is a creative hub and maker lab with open workshops, studios, gallery and café space which brings together the local community. The Lab is the project arm of IZOLYATSIA, Platform for Cultural Initiatives founded in Donetsk and relocated to Kyiv in 2014 due to the conflict in the east. IZONE and the British Council will be running a programme of workshops and events as part of Maker Library Network throughout 2016-17, with a focus on technology and crafts.
Visit their website to find out more and subscribe to their newsletter.
Published:
2 June 2016, 12:54
Media partners