Coming Out of Isolation residency: Open call for Ukrainian artists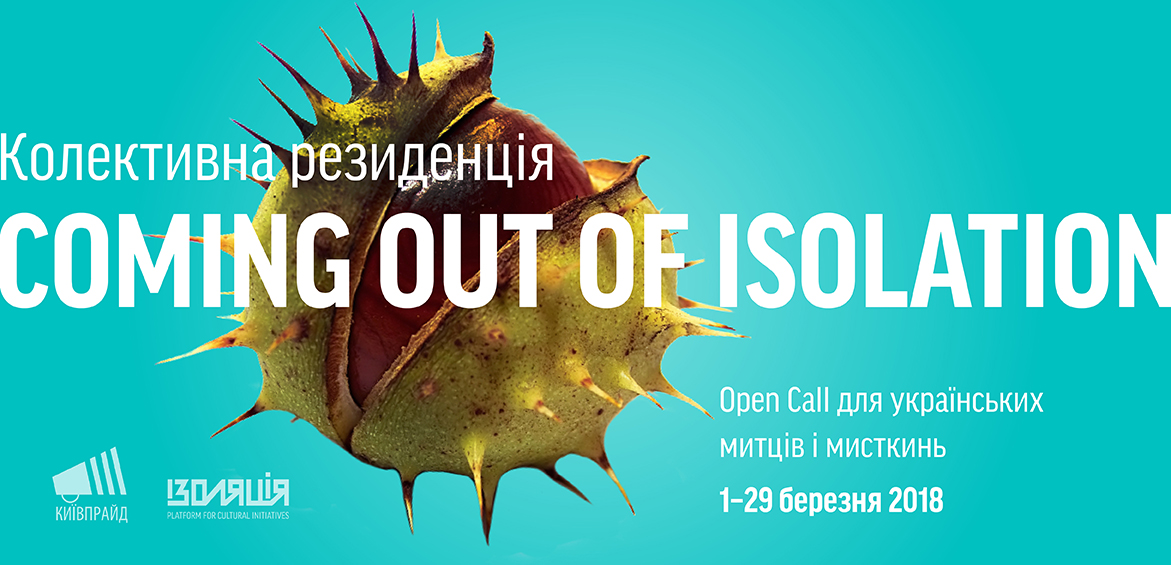 IZOLYATSIA and KyivPride announce an open call for Ukrainian artists to participate in a collective residency to be held on March 1-29, 2018 at the IZONE Creative Community (Kyiv) and will be part of a joint project Coming Out of Isolation: Through Art to Visibility. The artist-in-residence programme is meant to result in a production of a site-specific installation at IZONE, an artwork in Pride House, and a media campaign in Kyiv and other regions of Ukraine. The deadline for applications is February 12, 2018.
The open call is for Ukrainian artists based in Kyiv or other cities working or willing to work with topics of sexual orientation and gender identity, visibility and non-discrimination of LGBT+ in Ukraine. Members of the Ukrainian LGBT+ community are encouraged to apply.
The residency will feature a series of lectures, mentor supervision and production of final works throughout 2018. The selected participants will also be granted:
full covering of the travel expenses (for non-Kyiv residents)
free accommodation in Kyiv for the residency period (for non-Kyiv residents)
€400 artist fee
production support for the final works
Aspiring for a more inclusive and fair society free from any form of discrimination, KyivPride and IZOLYATSIA joined efforts, resources and experience in the project Coming Out of Isolation: Through Art to Visibility that received funding from the EVZ foundation (Germany) as part of the SOGIdarity campaign. The aim of the project is through art, to shed light on discrimination based on sexual orientation and gender identity in Ukrainian society as well as start a public discussion and influence public opinion on this matter.
To apply, please fill in the online application form and send your artist portfolio to [email protected] with a title "Residency: Coming Out Of Isolation" until February 12, 2018. The selected residency participants will be notified no later than February 16, 2018.
Published:
24 January 2018, 16:47