Art Wednesday: Nastya Loiko Time Reel / Fragment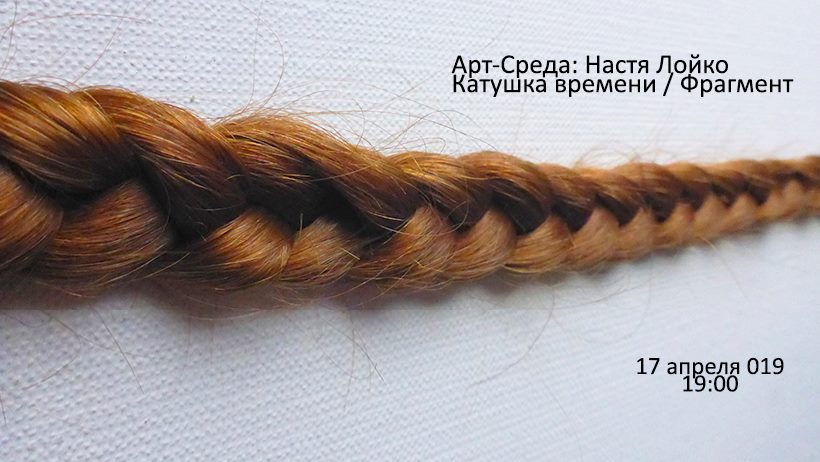 On April 17 as a part of Art-Wednesday project artist Nastya Loiko will present her project Time Reel / Fragment.

Nastya explains the concept of her exhibition in the following way:
"Time on the reel — that is how people call the installation time of a video. Rewinding, repeating, pausing, slowing down, reducing and hiding the context in the video gave us the idea that we can control the flow of time, perhaps even change and record it.
The information carrier, the time reel, is the body — my hair. These reels recorded meditative experience of art, daily body care, the experience of forced relocation from Crimea, social rituals — "time of life", as a feeling in which the past and the future are immersed in the lasting present."
Except of the exhibition, Nastya will hold an Artist Talk, during which she will tell more about pixel-art and her projects.

#pixel_art #Gregory_Bergson

Nastya Loiko was born in Zaporizhia, graduated Lugansk art school and National University of Zaporizhzhia. Since 2006 she is a member of the Artzebs art group and since 2008 she has participated in the Biruchiy сontemporary art project. Nastya works with video animation, VJ, videomapping, installation, refers to the style of pixel-art. Her artworks were exhibited in Mystetskyi Arsenal in Kyiv, Odessa Biennale of Contemporary Art and Kharkiv Municipal Gallery. Nastya has participated in many solo and group exhibitions, including Plastic Ocean, Occupied with Art and others.
---
Starts at 7:00 PM.
Address: IZONE, Naberezhno-Luhova 8, 4th floor (Kyiv, Ukraine).
Entry is free.
---
Art-Wednesday is a project of The Foundation IZOLYATSIA, which seeks to create for the creative people the most relaxed atmosphere of communication. The format of the event is determined by the participants themselves: it may be a presentation, an exhibition, a film show, a performance, a lecture and / or a discussion. Art Wednesday is created in order to provide space for creative people to present various artistic practices, as well as provide an opportunity to share information about current research, ideas and events.
Published:
16 April 2019, 13:10