IZOLYATSIA is seeking a Project Manager of the Gurtobus!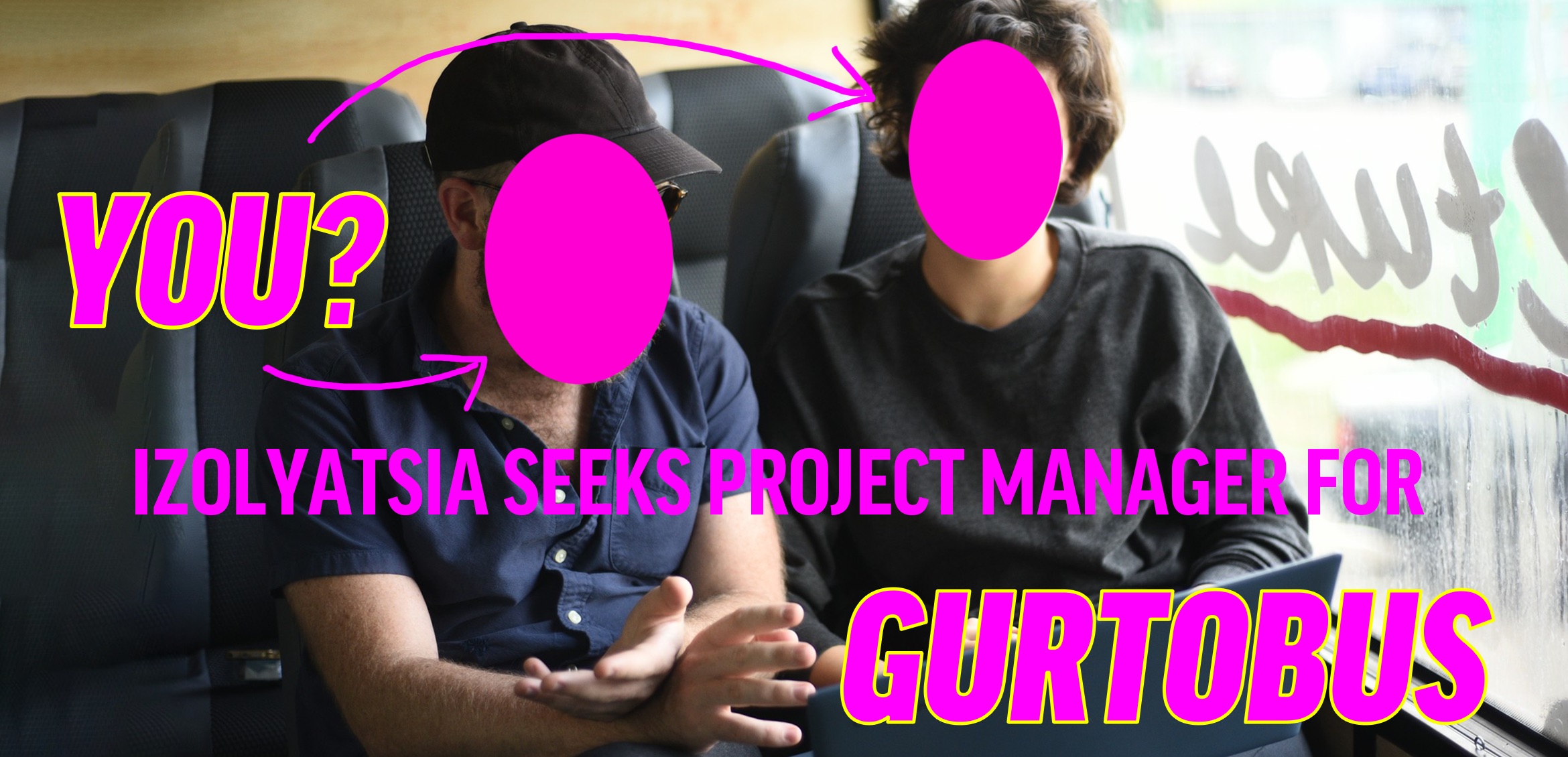 IZOLYATSIA is seeking a Project Manager who will be responsible for the development and coordination of the Gurtobus (Community Culture Bus) project.
The project supports the decentralization of the cultural sector and encourages its development in small towns and villages in Ukraine.
The main task of the manager(s) is to coordinate, implement and develop Gurtobus's activities.
This includes:
Traveling by bus to small cities of Ukraine during the project (May-October 2020)

planning and implementing project logistics including mapping routes, arranging maintenance, staffing events, arranging accommodation for the team, etc.;

creating and maintaining accurate and efficient budgets for activities;

Coordinating with the driver and technical personnel to ensure the smooth running of the bus and related equipment, including direct communication with contractors;

Researching and communicating with artists and other members of creative team, developing the programming for the events;

Acting as event manager on location, including creating activity schedules, supervising set-up and break-down, team management, coordinating volunteers, communication with local partners and co-organizers, troubleshooting technical issues on site.

Producing written documentation and follow-up reports for all activities

Supervising related activities such as project promotion, publications, and maintaining partner relationships
---
Preference will be given to candidates who are:
ready and excited to travel to cities all over Ukraine;

energetic and proactive;

experienced managing a team of up to 10 people

responsive, responsible, and able to solve problems on their own;

experienced in cultural and arts and / or decentralization projects;

experienced as a manager of traveling or touring creative projects including bands, performance, theater;

familiar with the context and specifics of working in the regions;

possess strong language and writing skills, including English (Intermediate Level).
---
Please send your CV and briefly describe your motivation in the accompanying email to [email protected] with the subject "Проектний менеджер Гуртобуса".
Published:
9 April 2020, 20:08