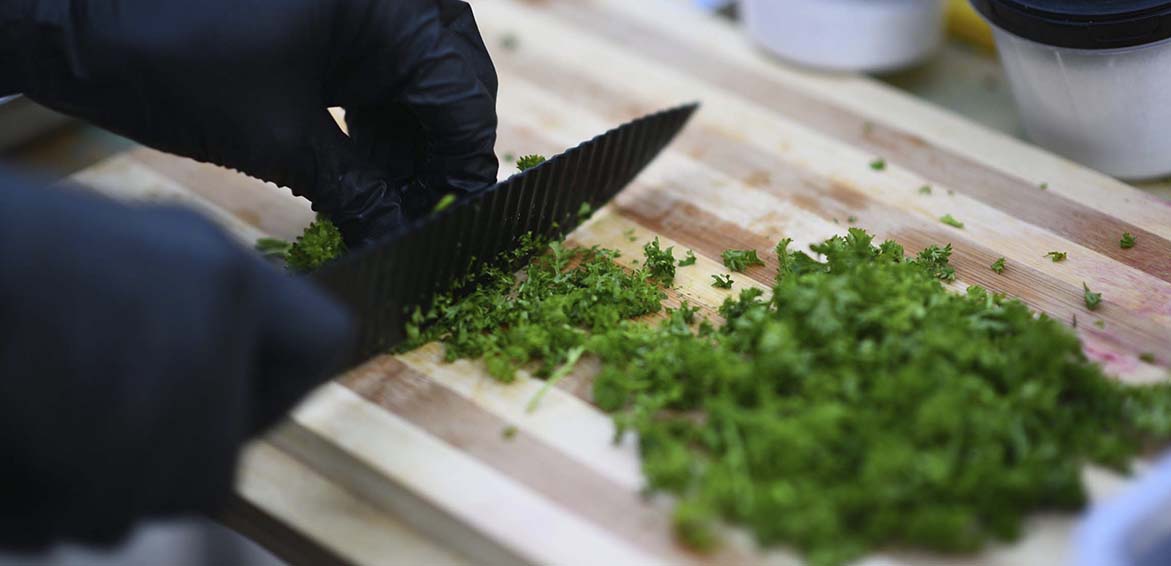 Last summer and fall the team of the Mobile Cultural Center Gurtobus, together with renowned local chefs, cooked and sampled borscht made from local recipes in twelve towns and villages around Ukraine. The Gurtobus team invited participants to have a meal and fill in questionnaires about local recipes and the culture of borscht. The Gourtobus Field Kitchen created a casual atmosphere, turning the project's temporary public space into something more than a place for standard workshops, film screenings and lectures.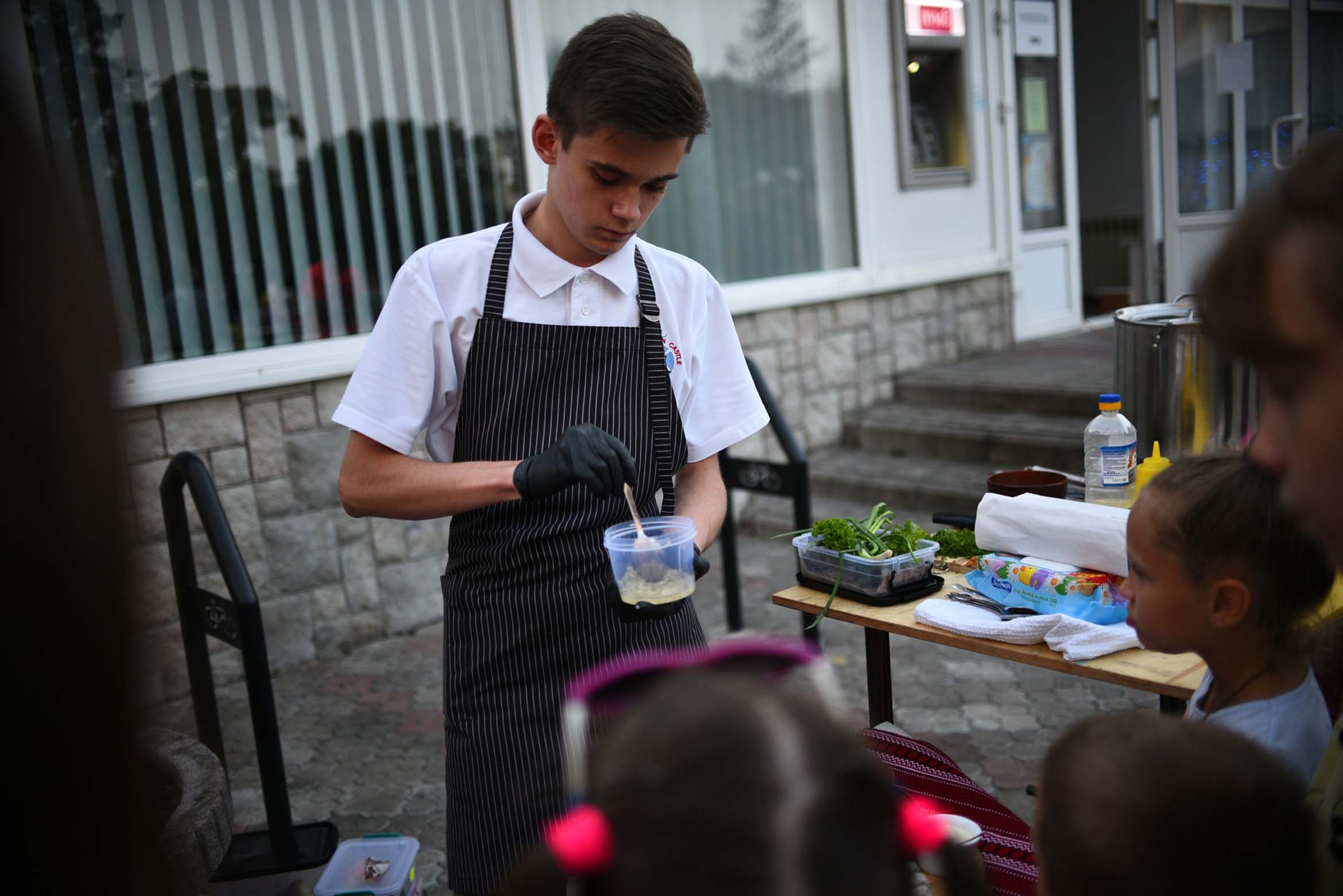 As part of the Gurtobus' interactive gastronomic study project, we are sharing a series of weekly borscht recipes from all over Ukraine. The full results of the project will be published in our forthcoming anthropological report and interactive map, and you can help by providing data for the next study cycle with our online borscht survey!
In the meantime, we invite you to take part in our #BorschInAction online challenge. Each week, we feature a new recipe from the chefs of the towns and villages we visited in 2019, and you can share your own family borscht recipe with photos and the #borschtinaction hashtag on Instagram or Facebook!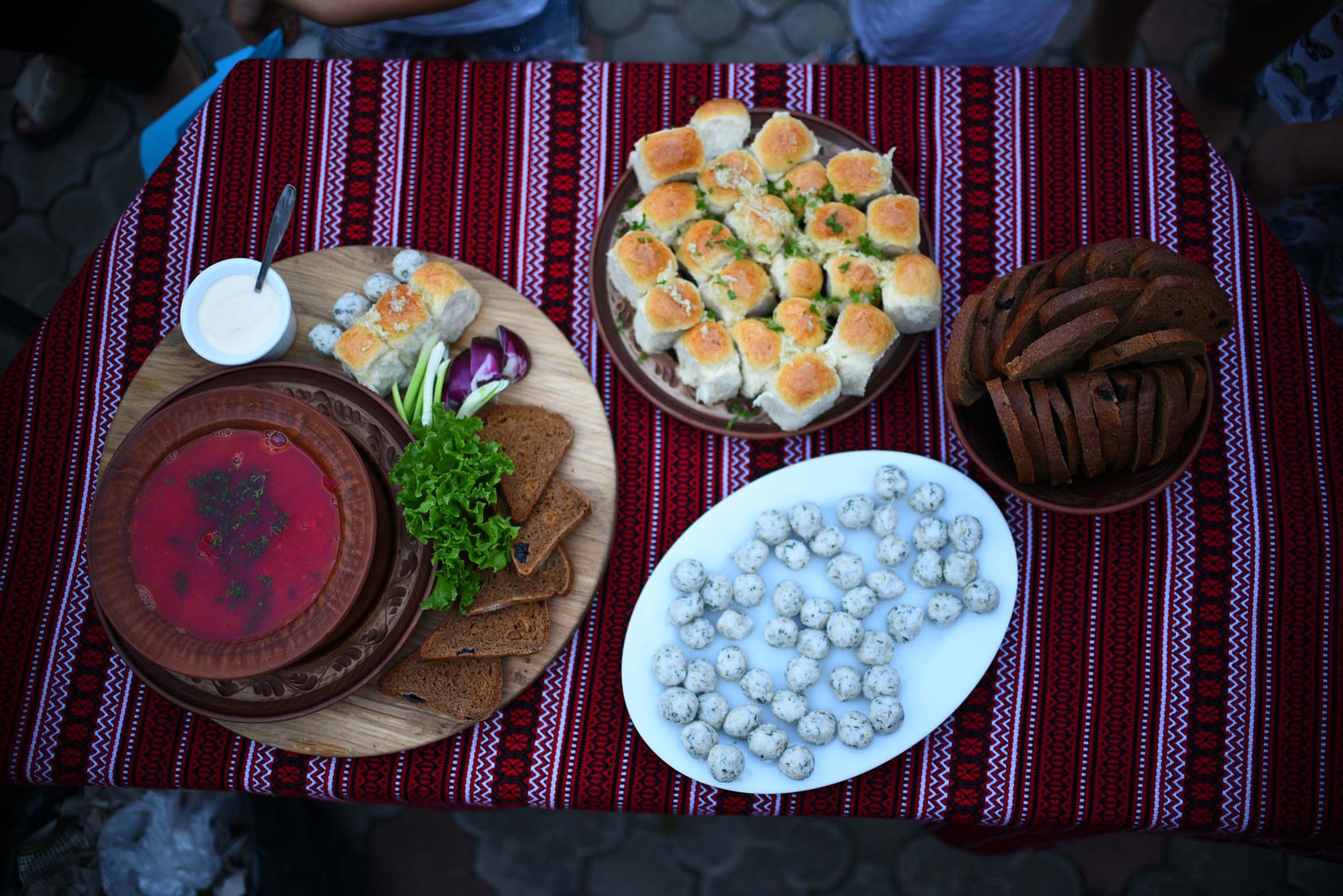 We are grateful to our local partner "AMER Prykarpattya" for help organizing the event and chef Pavlo Petriv for the recipe:
This recipe makes 5 liters of borscht.

Wash 700 g of pork ribs and boil for 1.5 hours, periodically removing the foam from the surface. In order to keep the broth transparent, you should not cover the pot with a lid until mixing in the zasmazhka*.

After cooking the ribs at a low boil for an hour, add an additional 400g of smoked ribs and 5-6 potatoes chopped into cubes to the pot. In a saucepan, sauté lard, onions and carrots, also cut into small cubes. Sauté until tender. In a separate saucepan, sauté 2-3 beets cut into strips for 7-10 minutes. Stir 3 tbsp of tomato paste mixed with mayonnaise into the beets. Add garlic, sugar, salt and pepper and 2-3 tbsp. of honey.

Mix the contents of both saucepans together and simmer for 10-15 minutes. While the combined zasmazhka is cooking, shred a quarter of a white cabbage and add it to the broth with potatoes and meat. When the cabbage is almost ready (no longer crunchy), add the zasmazhka to the broth, bring to a boil and keep on low heat for a few minutes.

If you want the borscht to be bright red, squeeze the juice from one small beet and add it just before removing the pan from the heat. For additional flavor, you can add lard and garlic mashed together in a mortar.

For a fully infused flavor, allow the borscht to sit at least 1–2 hours, or even overnight.

Before serving, garnish each bowl of borscht with fresh herbs, sour cream and a slice of lemon.

*Zasmazhka is a Ukrainian word without a direct English equivalent, meaning pan sautéd vegetables used for soup base. See our previous posts for variations on zasmazhka.
Published:
9 May 2020, 00:18