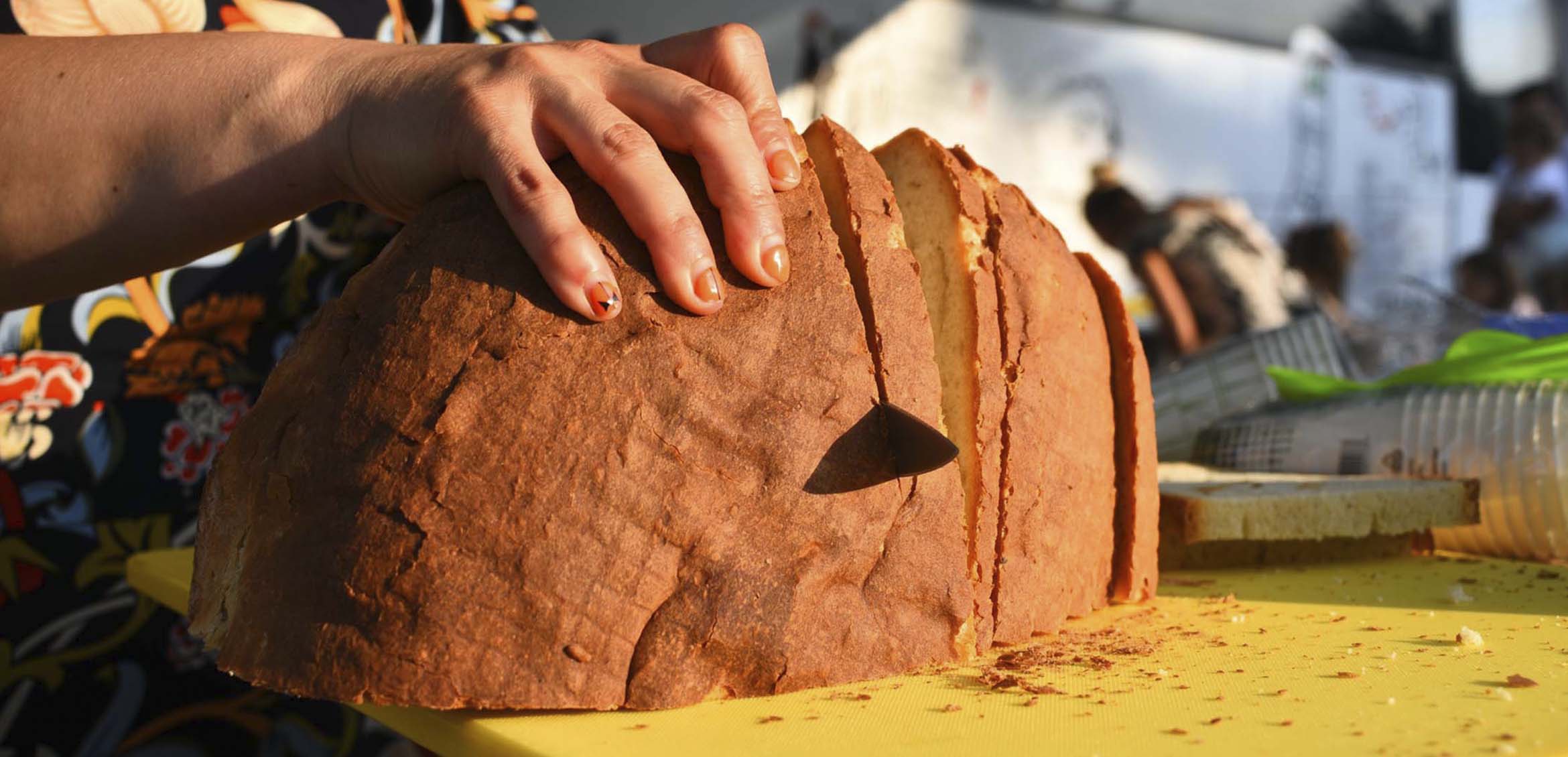 Last summer and fall the team of the Mobile Cultural Center Gurtobus, together with renowned local chefs, cooked and sampled borscht made from local recipes in twelve towns and villages around Ukraine. The Gurtobus team invited participants to have a meal and fill in questionnaires about local recipes and the culture of borscht. The Gourtobus Field Kitchen created a casual atmosphere, turning the project's temporary public space into something more than a place for standard workshops, film screenings and lectures.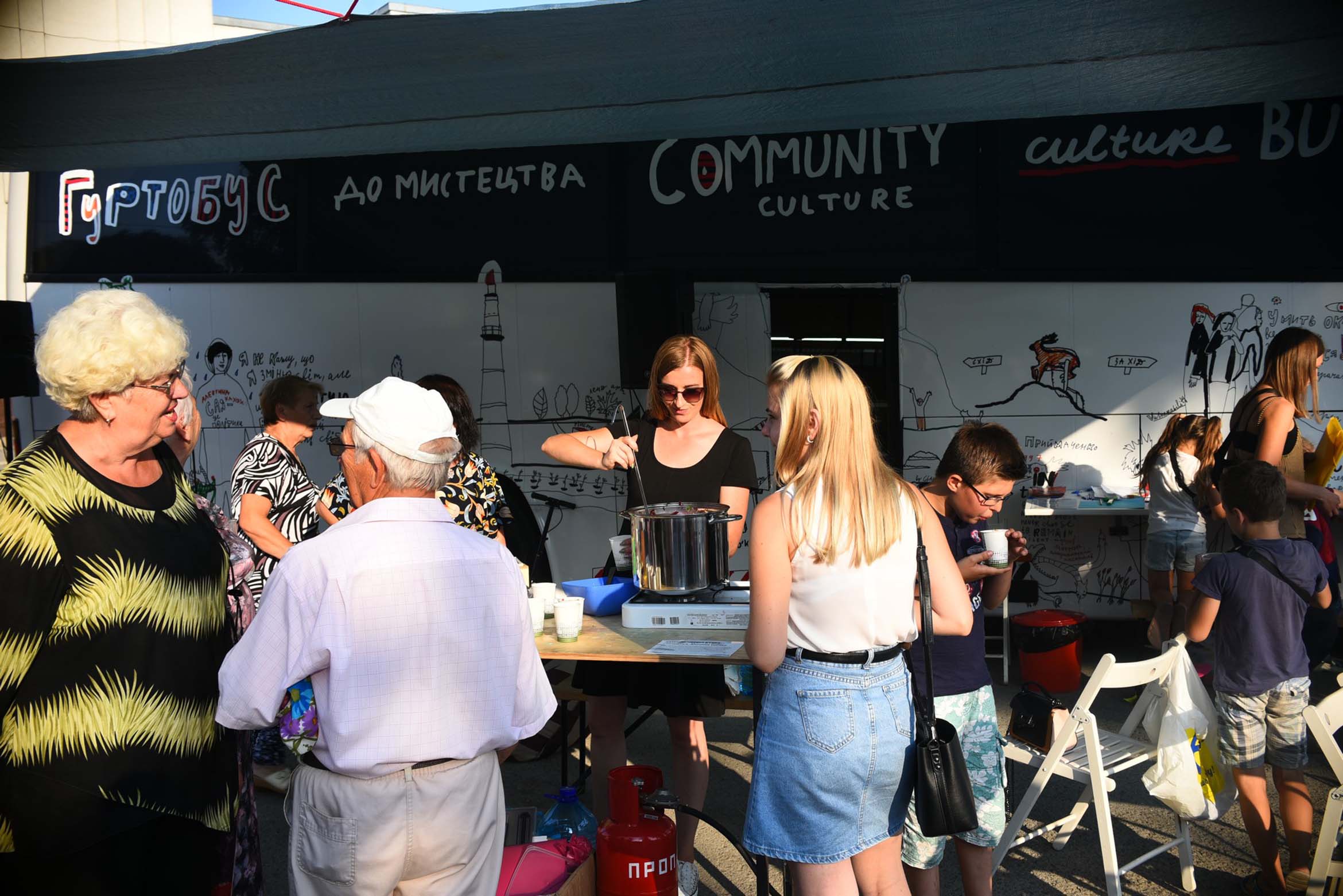 As part of the Gurtobus' interactive gastronomic study project, we are sharing a series of weekly borscht recipes from all over Ukraine! The full results of the project will be published in our forthcoming anthropological report and interactive map, and you can help by providing data for the next study cycle with our online borscht survey!
In the meantime, we invite you to take part in our #BorschInAction online challenge. Each week, we feature a new recipe from the chefs of the towns and villages we visited in 2019, and you can share your own family borscht recipe with photos and the #borschtinaction hashtag on Instagram or Facebook!
This week we present a recipe from Chortkiv, a town in Ternopil oblast that Gurtobus visited in August of 2019.
Chortkiv borscht with red currant juice

(cook: Oksana Svystun, Chortkiv, Ternopil oblast)

This recipe makes 6-7 liters.

Wash 1.5 kg of pork ribs or bone marrow meat well, place in a pot with 4 liters of water. Boil the meat until tender, then skim the foam off the surface of the boiling broth and add 1 cup of presoaked beans.

Next, wash and peel 3 medium-sized beets and throw them in the pot with the meat and the beans. Add 300 g of chopped cabbage, 200 g of grated carrot, 1 finely chopped onion, salt and pepper to taste, and 3-5 bay leaves. What makes traditional Chortkiv borsch special is that the vegetables are not roasted for the dish*, but boiled, and the beets are first boiled whole, and then chopped.

In Chortkiv housewives often cook borscht with a beet sauerkraut**. This is easy to make: put some small beets in a jar (larger beets can be chopped to size), fill with cold spring water, add a piece of rye bread to the jar, and cover it with gauze. In summer it takes about 3-4 days to ferment, in winter about one week.

Boil the beets until soft, using a fork to check. Once cooked, remove them from the pot and set them aside to cool. After letting them cool briefly, cut the beets into long strips. Put the sliced beets into the borscht pot. The borscht needs to be slightly acidic to preserve its color. To do this you can use sliced tomatoes or a 350 m of tomato sauce (I use homemade sauce I canned myself without preservatives). For a summer version of this borscht, you can use red currant juice instead of tomatoes.

When preparing the borscht for Gurtobus, I made sour cream and tomato dressing to maintain the acidity. In a separate bowl, mix 1 liter of sour cream and 350 ml of tomato sauce (you can prepare this from the juice and pulp of boiled tomatoes with the following spices: salt, sugar, pepper, cinnamon), and a dash of broth from the pot. When the borscht is almost finished, add sour cream and tomato mixture into the pot. As soon as the first bubbles appear on the surface, remove the heat. Garnish with chopped green dill.

Bon appetit!

*For more on this, see our previous posts explain the tradition of using zasmazhka.

**For another recipe from Ternopil region that uses fermented beets see our previous post from Buchach.
Published:
1 May 2020, 18:00