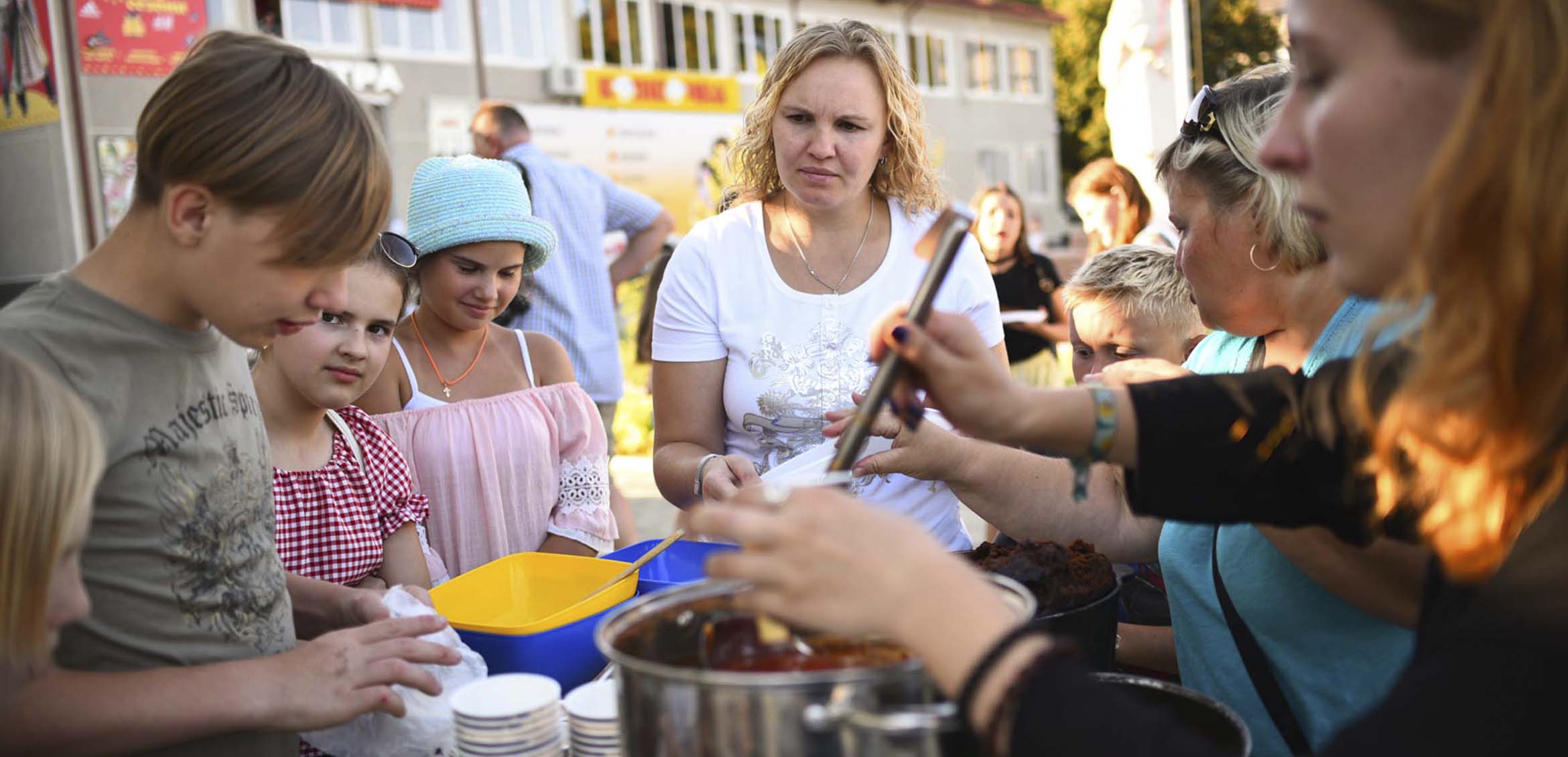 What better way to spend quarantine than by cooking delicious food? And what better way to enjoy that food than by contributing to a fascinating interactive research project by Gurtobus!
In 2019, IZOLYATSIA's mobile cultural center, Gurtobus, explored borscht culture by cooking with local chefs in twelve cities across Ukraine. In each town, after a day of workshops, public discussions and conversations with artists, Gurtobus visitors enjoyed bowls of borscht while filling out surveys designed to reveal the history and gastronomic culture of their region through recipes and personal stories about borscht.
Gurtobus's forthcoming report and online map will make data from the 172 completed questionnaires accessible, together with texts about our experiences of community cooking in the field and the most interesting answers and statistics from our study. You can still add your own insights by filling out our borscht survey.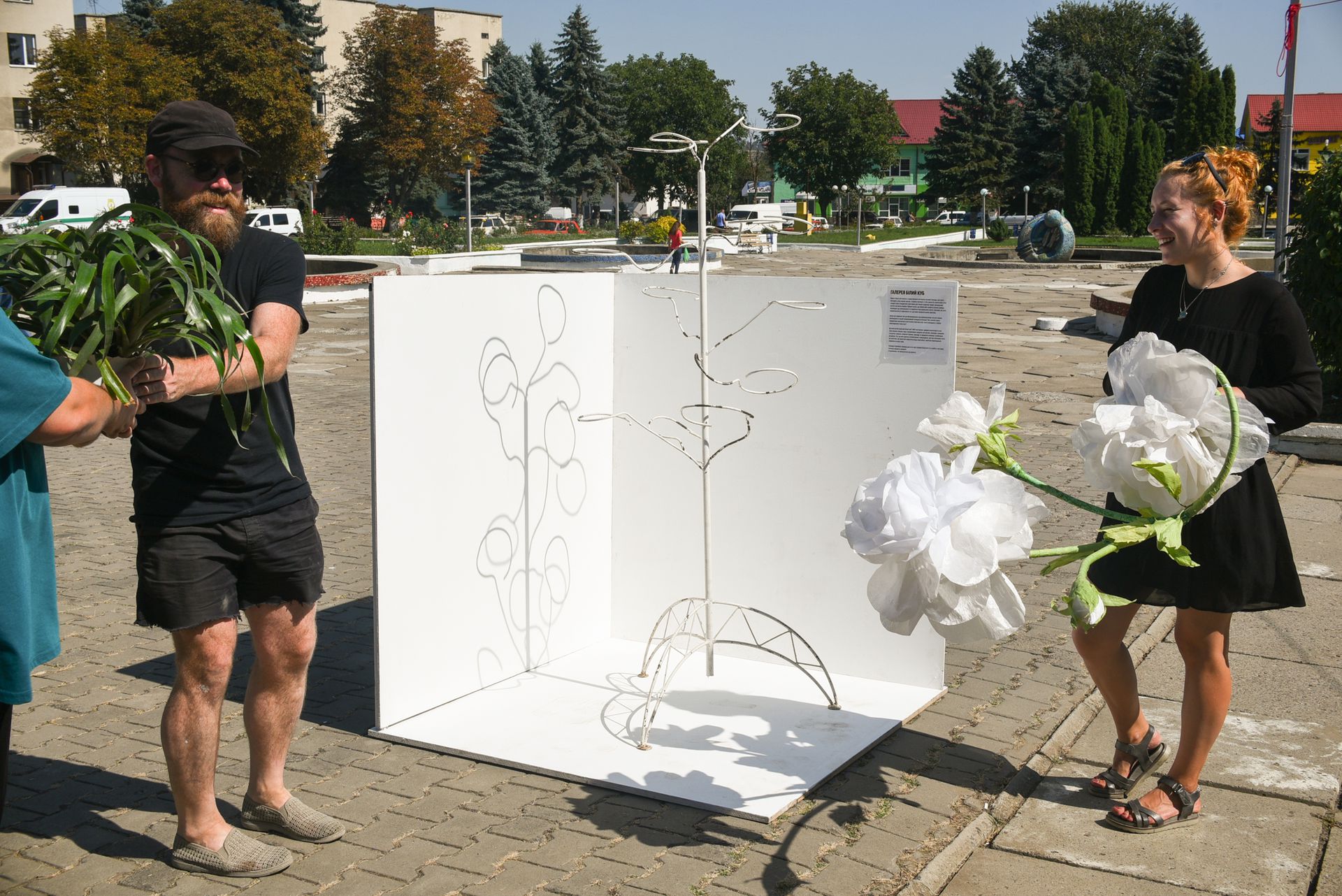 In the meantime, you can help us spread the word about our project by taking part in the Borscht in Action challenge! Each week we will share a recipe from one of the chefs from the cities and villages we visited. You can participate by sharing photos and recipes of your own favorite borscht. Don't forget the hashtag #borschtinaction.
The week's recipe is from Zastavna, Chernivtsi oblast, which Gurtobus has visited in August 2019.
The recipe from the city of Buchach, Ternopil region begins the borscht relay race:
Zastavna Bean Borscht with Baba

(cook: Nadiya Vasylivna Ostapovych, Zastavna, Chernivtsi region)

Grandma's Zastavna Bean Borscht is vegetarian, but that's not the only peculiarity. It has none of the typical ingredients like cabbage, pepper or even potatoes.

The special flavor of the borscht comes from marinating the beets overnight. To do this, boil a couple of beets, grate them and mix them with vinegar (2 tbsp), olive oil (4 tbsp), sugar (1-1.5 tbsp), ground pepper and salt, and let sit overnight in the fridge.

The beans should also be soaked overnight and boiled in the morning. While the beans are being boiled, sauté 1 chopped onion and 2 carrots together with two spoonfuls of tomato paste.

Add this zasmazhka* together with the marinated beets and the boiled beans to a pot of boiling water and stir. Cook over low heat until the vegetables are soft and the flavor is fully blended.

Grandma's Zastavna Bean Borscht is served with kapron baba**, which is similar to a traditional to Moldovan sweetbread called baba neagra. To make the dough, caramelize 150 g of sugar and beat five to six eggs. Stir the whipped eggs, burnt sugar, together with another 150 g of sugar into 1 liter of simmering milk. When fully dissolved remove from heat and mix in 1 kg of flour, 300 g of sunflower oil and 2 tbsp of baking soda. Traditionally, baba is baked in a cast iron baking pan***. NOTE: a standard thin-walled baking pan will not achieve the desired result. Baba has to bake for two hours at a temperature of 180°.
Thanks again to our local partner, NGO 'Steps to the Future', for making Gurtobus's event in Zastavna possible, and to Chef Nadiya Vasylivna!
*See our previous recipe from Smila for a description of zasmazhka.
**Baba is a fluffy bread or cake, with sweet and savory variations common to many countries in Eastern Europe. Although there are some similarities, it should not be conflated with typical Jewish babka.
***In this case, Chernivtsi region has a specific thick-walled cast iron baking pan called kytlyk.
Published:
13 April 2020, 19:35