Open call for local communities Community Culture Bus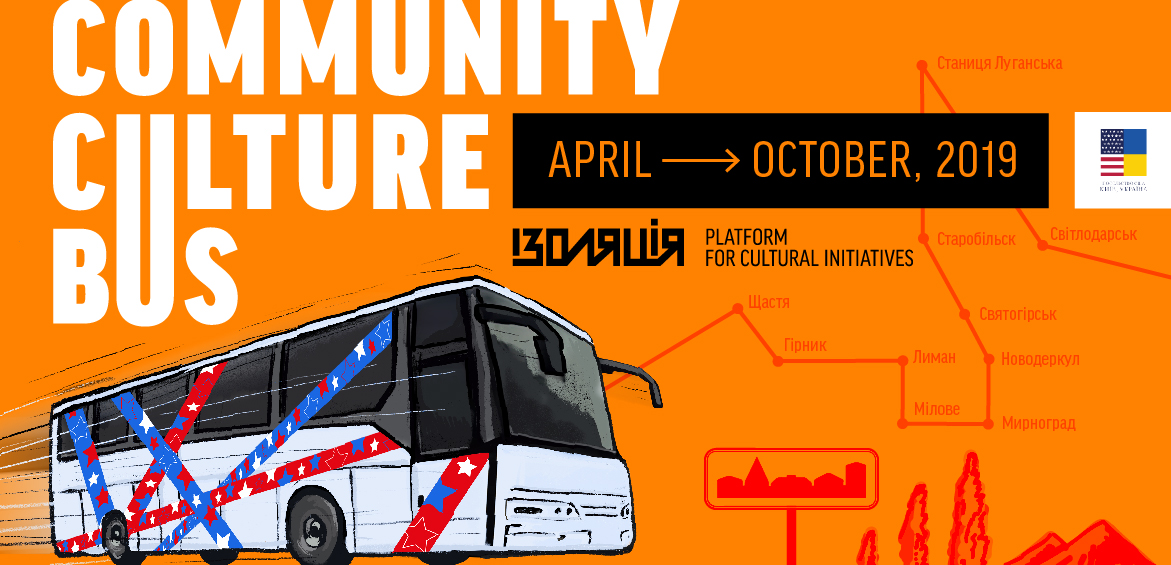 IZOLYATSIA, with the support of the US Embassy in Kyiv, is launching the Community Culture Bus project, aimed at developing contemporary art, sharing knowledge about culture, including the experience of American artists, intensifying the cultural sector in small cities and settlements of Ukraine, exchanging of knowledge between the partners of the project and the creation of an affiliate network.
Community Culture Bus is a mobile multifunctional space for creativity, created by transforming a regular bus into a creative hub. From June to October 2019, Community Culture Bus will travel from one locality to another and will be functioning as a platform for cooperation between artists and local communities, and also as a venue for partner cultural and artistic activities, such as:
master classes;
lectures and discussions;
exhibitions and presentations;
film screenings;
musical performances, etc.
If you want Community Culture Bus to come to you, so we could plan and spend one day busy full of interesting and useful events, – fill in the APPLICATION FORM and send it back by May 30, 2019. It requires no more than 15 minutes of your time.
Who can apply:
non-governmental public organizations;
residents of small towns, villages and settlements of Ukraine, who are involved in the cultural and public activity of their locality;
local governments.
Based on received applications, we will select the most interested partners and form the route for Community Culture Bus, which also will be planned on the principle of the biggest amount of applications from one geographical region.
The activity program will vary from locality to locality, so you will have the opportunity to directly affect the schedule and activity program, that will take place in the bus space, based on the interests and wishes of your local community.
Why should you join Community Culture Bus?:
opportunity to share information about yourself and your locality;
presentation of your team as a project partner on the IZOLYATSIA Website;
obtaining the status of the initiators of the cultural and public sector development in their region;
the opportunity to present your own projects or works of artists of your locality beyond its borders;
new connections and contacts in the public and cultural sphere, partnerships with other communities and cities;
gaining and sharing experience in organizing and holding cultural events;
initiating events and holding them together with other participants in the cultural and public sector in your community and region;
the prospect of further cooperation with IZOLYATSIA with the possibility of presenting works in Kyiv.
What is expected of you as a partner:
coordination of events in your locality;
informing your community about the scheduled events of Community Culture Bus;
inviting visitors to events;
organization of coverage of the events of the project through local media, bloggers, etc.;
help from volunteers (3-5 people);
photo and video (if possible);
organization of connecting the equipment of the bus to the electricity grid;
parking space for the bus;
providing additional space for events (depending on the planned events);
negotiate with local authorities on obtaining permit documents for the project implementation in your locality (if necessary);
giving feedback on the results of the events held within 7 calendar days after the event.
All applications will be considered and provided with a feedback. The project does not provide financial rewards for partners and participants.
---
In case of questions regarding the terms of participation, contact:
+380504772620
[email protected]
Published:
12 April 2019, 15:51