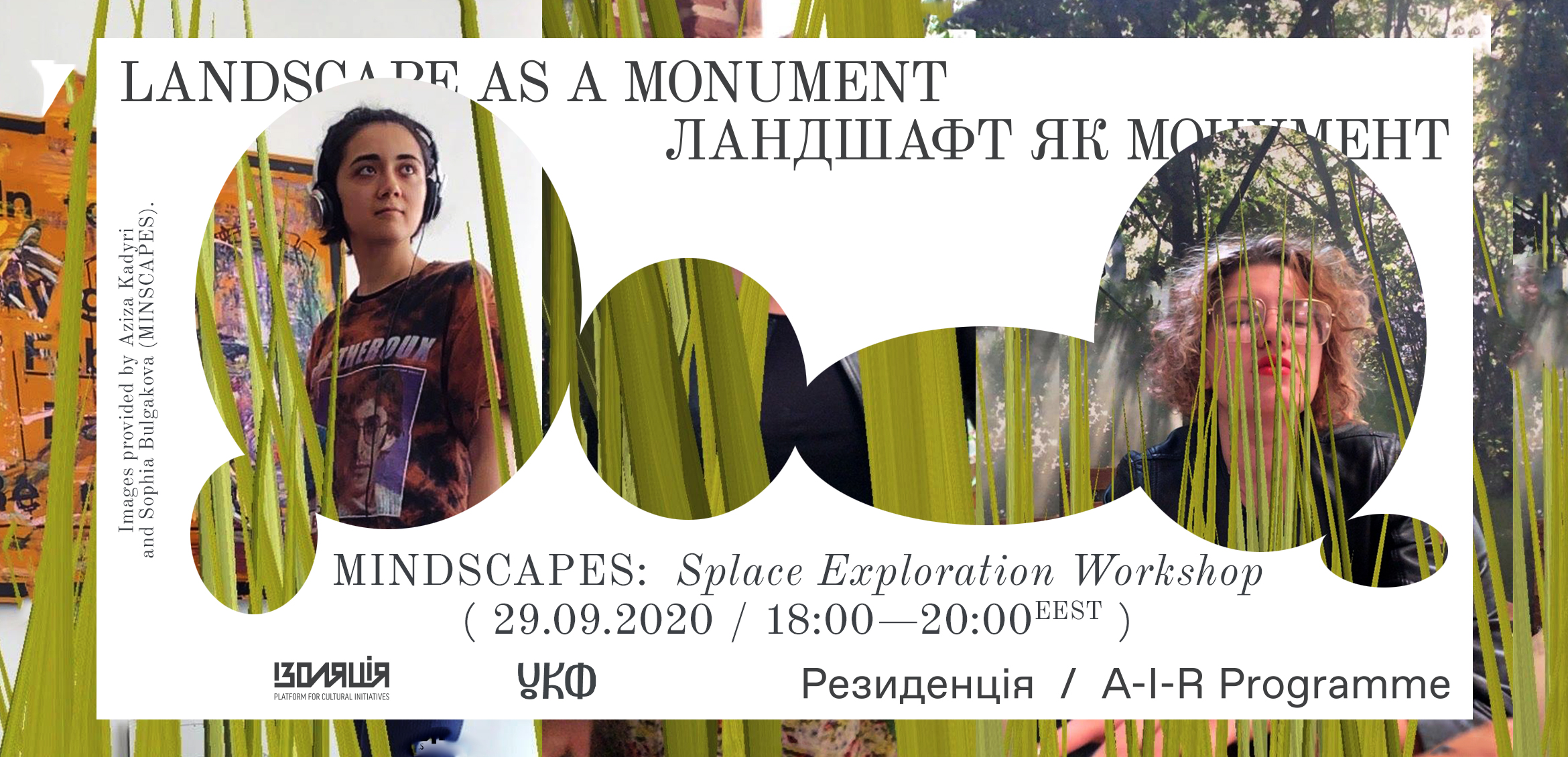 Schedule:
18:00 - Artist talk by Sophia Bulgakova and Aziza Kadyri (public event): 40 mins, Reference sharing (public event): 20 mins
Break: 10 mins
19:10 - Workshop (registration required via google form): 2 hours (with necessary breaks)
What is MINDSCAPES?
MINDSCAPES is an audiovisual at-home experience that combines soundscapes, poetry, 2D visuals, and augmented reality. Following a set of instructions with a mobile device and a pair of headphones, you will rediscover your immediate surroundings and see familiar spaces in a new light. The journey concludes with individually produced photos by the participants of the experience, that use AR objects and join the collective piece - an archival compilation of subjective reflections on MINDSCAPES.
WORKSHOP:
Developed during the Landscape As a Monument residency by the IZOLYATSIA Platform for Cultural Initiatives and UCF support, MINDSCAPES was born during discussions on the subject of the residency - the landscapes of the Donbas region. As we are detached from that area, and our physical presence and explorations there are impossible, we can only derive our judgement from stories, images, and archives relating to the region using our imagination.
To expand our findings and include a wider, richer range of visceral and phenomenological responses in the sound pieces, we will hold an online workshop that focuses on the active exploration of one's immediate surroundings - through associations, metaphors, memories.
The workshop is tailored for the residents of Ukraine, however, you are welcome to join from anywhere in the world! The workshop will last approximately 2 hours and include group and individual exercises focusing on spatial perception.
The workshop results will inspire and become the basis for MINDSCAPES. Together, we will co-create audiovisual abstractions for the piece.
Detailed information will be sent to your email 2 days before the workshop.