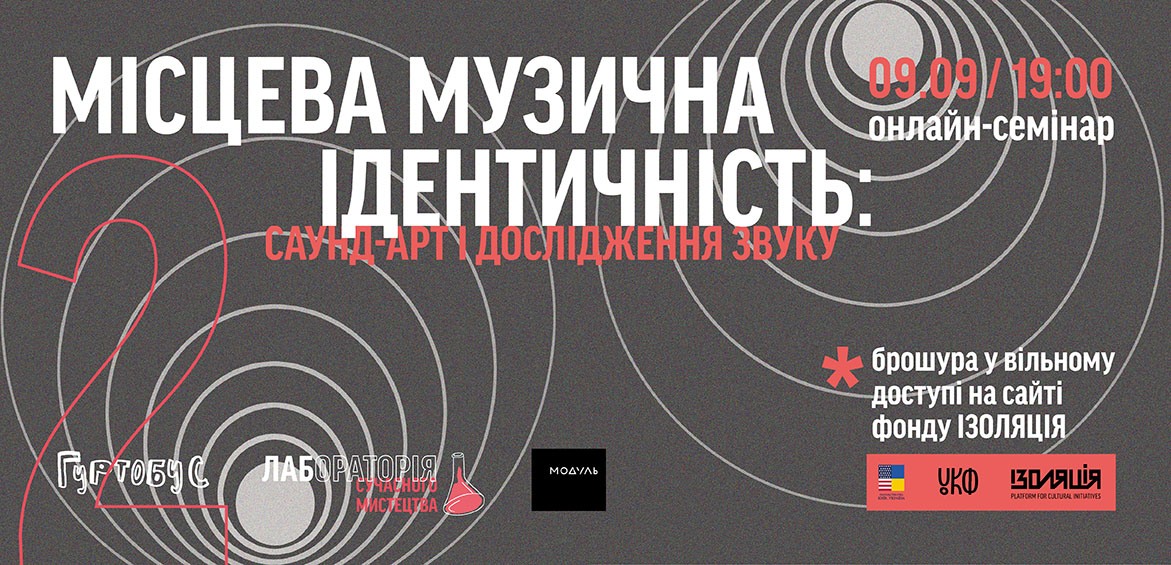 In the booklet (which you can get access to via a link below) there will be a section detailing the recording, structuring and archiving of regional sonic phenomena — from folk, mythology, historical legacy to industrial and street noise. How can we reinterpret that which we hear every day and form a local audio picture from the sounds gathered. The brochure's narrative will be formed from a mixture of sociological observations, sensations, sounds and the experience of sound-artists Evhen Hordeev (Kurs Valüt, Ksztalt,МС Брехунець). What is sound art and sound performance? How can we research sound with the help of improvised means and how can we include new works with sounds in a programme of alternative musical education?
Find the issue via link.
During the online seminar (9/9/2020, 7 PM), participants will be able to find out more about the instruments used in the search for material that is sonically inherent to a place, about his recording (field recording) and archival research, and talk with the artist and curator.
This edition of Laboratory of Contemporary Art and online seminar could interest practitioners of musical art, people working in educational initiatives and all who want to find out more about sound art.
Sign up for this seminar and other events of the project here.
The project is implemented with the support of Ukrainian Cultural Foundation. The Ukrainian Cultural Foundation is a state institution established in 2017 as a new model of providing state support and promotion of initiatives in culture and creative industries on a competitive basis. According to the current legislation, the Foundation's activities are directed and coordinated by the Ministry of Culture and Information Policy of Ukraine. Website: ucf.in.ua, facebook:facebook.com/ucf.ua.
We thank Dnipro art-space Module for the help in organizing.