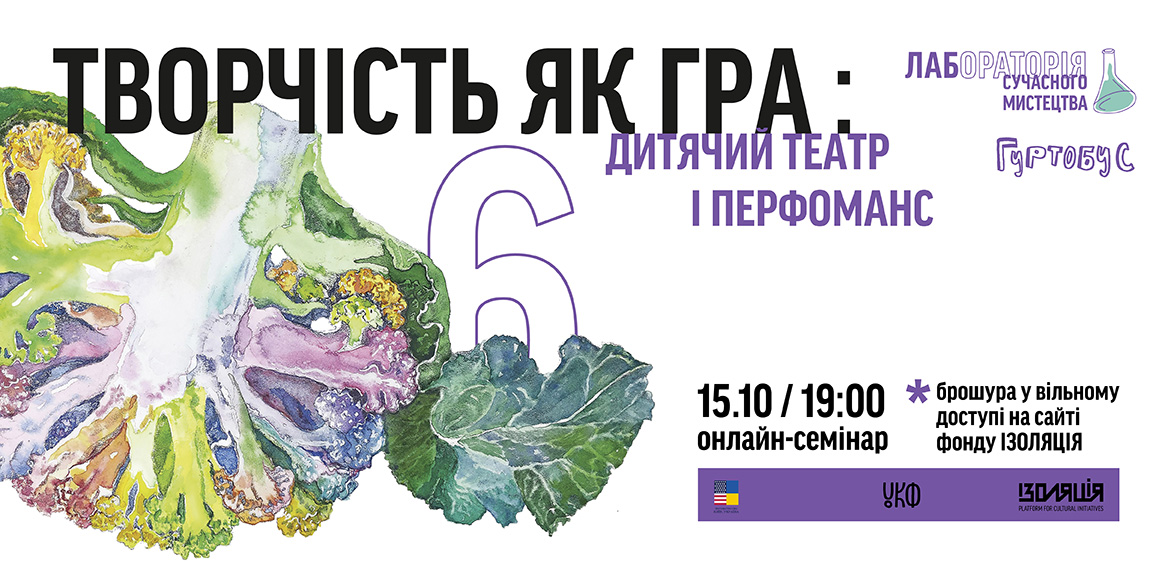 The sixth issue of the Laboratory of Contemporary Art is dedicated to children's theater.The authors of the brochure, Maria Kolomiets and Iehor Martynenko talk about the methods of work of Kolyorova Kapusta, an art space which exists as an open platform for children's creativity in Kharkiv. Kapusta's approach is to abolish the opposition between the pupil and the teacher. According to this principle, children in the educational process act as authors, creating their own artistic expression. How to reveal the creative potential of a child, synthesizing art forms, turning it into a free and exciting game? How to make art by communication between parents and children?
The brochure talks about the main practices of Kolyorova Kapusta — theater, street installations and performance.
During the online seminar (10.15.2020, at 7 PM) Iehor and Maria will hold a theatrical art workshop, in which they will present a brochure, show several play exercises for staging and a creative approach to creating props.
The project is implemented with the support of Ukrainian Cultural Foundation. The Ukrainian Cultural Foundation is a state institution established in 2017 as a new model of providing state support and promotion of initiatives in culture and creative industries on a competitive basis. According to the current legislation, the Foundation's activities are directed and coordinated by the Ministry of Culture and Information Policy of Ukraine. Website: ucf.in.ua, facebook:facebook.com/ucf.ua.