Call for experts to join the ZMINA: Rebuilding evaluators team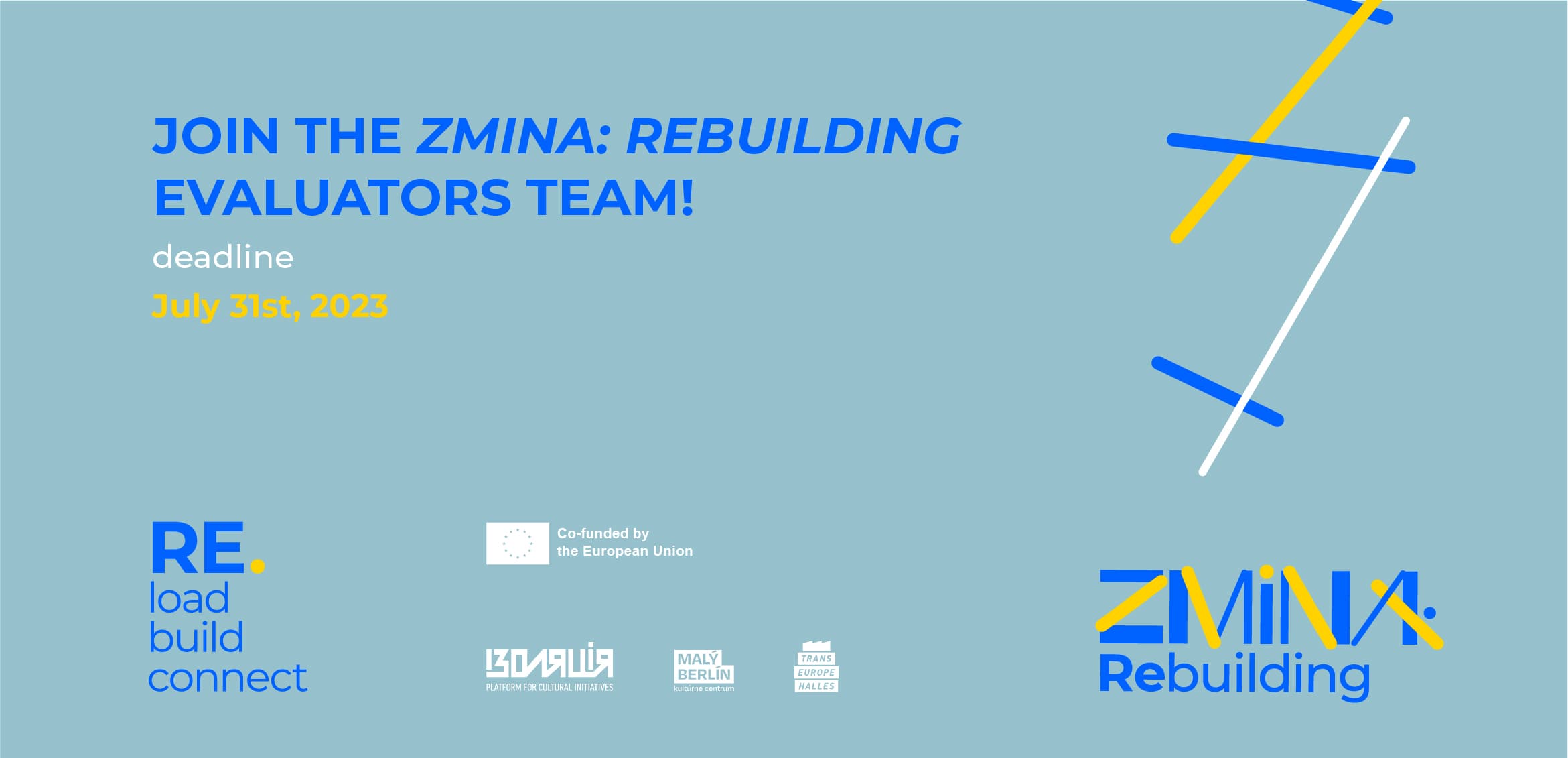 IZOLYATSIA is looking for evaluators with experience in the artistic and cultural sector to take part in the evaluation and selection process of projects supported by the ZMINA: Rebuilding subgranting scheme both for national and international open calls.
ZMINA: Rebuilding will have four waves of open calls for funding proposals, each with two month for the application submission:
National projects:
Wave 1 is open for proposals in July 2023,
Wave 2 is open for proposals in December 2023.
International cooperation projects:
Wave 1 is open for proposals in September 2023
Wave 2 is open for proposals in February 2024.
Selected experts will evaluate proposals from applicants for funding of individual projects and collaborative projects with organizations in Creative Europe countries.
Applications of national calls are available for the evaluation in Ukrainian.
Applications of international calls are available for the evaluation in English.
ZMINA: Rebuilding team expects that evaluators will evaluate the applications during one month after the open call for proposals is closed.
Eligibility criteria
The experts must fulfill the following requirements to be considered eligible:
minimum 18 years of age
expertise and professional experience in artistic and cultural projects, understanding Ukrainian cultural sector needs
expertise in cultural management and experience in international cooperation projects
legal resident of a Creative Europe country or legal resident of Ukraine,
proficiency in English language for international cooperation projects and proficiency in Ukrainian language for national Ukrainian projects
flexible and available from August 2023 until May 2024 during the evaluation periods described
previous evaluation experience linked to cultural projects and international cooperation programmes will be considered as an asset
available for a 2-hour training session in late August 2023 (online)
willingness to participate in jury meeting, in individual cases, if necessary (online)
provide a short CV and a letter of motivation via the application form
a declaration of confidentiality will be requested with the signature of the contract
Please note that evaluators and associated organizations will not be able to apply for the ZMINA:REBUILDING grant.
Offer and Remuneration
ZMINA: Rebuilding is offering:
a fee of 15 € per evaluated project incl. VAT and incurred costs
participation in a training session to be fully aware of the evaluation methodology and criteria
How to apply
Fill in the form at IZOLYATSIA Platform.
Due to the expected number of applications, only candidates selected for an interview will be contacted.
Deadline for applying
31/07/2023
---
ZMINA: Rebuilding
ZMINA: Rebuilding is a sub-granting program designed to support Ukrainian artists and cultural organizations to create and showcase their art and works in Ukraine and in Creative Europe participating countries. The program is implemented by IZOLYATSIA foundation (Ukraine) in partnership with Malý Berlín (Slovakia) and Trans Europe Halles (Sweden) and co-funded by Creative Europe programme of the European Union.
Published:
11 July 2023, 15:38