Presentation of ZMINA: Rebuilding first wave of national subgrants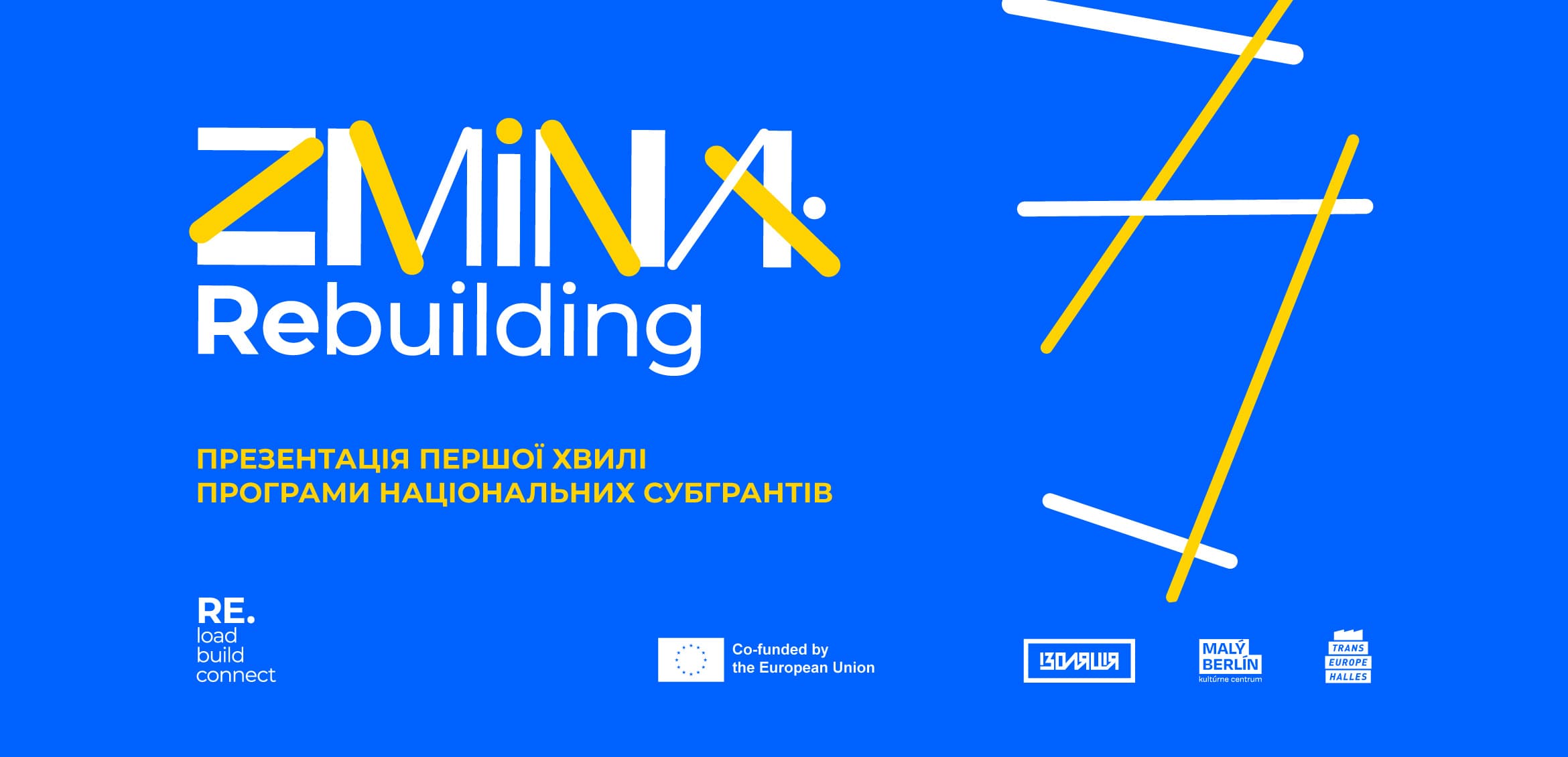 IZOLYATSIA Foundation invites Ukrainian artists and cultural professionals to visit the first wave of national sub-grants presentation. This wave will be held within the framework of the new ZMINA: Rebuilding program. During the event, participants will familiarize themselves with the terms, rules, and regulations of project financing, and learn about the structure and features of filling out the application. Presentations will take place in Lviv, Dnipro, and Kyiv.
ZMINA: Rebuilding is a new program created to support the projects of Ukrainian artists, cultural organizations, and state institutions of culture.
Participants of the program's first wave can receive sub-grants for the cultural projects implementation that contribute to the development of the public discourse on the Ukraine rebuilding topic: the preservation and development of identities, meanings, and values, the reconstruction and research of new social norms and relations between people, decolonization, the creation of new cultural narratives, cultural methods of planning urban and architectural reconstruction, community development, etc.
National projects have to be implemented in Ukraine, and applicants can be both individual artists, and cultural professionals, as well as cultural organizations, state cultural institutions, and educational institutions working with culture and art.
Sub-grantees' projects will be presented both in Ukraine and internationally with the involvement of stakeholders from partner countries. The program also includes intensive development of the potential of Ukrainian artists and cultural organizations to participate in European projects.
Schedule:
Lviv, 07.04.2023, 10:00 am — 4:00 pm, Jam Factory Art Center, Bohdan Khmelnytskyi str 124
Dnipro, 10.07.2023, 10:00 am — 4:00 pm, Hotel Reikartz, Troitska str, 12A
Kyiv, 20.07.2023, 10:00 am — 4:00 pm, Conference Hall, Khreshchatyk str 25
After the workshops, registered participants will be provided with relevant materials.
---
IZOLYATSIA foundation can reimburse participants from other cities for the bus or train travel cost to participate in offline workshops. For this, it is necessary to submit an official justification letter describing motivation for participating in the workshop to the e-mail address [email protected] — no later than 3 working days before the start of the event.
IZOLYATSIA foundation can support no more than 10 substantiated requests for each city where the workshop will be held.
---
The event in Kyiv will be broadcast online on YouTube and Facebook platforms.
Registration for the event is mandatory! To register for the workshop, follow the link: https://forms.gle/oyLgWkstgtkNXsAp9
---
ZMINA: Rebuilding program is implemented by IZOLYATSIA (UA) foundation together with the Malý Berlin (SK) organization, the Trans Europe Halles (SE) network of cultural centers and is co-financed by the Creative Europe program of the European Union.
Published:
23 June 2023, 15:41