ZMINA: Rebuilding. The first call for proposals for international projects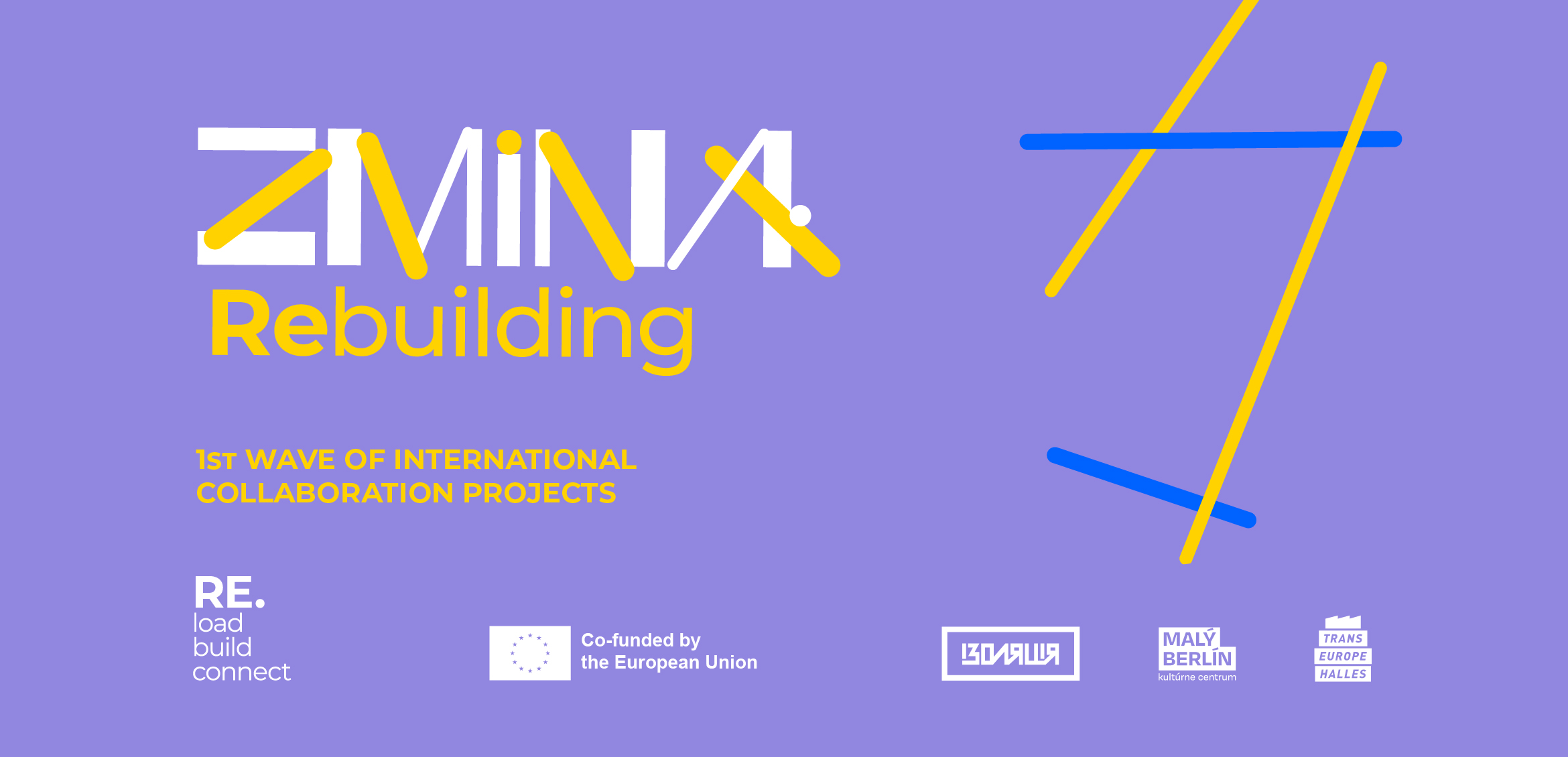 The ZMINA: Rebuilding project is launching its first call for proposals for international projects. Partnerships should include, as a minimum, one organisation from Ukraine and one from another country participating in the Creative Europe programme. The maximum grant amount per project is €60,000.
The call aims to support cultural organisations working with peers from Creative Europe countries, including Ukraine, to present high-visibility cooperation projects. Projects must increase the showcasing of Ukrainian culture abroad and share perspectives internationally, particularly in reimagining, reinventing, and reconstructing communities.
The ZMINA: Rebuilding programme will support projects depicting conversion from wartime to post-war reconstruction, building visions of the future, demonstrating wartime resilience, and creating conversations, expertise, and knowledge about post-war rebuilding and recovery.
All cultural and creative sectors are eligible (visual arts, performing arts, filmmaking, literature, urban cultural planning etc.).
This international cooperation must increase the visibility of Ukrainian artists and cultural production in other Creative European countries and heighten the profile and knowledge of Ukrainian cultural and creative organisations in other countries while bringing new shared perspectives to the Ukrainian and European cultural and creative sectors.
International cooperation projects:
should be implemented outside of Ukraine, in one or more of the other Creative Europe countries,
can be an extension of an existing Ukrainian project,
must actively engage with well-defined communities,
must include conversations taking place in cultural or other venues on the topic of 'reconstruction",
must include a high visibility opening event (vernissage, premiere, pre-opening gala, etc.)
can involve creation but must include showcasing, primarily outside of Ukraine,
the showcasing must be significant, reaching large audiences directly or through media outreach, preferably contributing to Ukrainian 'cultural diplomacy'.
Maximum amounts, general budget, and payments:
The maximum grant amount for a national project is 60,000 €
The available funding for the first wave of international projects is 600,000 €
Applicants and organisations must not be subject to sanctions imposed in Ukraine and beyond and must meet the requirements of anti-money laundering public policy to reach the level of ultimate beneficial owners.
Schedule
Call for proposals will be opened on 07.09.2023.
Deadline for submission: 07.11.2023 at 23:59 (Kyiv time)
Evaluation: November - December 2023
Information on evaluation results: December 2023
Subgrant agreement signature: January 2024
---
Detailed call and application
Applicants can read the detailed call and submit their proposals via the online application platform.
Download full call text in English in PDF format.
---

---
Further information
IZOLYATSIA Foundation will conduct three public events in Ukrainian and English to focus on program details and the application process.
During the two-month application period ZMINA: Rebuilding team will provide ongoing support to applicants via email at [email protected]; the program team will answer all the questions within two business days.
Applicants can join weekly ZOOM calls for applicants and the program team. To join the meeting, the applicant must register via the form.
---
ZMINA: Rebuilding is a project co-funded by the European Union under a dedicated call for proposals to support Ukrainian displaced people and the Ukrainian Cultural and Creative Sectors. The project is a cooperation between IZOLYATSIA (UA), Trans Europe Halles (SE), and Malý Berlín (SK).
Published:
5 September 2023, 19:48