Golden Coal Magazine Presentation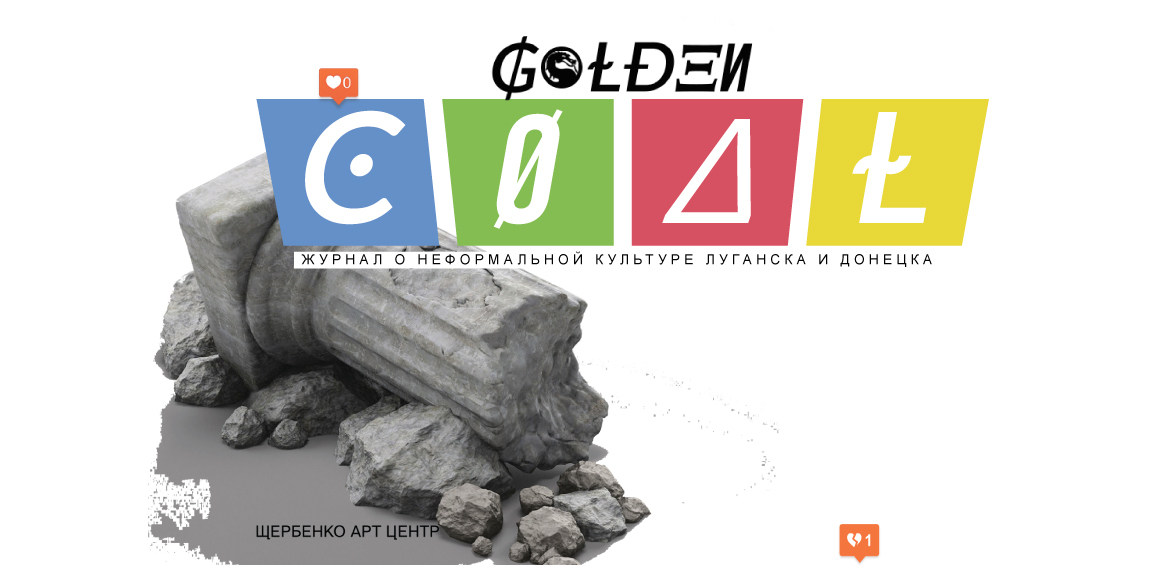 On June 24, at 8 PM, IZOLYATSIA participates in the presentation of a project by finalists of MUHi 2015 contest by Shcherbenko Art Centre – the Golden Coal magazine, that will be held in the space of Open Library of Fine Arts (Plivka, National Oleksandr Dovzhenko Centre). Dmitry Chepurnoy, culturologist, coordinator of the Donbas Studies research project by IZOLYATSIA, will moderate the presentation. Visitors will have an opportunity to look through the magazine, and the authors will tell about the process of its creation and cultural processes described in it. The presentation will be followed by the party R+N+D х Призма at 10 PM.
Golden Coal is a magazine about underground culture in Luhansk and Donetsk. The authors of the project is an informal community Luhansk Contemporary Diaspora (LCD), formed by the members of the creative union Supovoy Nabor and the art cluster R+N+D. The creators of the magazine are artists who used to live in Luhansk before the conflict in the Donbas region. Golden Coal was published with institutional support of Shcherbenko Art Centre.
Working on Golden Coal, the artists decided to refrain from their own analysis and interpretations, providing a channel for the direct speech for the participants of underground art initiatives of Donbas, isolated from the all-Ukrainian cultural field. This isolation arose due to specific information policy regime, established by both sides of the conflict, which obeys to propaganda tasks, fuels dehumanisation processes, exacerbates conflict and does not only delay its ending, but also distances the residents of the "republics" from the inhabitants of Ukraine.
Nevertheless, one of the ideas underlying the activity of LCD is not only attracting attention of the "wider audiences" to the informal culture of the "republics", but also the perspective of creating a platform for creative collaborations within the Donbas community itself. Golden Coal is a kind of prologue for the development of further interaction, which will begin with a collab between LCD and one of zine's heroes – the organisers of the Donetsk raves called Призма (Prizma). Such strategy of creating conditions for intensive teamwork and informal communication is positioned by LDC as a self-sufficient aesthetic act, based on the ethics of mutual support. Artists, electronic musicians and DJs associated with Prizma and LCD will unite in one lineup of the party that will be held within the presentation.
The presentation will take place at 1 Vasylkivska Street.
Learn more here.
Published:
20 June 2017, 14:58
Media partners