ПРОГРАМА ФОНДУ ІЗОЛЯЦІЯ НА 2018 РІК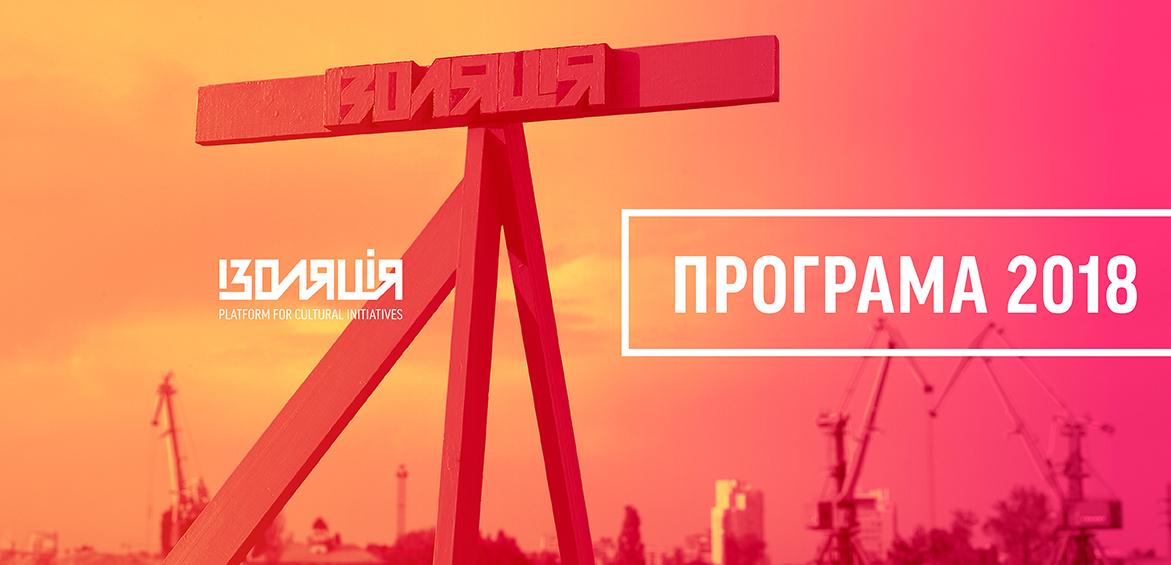 31 January 2018
2018 will see IZOLYATSIA's tenure in Kyiv surpass the period spent in Donetsk, from its inception in 2010 to the seizure of territory when, on June 9, 2014, forces of the self-proclaimed 'Donetsk People's Republic' took possession of the former insulation materials factory. The preceding years saw the implementation of more than thirty projects in Ukraine and abroad. Subjects voiced included hybrid wars, crawling borders, migration, and the evolution of the politics of memory reflecting some of the participant's personal experiences in Ukraine and the rest of the world. Throughout, IZOLYATSIA has strived to give prominence to the role of culture and the arts as a tool of research and critique. Topics under scrutiny included contemporary social, economic and political issues, inviting a broad and often provocative dialogue within society.
IZOLYATSIA's 2018 strategy is the embodiment of this ethos positioning itself as the arbiter of interdisciplinarity, a constructive method for exploring the local and global context. Audience participation is key to the process of unearthing meaningthrough interactive projects, research, workshops and public discussion. A willingness to cooperate with various cultural institutions and other authorities relies on the imperative of openness in this exploratory action.
IZOLYATSIA сontinues an artist-in-residence programme aimed at supporting artists, curators, scholars, writers, urbanists and other creatives whose projects are related to the themes of the institution's research.
The Donbas region remains the apex of IZOLYATSIA's field of interest. The institution's Donbas Studies and ZMINA: Impulse projects continue to research Eastern Ukraine providing pivotal cooperation with local organisations and activists. Projects such as Social Contract and Soviet Mosaics in Ukraine will advance the study of Soviet cultural heritage, collective memory and the manifestations of new identity within public space.
The IZONE Creative Community, founded by IZOLYATSIA and located within the territory of the Kyiv shipyards, is the embodiment of the cultural economy at work becoming one of the largest creative hubs in the city and continues to expand.
IZOLYATSIA's territory in Donetsk remains occupied, and to this day the institution's unique itinerant credentials give authority to projects unbounded by geopolitical constraint.
PROGRAMME 2018
Points of Unity
Hesselholdt & Mejlvang
Art project in the public spaces of Kyiv
January – March 2018
The project is a series of original images and texts by the Danish duo placed on outdoor advertisement surfaces around Kyiv. Hesselholdt & Mejlvang reflect on the messages that usually appear in outdoor ads, proposing an alternative way of using them as a space for contemporary art.
Utopia: Transformations of the Ukrainian East
Exhibition
In collaboration with Garage Gang
February 8 – March 11, 2018
The exhibition is based on the multidisciplinary research of urban cultural identities carried out by the team of Metacity: East between December 2016 and November 2017 in six towns of the Donetsk and Luhansk regions: Lysychansk, Bakhmut, Pokrovsk, Severodonetsk, Kostiantynivka, and Dobropillia.
Coming Out of Isolation
Collective residency, media campaign, site-specific projects
In collaboration with KyivPride
February – October 2018
Using art as the medium, the aim of the project is, to shed light on discrimination based on sexual orientation and gender identity within Ukrainian society. The organisers hope to ignite a public discussion around these topics.
American Arts Incubator
Workshops, exhibition
In collaboration with the U.S. Department of State's Bureau of Educational and Cultural Affairs and ZERO1
March 10-30, 2018
The project consists of a series of workshops, development of individual projects and public presentation of the results. Under the supervision of the American artist Tiare Ribeaux, Ukrainian artists and makers will combine art and technology skills to address identity, place, and the relationship of culture, industry and ecology in Kyiv and greater Ukraine.
Where Do We Go From Here?
Exhibition
In collaboration with StoneLion Puppet Theatre and Project Central (USA)
March 29 – April 14, 2018
The exhibition will feature works by 26 Ukrainian artists using various media—painting, photography, installation, video—to reflect upon global environmental issues of our time. The project will also include a series of workshops and puppet theatre performances.
Hometown
Metahaven
Exhibition
April 26 – June 3, 2018
Hometown, a film by the Dutch duo Metahaven shot in Kyiv and Beirut, will premiere in Kyiv as an immersive installation. Hometown is a poetic reflection on our age of rapid change and the feeling of instability and confusion it evokes.
IZOLYATSIA Day
Exhibition Notebook with a Missing Page by Pavlo Makov
June 9 – July 15, 2018
For the fourth anniversary of the forced exile from Donetsk, IZOLYATSIA revisits projects related to the period of its history spent in the Donbas. Pavlo Makov has actively collaborated with IZOLYATSIA since its inception, including the creation of Donroza and a string of education programmes. For IZOLYATSIA Day, Pavlo Makov will present a new interactive project reflecting on the past and constructing possible future scenarios.
We Were There
Anton Shebetko
Exhibition
August 30 – October 7, 2018
Realised as part of the project Coming Out of Isolation, the photo exhibition by Anton Shebetko deals with the topic of LGBT people fighting in the Anti-Terrorist Operation zone in Ukraine.
Interactive Playground
Exhibition
In collaboration with WRO Art Center (Poland)
October 18 – December 16, 2018
Designed by WRO Art Center and shown on three continents so far, the exhibition for children and young adults combines art, modern technology and immersive interactivity. The project includes a Chillout Cinema featuring a selection of classic Polish animated films from the 1960s - 70s. Visitors are encouraged to interact with displays in the exhibition.
IZOLYATSIA is open to continued collaboration with artists, curators and institutions working towards a shared vision and philosophical curiosity covering topics here described and more.
Want to learn more? Apply here.