Where Do We Go From Here?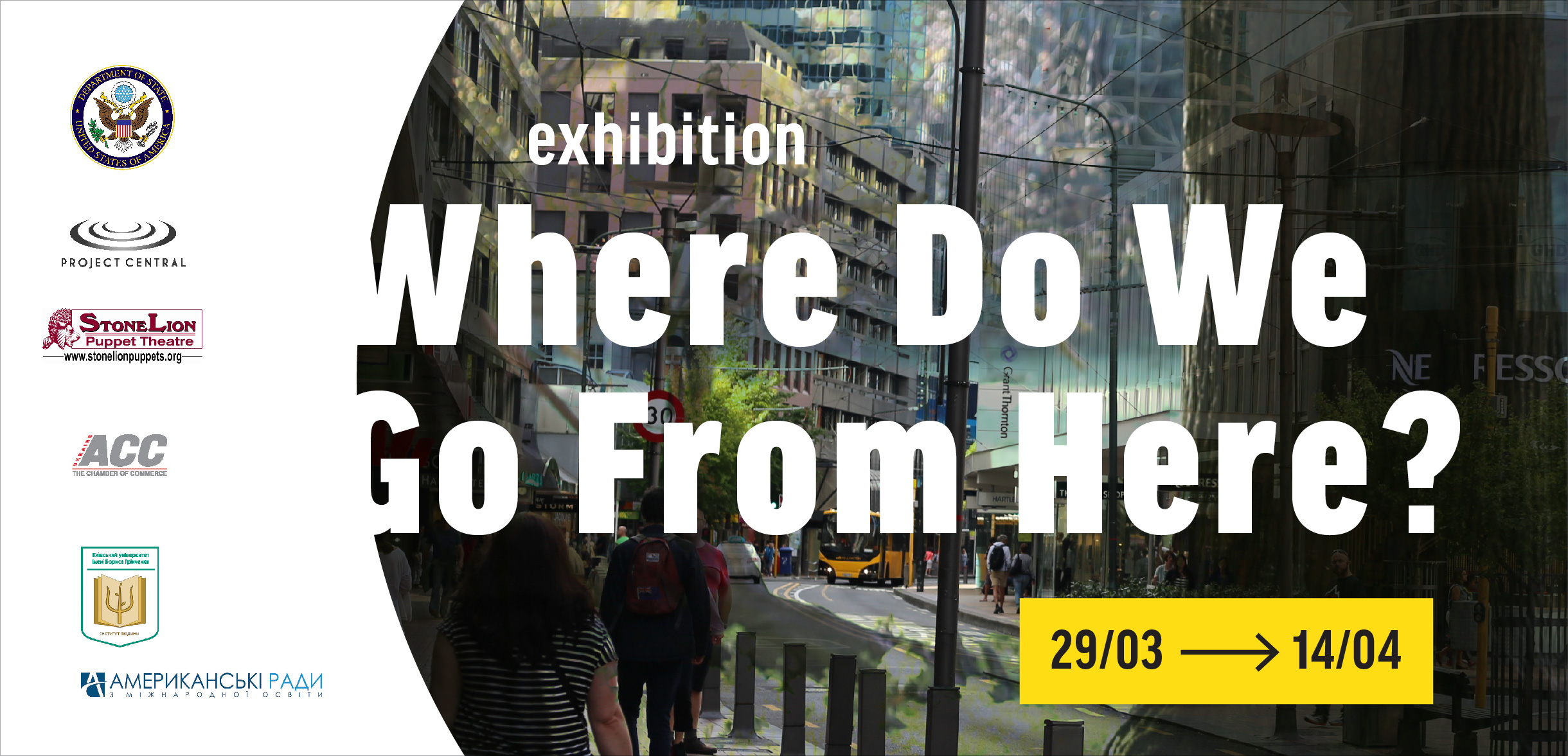 16 February 2018
On March 29, 2018, at 7 PM, IZOLYATSIA presents the exhibition Where Do We Go From Here? as a part of the Visions and Reflections: Our Shared Environment project created to raise awareness around environmental protection.
The exhibition title has a double meaning. On the one hand, it implies a rhetorical question about humanity's strive for protecting itself which often abuses common sense. On the other, it provokes a search for ways of solving the existing problem which can turn out to be both positive and negative.
The project will also include a workshop for teachers, puppet theatre performances, and a master class for Ukrainian artists.
PUBLIC PROGRAMME
March 20-30 – Borys Grinchenko Kyiv University
Art practices in ecopsychological space of a person
A four-day workshop conducted by Shari Wilson (U.S.-based Project Central) and Heather Loewenstein (StoneLion Puppet Theatre) on art techniques used to raise environmental awareness among children. The participants will be teachers, professors, governmental and youth organisations representatives, artists, actors and employees of Kyiv theatres.
Contact person: Inna Kaniuka [email protected]
March 30, 8 PM – IZONE, First Floor
Puppet theatre performance Reflections on Our Water
Reflections on what humans are doing with the Earth. Audience will get acquainted with animals under threat of extinction. Reflections will engage and entertain while pulling at heartstrings about the abuse our water system takes from the trash we throw away. Master Puppeteer, Heather Loewenstein will tell how we can save our future.
Free entry.
March 31, 10 AM – 2 PM – IZONE, Fourth Floor
Masterclass for artists and educators New Techniques and Collaborations for the Environment
StoneLion Puppet Theatre's Master Puppeteer, Heather Loewenstein, and Project Central Ecologist Shari Wilson will conduct a four-hour masterclass on puppet techniques and story building. Discover the behind-the-scenes set-up of StoneLion's Reflections puppet show, how this and other puppet shows tour and travel, how the script and puppets were developed and why. Network with other Ukraine artists and educators to develop collaborative projects and share your ideas on how art can affect environmental change in society.
Professional performers and artists of all mediums, environmental educators or those interested in this field of study, students and interns of the arts, science or education are invited to participate. Interpreter will be provided, so fluency in English is not required. Space is limited, so please fill in an online form.
Visions and Reflections: Our Shared Environment is supported by the U.S. Embassy in Kyiv, American Councils for International Education, American Chamber of Commerce in Ukraine and carried out in cooperation with the Borys Grinchenko University of Kyiv, StoneLion Puppet Theatre and Project Central (USA).
EXHIBITION DETAILS
Curator:
Kateryna Filyuk
Artists:
Viktor Arefiev, Mykhailo Barabash, Oleksiy Berezovsky, Tetyana Borychok and gypsyPetya, Oksana Chepelyk, Kseniya Hnylytska, Hryhorii Hudachenko,, Borys Kashapov, Alina Khorolska, Andriy Koskovtsev, Krolikowski Art, Olga Kukush, Pavlo Lysyi, Alina Lytvynenko, Yuliya Makliuk, Alina Maksymenko, Oleksandr McQuartz, Maria Proshkovska and Andriy Lyubov, Maria Rakhimova, Yevhen Samborsky, Alyona Shibunova, Marina Shkarupa, Vitaliy Shuplyak, Volodymyr Shypotylnikov, Bohdan Tomashevsky, Iryna Zamuruyeva.
Exhibition opening:
March 29, 2018, 7 PM
IZONE Creative Community
Schedule:
March 29 – April 14, 2018, Monday to Sunday, 12 PM – 8 PM
Address:
IZONE Creative Community, vul. Naberezhno-Luhova 8, Second Floor