Utopia: Transformations of the Ukrainian East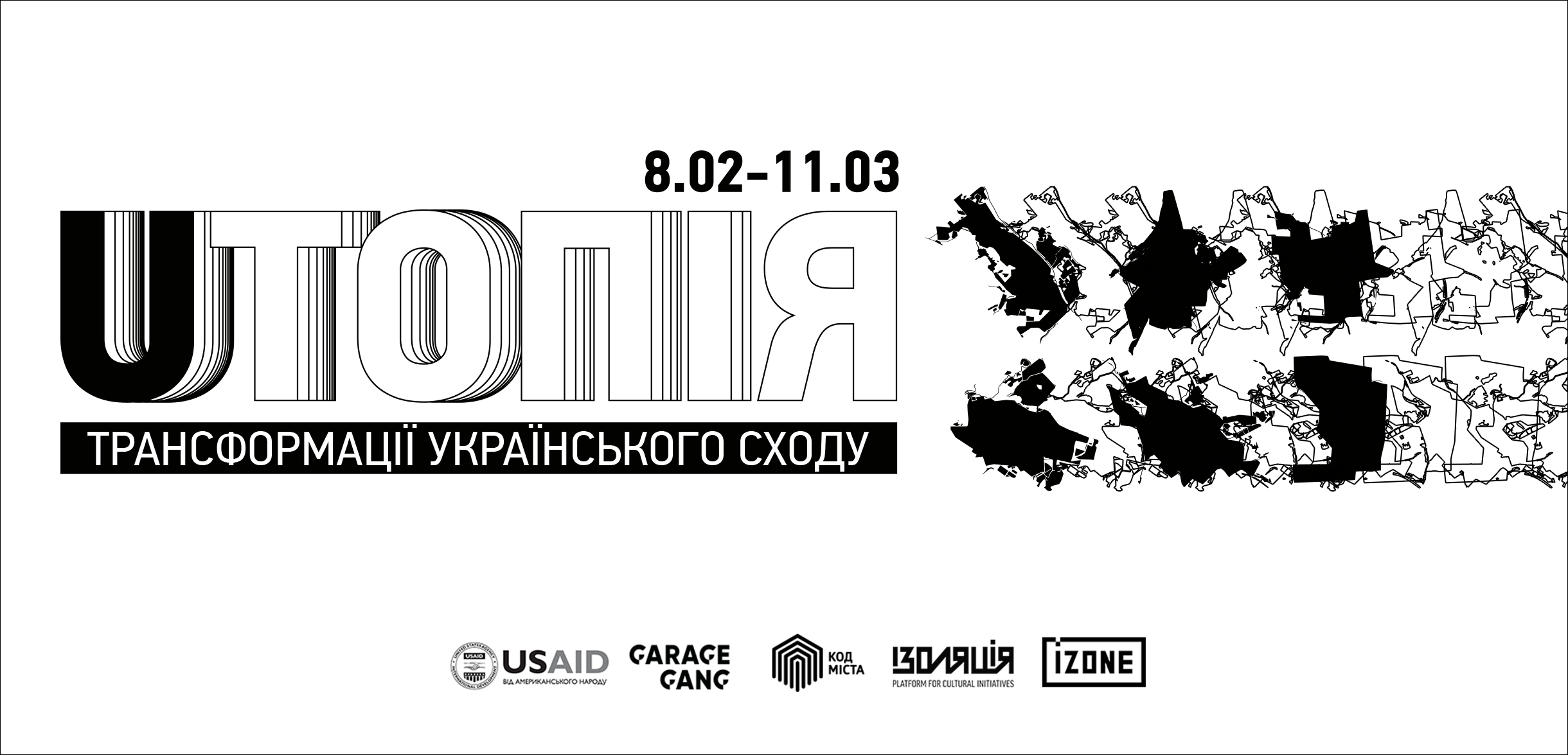 25 January 2018
On February 8, 2018, at 7 PM, IZOLYATSIA and Garage Gang will present the exhibition Utopia: Transformations of the Ukrainian East at the IZONE Creative Community space. The exhibition will run until March 11, 2018.
For eleven months, from December 2016 till November 2017, the team of Metacity: East was doing a multidisciplinary research of cultural, urban and identity aspects of six towns in the Donetsk and Luhansk regions: Lysychansk, Bakhmut, Pokrovsk, Severodonetsk, Kostiantynivka, and Dobropillia.
The team of Urban Curators conducted a complex urban research, and the Congress of Cultural Activists representatives collected data about the state of contemporary culture. Formografia Design Studiо created new architectural forms in collaboration with local activists. Curator Oleksandr Mykhed along with artists explored history and identity of the towns and designed relevant artistic interventions.
Utopia: Transformations of the Ukrainian East is not just a presentation of research findings. It is an attempt to reflect on the project and construct an "ideal" situation where all the project components can coexist and complement each other in real space.
Exhibition visitors can dive into virtual reality of the spaces created by Formografia team. The exhibition also includes a functional space based on the same principles as the spaces constructed in the East.
Artists Serhii Hrekh, Kostiantyn Zorkin, Jerzy Konopie, Vitalii Kokhan and Serhii Radkevych present their new works that build on the ideas discovered in the towns. The exhibition also features a selection of works by Marko Zalizniak, a distinguished Ukrainian photographer, assembled from the Pshenychnyi Central State Film, Photo and Audio Archive as well as the private collection of Volodymyr Havshchuk, author of the only book about Zalizniak thus far.
The exhibition is an attempt to take a look at the Ukrainian East through the lens of both the archived past and the present times; it also provokes a discussion about the ways of approaching the "utopian" future.
The exhibition will be accompanied by a parallel programme: discussions, lectures, workshops, a film screening and other events.
EXHIBITION DETAILS
Curators:
Roman Sakh and Kostiantyn Kuchabskyi, Formografia Design Studio, Oleksandr Mykhed
Artists:
Serhii Hrekh (Feros), Marko Zalizniak, Kostiantyn Zorkin, Jerzy Konopie, Vitalii Kokhan, Serhii Radkevych
Exhibition opening:
Thursday, February 8, 2018, 7 PM
Schedule:
February 8 – March 11, 2018, Monday to Sunday, 12 PM – 8 PM
Address:
IZONE Creative Community, vul. Naberezhno-Luhova 8, 2nd floor
Organisers:
NGO Garage Gang, IZOLYATSIA
With the financial support of ENGAGE civic engagement programme implemented by Pact Ukraine and Ukraine Confidence Building Initiative (UCBI and UCBI II) funded by USAID.
Supported by

Partners

Media Partners

Photo archive
Video archive