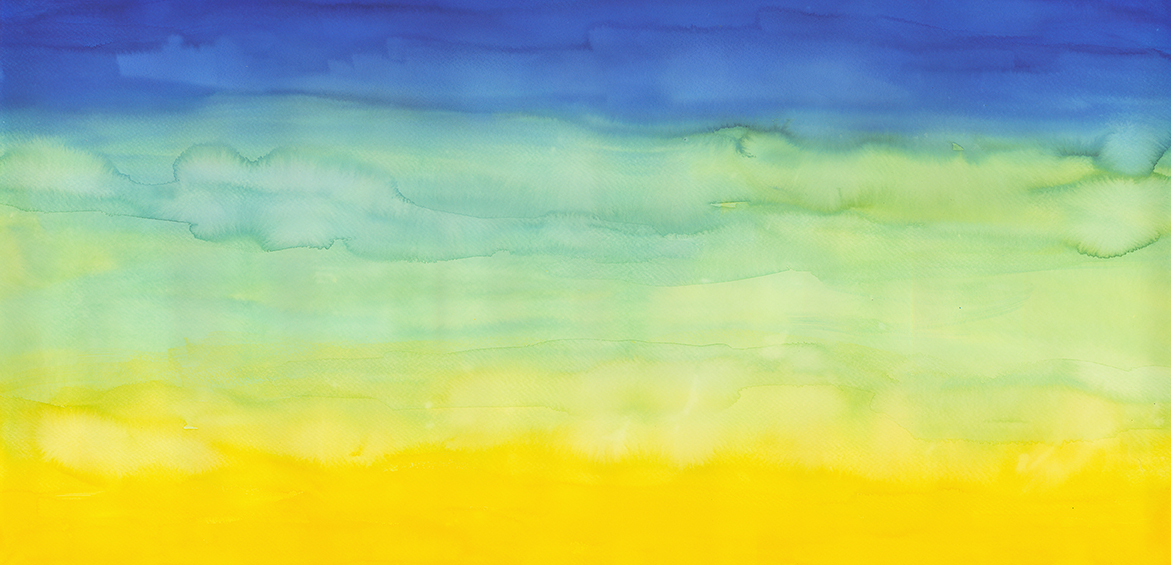 14 February 2018
Points of Unity is a project by the Danish art duo Hesselholdt & Mejlvang produced by IZOLYATSIA in collaboration with BigMedia, the biggest operator of outdoor advertisement in Ukraine. From January 5, 2018, Points of Unity can be seen on 50 billboards in Kyiv. It is very simple images, hand-painted aquarelle backgrounds with blue colour on the top fading into green in the middle and ending in yellow at the bottom of the boards. The images are reminiscent of the Ukrainian flag, but in an abstract style with a brim of green in the middle of the two colours; the symbolic, hopeful green that emerges from the mingling blue and yellow. Slogans "Let's look for points of Unity," "Be a beautiful force together" and "THIS MOMENT is the Beginning" are meeting the people in the streets. It is calls for action, but not in a direct way, more on the imaginary level. The slogans are talking about interactions, relations between individuals, ways of acting better in a complex world. It calls for a common effort to create a better world and a better future.
Hesselholdt & Mejlvang:
"War, revolution, coping and reconciliation. Ukraine is a country caught in the middle of Russian, European and national interests, fighting the old ghosts and facing new. Being a hub for geopolitical interests makes the country a turbulent site and a place where the future is open.
Points of Unity is revolving around this state of crisis but has the eye firmly fixed on imagining a positive future. The project relates itself to tomorrow, it insists on positivity and believes in the power of a shared effort to create the world we want."
Kateryna Filyuk, curator:
"As customers, we see hundreds of outdoor advertisements every day, especially in a city like Kyiv. Some may rightfully argue that advertising could contribute negatively to the mental climate by triggering feelings of competitiveness and inferiority. This argument is hard to overcome, but as outdoor advertising could not be eliminated, it could, however, be rethought from the artistic point of view.
Some iconic examples of the outdoor advertising being utilised by artists would range from not-so-subtle interventions of the group of artists operated in the 80s on the West coast under the Truth in Advertising moniker to intimate and fragile images of Felix Gonzales-Torres' Untitled series which, among many other cities in the world, Kyiv has hosted a few years ago (in 2013 as part of the Where There's a Will, There's a Way, a joint project of the AntiAIDS Foundation and PinchukArtCentre). Artistic strategies and approaches may vary drastically depending on the goals set: to hack, to subvert, to entertain, or to foster art accessibility, in particular with contemporary art. By taking contemporary art that is usually enclosed in a "white cube" of a museum or a gallery to the streets, one manages to reach out for much broader audience and to provide it with an opportunity to engage with art spontaneously and almost effortlessly. Despite a long history of making public art on outdoor advertising surfaces in the West, this practice remains a novelty in Ukraine. Perhaps among few, the Poster Campaign, 2012 by Sasha Kurmaz could be recalled. The artist has replaced the pre-election posters with an altered more honest versions. Also during Maidan advertising spaces in the city centre were often reclaimed by the protesters to channel their demands. Still these were mainly spontaneous grass-root initiatives.
Therefore the project Points of Unity by Hesselholdt & Mejlvang produced by IZOLYATSIA in collaboration with BigMedia stands out. It has been initiated by Big Media and developed specifically for Ukrainian capital by the Danish artistic duo. They looked at outdoor advertising as an integral part of Kyiv's urban landscape and pondered over the messages that they represent in public domain. It's not a stretch to call the duo the aliens coming from a very different Northern European context. However, their artistic sensibility to socio-political realities and persistent research of the locality allowed Hesselholdt & Mejlvang to elaborate simple yet coherent project involving billboards and light boxes in Kyiv.
Acknowledging the presence of national symbols in Ukrainian daily life, Hesselholdt & Mejlvang have taken the flag as their starting point. In times of global permanent crisis and multiple menace, Ukraine that is still trembling with social unrest, political instability and war, is particularly flown over by unsettling news and negativity. In order to challenge this and contribute to a more optimistic reassuring environment, Hesselholdt & Mejlvang devised a series of short sentences handwritten on the original watercolour background. When blended, blue and yellow of the flag create green colour which in many cultures symbolises hope. An unexpected outcome comments on a trivial truth—from old and well-known things something new and different could emerge. This colour blending is also a symbolic act of unification, but not in the sense of erasing differences but rather in a sense of searching for a common ground, for points of unity. The artists optimistically suggest that together, we can claim our tomorrow and imagine a radically better future.
The project has been revealed in two stages. First, the vivid backdrop on the billboards and city-lights, which have served as a moment of interruption, a reason to slow down and mind off. Later on, the hand-written texts were added to complete the work.
Points of Unity is an example of collaboration between private business, art institution, and artists in an attempt to make public space and urban surroundings more citizen-friendly and create some room for contemporary art in our daily life."
BigMedia:
"We have carried out over 600 social initiatives and are interested in projects that are true, meaningful, and socially significant. Points of Unity is one of them, as it combines an original creative concept by the Danish artists and the possibilities contemporary outdoor advertisement offers as an art object.
The philosophy behind the Points of Unity project lies in the unity of diversity and the combination of opposites that together create true beauty and strength. In the original idea of Hesselholdt & Mejlvang, the symbolic combination of two colours of the Ukrainian flag, blue and yellow, in the third, colour green that stands for hope, life, and future, reverberates with the main message of the project, "Let's look for points of Unity," creating a deeply philosophical art object. It motivates us to think about the things that matter most: the world we want to live in; the future we dream of; the value of mutual understanding; the joy and the warmth of true communication... Moreover, the topic of our country's future, a future that is not abstract but real, a future which we create with our own hands right NOW; the topic of responsibility for our own lives and happiness; are extremely relevant to our society. That is why, for us, the participation in the Points of Unity project is not only a social responsibility, but also our genuine conviction, something we believe in."
Artists
The Danish artistic duo Hesselholdt & Mejlvang was founded by Sofie Hesselholdt and Vibeke Mejlvang in Copenhagen in 1999. The themes they tackle include national identity, Eurocentrism, creation of a collective notion of Us. Works by Hesselholdt & Mejlvang require deep knowledge and understanding of the context as well as sensitivity in execution. The artists are convinced that contemporary art has the potential to provoke a dialogue and challenge stereotypes, and its representation in public space broadens the audience and draws the attention of society to painful or suppressed topics.