Open Call for U.S. Based Artists Vol. 2.2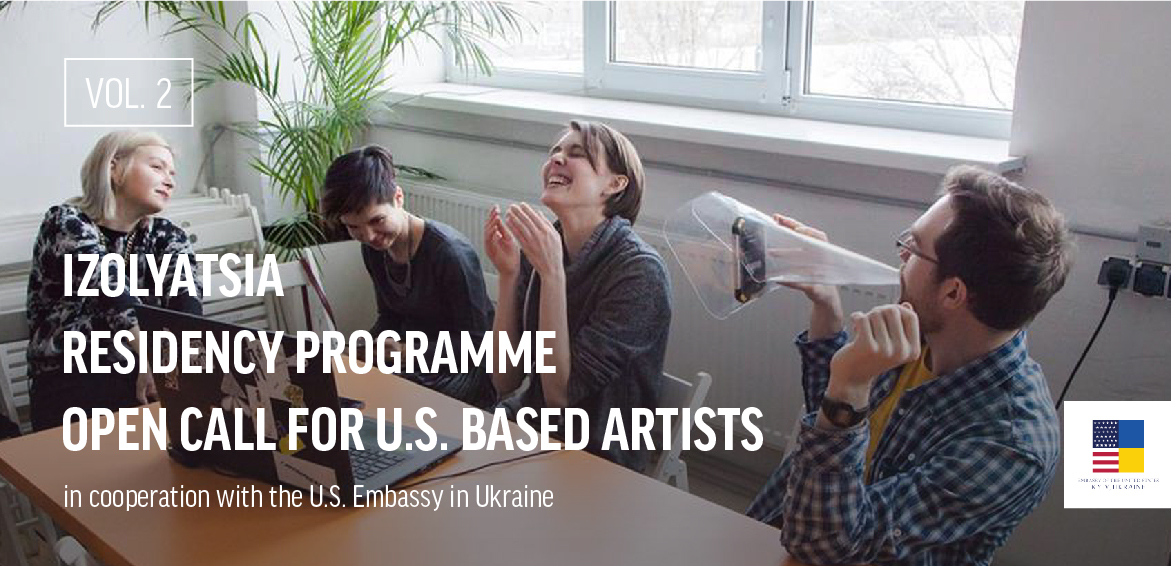 IZOLYATSIA with support from the U.S. Embassy in Ukraine is pleased to announce an Open Call for the American-based artists. The second call comes from the success of the first year of cooperation, in the result of which 5 U.S. artists came to Ukraine in 2017-2018. Among them, there were a choreographer, dancer and director Meryl Murman, artist Asad Raza, curator and artist Clemens Poole, designer and urbanist Sam Holleran, artist Domingo Castillo.
The institutional specifics of IZOLYATSIA and the general social and political context in Ukraine, the Open Call vol. 2 is interested in socially and politically engaged art practices, activism, urbanism, public art and community-based art.
The preference goes to the artists who employ different media to investigate post-industrial regeneration, creative economy, complex social and political matters of migration and displacement, performative or participatory practices engaging with local communities, performance practice, interdisciplinary research (Social Sciences, Biology, Music, Robotic Science, Gender Studies combined with art).
As a research-based residency, Open Call vol. 2 is focused on the accumulation of information, communication with local artists and communities, and immersion into the Ukrainian cultural, social and political contexts.
Meanwhile the residency, each participant receives:
coverage of up to $1500 for travel costs;
accommodation in a private room with shared bathroom and kitchen;
coverage of daily expenses;
artist honorarium $700;
production costs $700;
access to the studios at the IZONE Creative Community: Print Hub, Research Room;
access to the database of IZOLYATSIA including contacts of Ukrainian artists and art institutions.
The payment of the artistic fee and for the production is in national currency (UAH) on the basis of the exchange rate which is current as at the date of the residence funding receipt.
During the residency, artists are expected to stay or visit other Ukrainian cities where they would share their research and work through artist talks, discussions, screenings, workshops, performances, and / or presentations.
The deadline for application submissions is May 1, 2019.
The residency lasts a month during the period between July — December, 2019.
To apply, please submit your CV, portfolio and motivation letter to [email protected]. with the email subject "Open Call for U.S. based artists."
Published:
12 October 2018, 02:05