Results of the open call for American artists vol. 2.2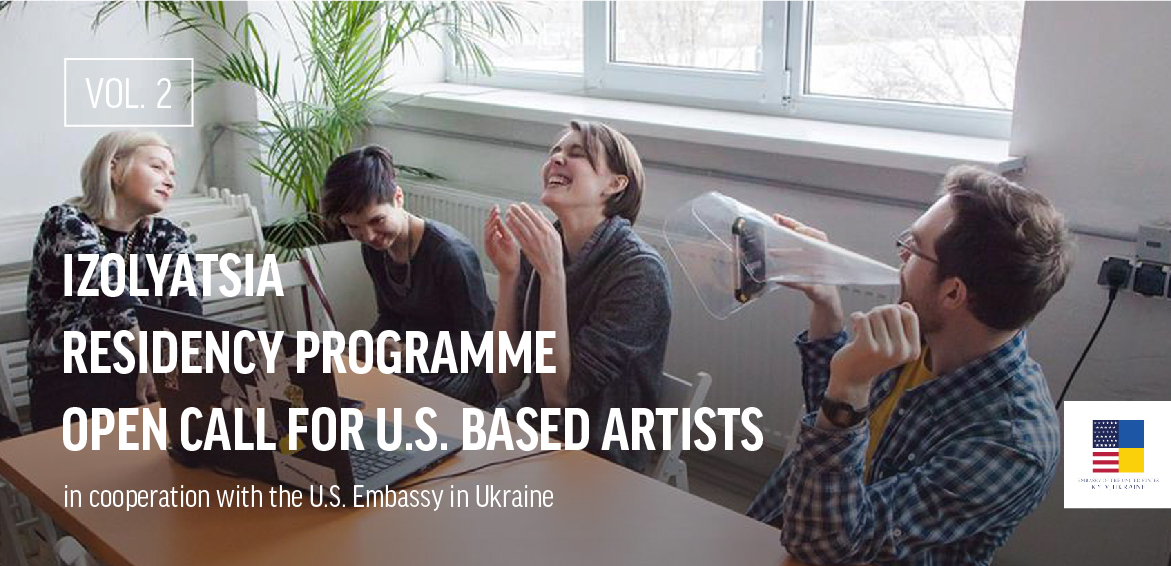 IZOLYATSIA in cooperation with the U.S. Embassy in Kyiv is pleased to announce the results of the Open Call for US-based artists willing to participate in IZOLYATSIA Residency Programme.
Based on the submitted projects on activism, urbanism, public art, community-based art, politics and food, the following artists have been chosen:
Nicholas Nazmi – a young animator, painter, with Iran roots.
Only for 2018 he participated in such shows as Flux Factory Annual Auction, Flux Factory, New York; Istanbul International Experimental Film Festival, Istanbul, TR; The Grandmaster: Lau Kar-leung, The Museum of Modern Art, New York; No Budget Film Festival, Nitehawk Cinema, New York; New York Indie Theater Film Festival, New York.
His work in animation and painting is greatly inspired by the search of belonging and the way home is reoriented in our souls after displacement.
Lives and works in New York.
More information about his works you can find on his website: https://nicknazmi.com/videowork-1/
---
Heather Beardsley - an artist who works with embroidery and photography.
Heather has a very broad education on Arts History and Fine arts, graduated School of the Art Institute of Chicago, University of Virginia,Maryland Institute College of Art, in 2015 got a Fulbright Scholarship (Vienna, Austria) in Installation Art, Masters of Art and Science, University of Applied Arts.
Her works were exhibited in many group and solo exhibitions, some of the recent are: Variations on a Theme, Merion Hall Gallery, St. Joseph's University, Philadelphia; Transmigration, with Anne Stagg, Curfman Gallery, Colorado State University, Fort Collins; Inspirácia Papierom IV, Galeria X, Bratislava, Slovakia; Depth, Science Gallery Detroit, New Waves 2019, Virginia Museum of Contemporary Art and so on.
Heather explores the topics of nature, environment and human societies, their interaction and symbolism.
More information about her works you can find on her website: https://www.heatherbeardsley.com/
---
Slinko – a multidisciplinary artist born in Ukraine, now living in New Jersey, USA. Her artistic practice is rooted in travel and research, and is informed by history and social anthropology. In her work, Slinko investigates the effects and workings of power on society and individuals. She often uses historic narratives, cultural artifacts, and political symbols to reflect her idiosyncratic, and often comically flawed perspective. Slinko works across several disciplines, and incorporates forms ranging from political satire to storyboard drawings, moving image, performance, and fieldwork research.
Slinko studied painting at Kharkiv State Academy of Design and Arts, graphic design at Fashion Institute of Technology, and has an MFA in Sculpture and Extended Media from Virginia Commonwealth University. Recently participated in such exhibitions as Jeune Création 68, Beaux-Arts, Paris, France; Made Here, Guttenbert Arts, Guttenberg;
Marx @ 200. Space, Pittsburgh.
More information about her works you can find on her website: www.studioslinko.com
---
Moira Williams – curator and artist from New York. Her often co-creative practice weaves together performance, bio-art, food, sound, sculpture and others. Moira's work aims to follow the logic of our symbiotic being in the world we share with bacteria, wild yeast, soil, water, animals, plants and one another. Moira regularly invites people to reconfigure familiar objects and social events to offer multiple opportunities for building our social imagination, deepening our ecological meanings and questioning systems of power and influence. Intervening in systems often taken for granted, moira approaches culture as something we actively shape together.
Her last curatorial project was S.T.E.P... (Saunter, Trek, Escort, Parade...) is a walking based art show in 2 iteration: Flux Factory and Queens Museum. S.T.E.P... asks how walking as a creative act can challenge notion and conversations around visibility, gender, labor, exploration, counter mapping, ethodology, colonialism, feminism, motherhood, contesting borders, community building, calling out gentrification, street harassment, (dis) ability, carbon debt and others.
More information about her works you can find on her website: https://www.moira670.com/photography/
---
Miriam Simun – a research-based artist, interaction designer and educator. investigating the implications of socio-technical and environmental change.
Simun is a graduate of the London School of Economics, the Interactive Telecommunications Program at New York University. Her work has been the subject of numerous international presentations, including exhibitions at the New Museum of Contemporary Art, New York; the Museum of Arts and Design, New York; the DeutscheBank Kunsthalle, Berlin; The Contemporary, Baltimore; Ronald Feldman Fine Arts, New York; the Museum of Fine Arts, Split; the Bemis Center for Contemporary Arts, Omaha; the Himalayas Museum, Shanghai; and the Beall Center for Art + Technology, Irvine. Simun is a recipient of awards from Creative Capital, the Robert Rauschenberg Foundation, the Joan Mitchell Foundation, and the Foundation for Contemporary Arts. She was the recipient of the Santa Fe Art Institute's 2015 Food Justice Residency in New Mexico, and the OMI International Arts Center's 2016 Artist Residency in New York.
Simun specializes in mapping systems, analyzing functionality, identifying optimal sites of intervention, defining requirements, and creating change, be it through redesign, provocation, or re-imagination.
More information about her works you can find on her website: https://www.miriamsimun.com/
This residencies are made possible thanks to the support of the U.S. Embassy in Kyiv .
Published:
29 May 2019, 18:31