Programme of parallel events of the exhibition Reconstruction of Memory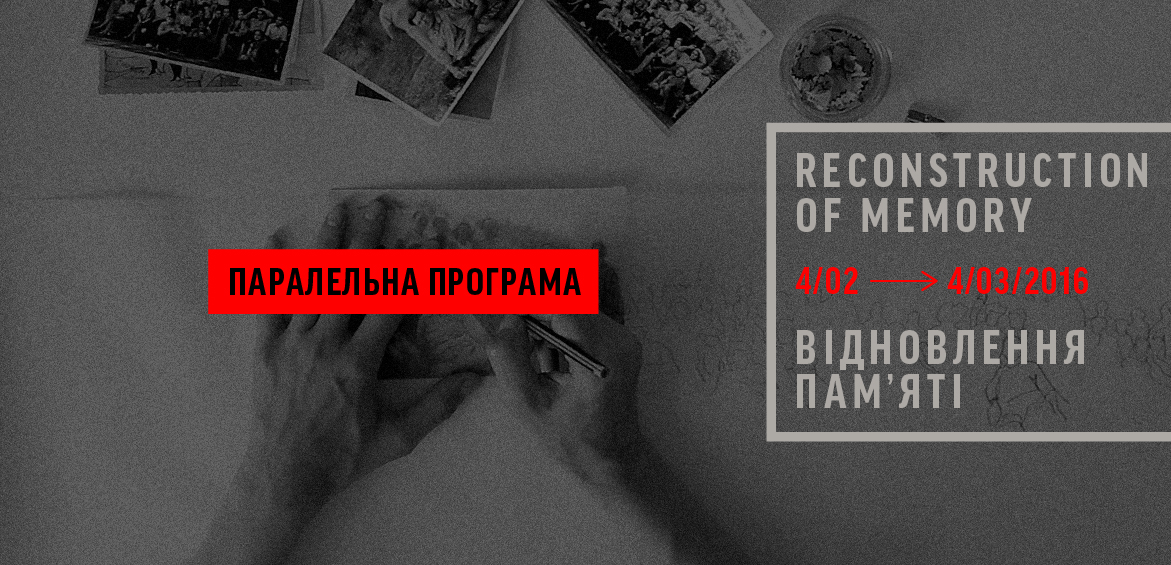 SATURDAY, FEBRUARY 6, 1pm
CURATOR'S TOUR AND ARTIST TALK
The exhibition's curator Andrii Dostliev will discuss with artists Yulia Polunina-But and Viktor Corwic the background of the Reconstruction of Memory project, personal stories of its participants and their works. They will be joined via Skype by the curator Lia Dostlieva who will speak about trauma in art. After the discussion, Andrii Dostliev will make a tour around the exhibition.
SATURDAY, FEBRUARY 13, 1pm
EMINE ZIYATDINOVA'S LECTURE ON CRIMEAN TATAR IDENTITY
Photographer Emine Ziyatdinova will read a lecture Crimean Tatar Identity and Propaganda in Crimea.
Emine Ziyatdinova was born in Uzbekistan, has long lived in Crimea and is currently based in Kyiv. She has studied photojournalism at Ohio University (US). Ziyatdinova's documentary photography deals with immigration and ethnic minorities. Photographer's projects on Russian émigrés in New York and Crimean Tatars in Ukraine have been published in The New York Times Lens photography blog, .týždeň and CNN Photos.
For the Reconstruction of Memory exhibition, Emine created the installation called Home.
SATURDAY, FEBRUARY 20, 1pm
OKSANA DOVGOPOLOVA'S LECTURE ON ANTHROPOLOGY OF MEMORY
Philosopher Oksana Dovgopolova will read a lecture Man in the Space of Memory: Reminding About the Unaccomplished in Search for a Way Towards Future.
Oksana Dovgopolova is a historian and philosopher, PhD in Philosophy, professor at Odessa I.I. Mechnikov National University. Author of over 50 papers in philosophy and anthropology.
SATURDAY, FEBRUARY 27, 5pm
LECTURE AND DISCUSSION ON CONTEMPORARY NOMADIC ARCHITECTURE
Polish architect and professor Maciej Siuda will talk with artist Victor Corwic, graduate in architecture, about the contemporary nomadic architecture.
Maciej Siuda was a finalist at ARCHIPRIX, MIT Boston, presented at the Guggenheim in New York. In 2008-2011, he has worked as an architect in design studios PO2 Arquitectos (Madrid), Sou Fujimoto Architects (Tokyo) and Grupo Aranea (Alicante). Siuda helped initiate IWAU, a series of international workshops on architecture. Since 2011, he has been teaching design at Kielce University of Technology.Victor Corwic is a Ukrainian photographer and designer born in Donetsk, one of the founders of the 12PM group, member of Zhuzhalka and UPHA groups. Corwic participated in designing the infamous Donetsk airport, and his project Airport within the Reconstruction of Memory exhibition deals with this subject.
All events will be held at 8 Naberezhno-Luhova Street, Second floor.
Free entry.
Partner of parallel events programme


Published:
10 February 2016, 16:37
Media partners