Parallel events Reconstruction of memory, february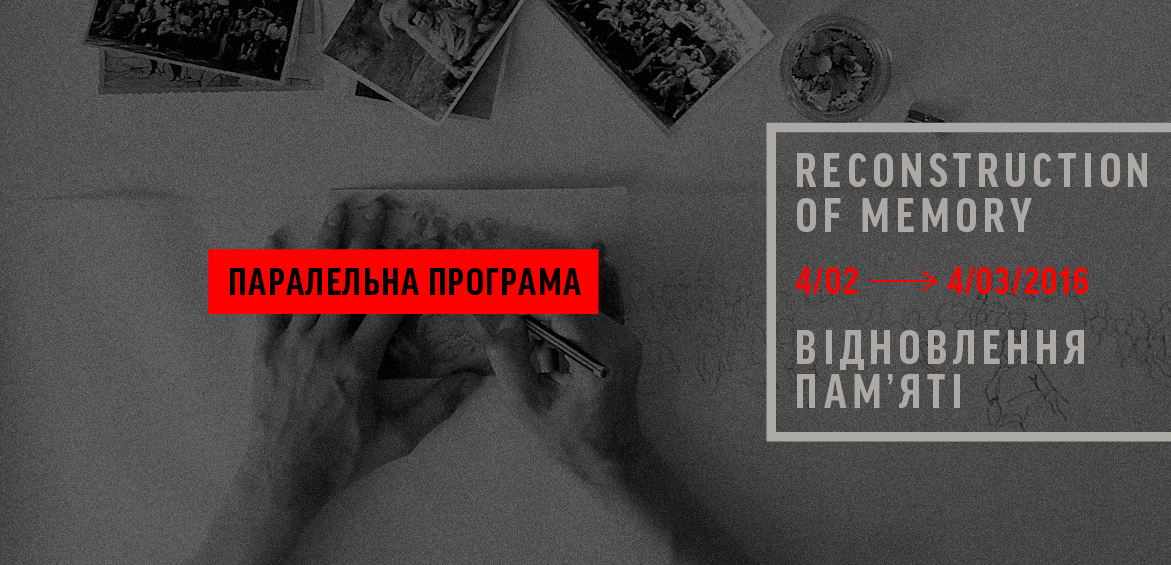 Dear friends, we would like to remind you that during the exhibition Reconstruction of Memory we are holding a series of educational events, lectures and discussions.
This Saturday, February 20, at 1pm philosopher Oksana Dovgopolova will read a lecture Man in the Space of Memory: Reminding About the Unaccomplished in Search for a Way Towards Future.
Oksana Dovgopolova is a historian and philosopher, PhD in Philosophy, professor at Odessa I.I. Mechnikov National University. Author of over 50 papers in philosophy and anthropology.
Next Saturday, February 27, at 1pm Polish architect and professor Maciej Siuda will talk with artist Victor Corwic, graduate in architecture, about the contemporary nomadic architecture.
Maciej Siuda was a finalist at ARCHIPRIX, MIT Boston, presented at the Guggenheim in New York. In 2008-2011, he has worked as an architect in design studios PO2 Arquitectos (Madrid), Sou Fujimoto Architects (Tokyo) and Grupo Aranea (Alicante). Siuda helped initiate IWAU, a series of international workshops on architecture. Since 2011, he has been teaching design at Kielce University of Technology.
Victor Corwic is a Ukrainian photographer and designer born in Donetsk, one of the founders of the 12PM group, member of Zhuzhalka and UPHA groups. Corwic participated in designing the infamous Donetsk airport, and his project Airport within the Reconstruction of Memory exhibition deals with this subject.
All events will be held at 8 Naberezhno-Luhova Street, Second floor.
Free entry.
Come visit us!
Published:
15 February 2016, 17:10
Media partners