(Re)Grounding 2022-23 | Open call for visual artists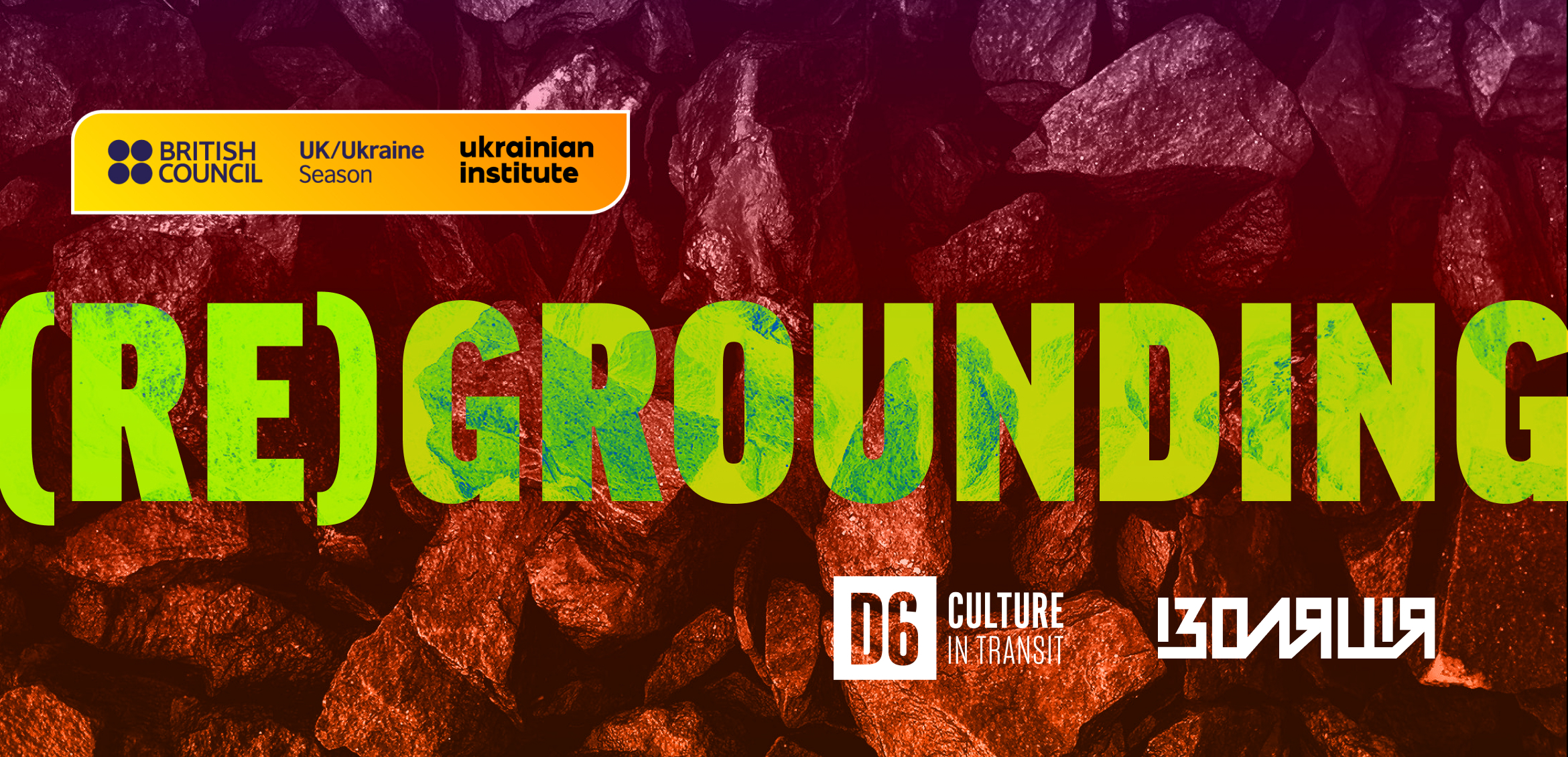 A visual arts programme between IZOLYATSIA (Ukraine) and D6: Culture in Transit (UK) supported by British Council's UK/Ukraine Season and Ukrainian Institute.
KEY INFORMATION
Deadline: 16th September 2022
Residency timeline: 1 week research visit: late November 2022 (dates TBC)
Residency: 1 February - 1 March 2023
Artist Fee: £3000
Materials Budget: £500
IZOLYATSIA and D6: Culture in Transit are calling to visual artists from Ukraine to apply to participate in a new visual arts programme, (Re)Grounding 2022-23. This programme aims to explore climate emergency in post-industrial contexts through two research residencies and an exhibition connecting practice, heritage and communities between the UK and Ukraine.
As part of the UK/Ukraine Season organized by the British Council and Ukrainian Institute, (Re)Grounding is a partnership between IZOLYATSIA and D6 Culture in Transit, whose relationship began in 2015. As visual arts producers we share the importance of supporting artistic professional development, working with artists who explore urgent social and environmental issues. The traumatic Russian invasion of Ukraine put a halt to our plans. We have now re-shaped the project which was to have taken place in Soledar in the East of Ukraine, to invite Ukrainian artists to be in residence in Newcastle in the North East of England.
ELIGIBILITY
This opportunity is open to visual artists from Ukraine in exile or in Ukraine, who are interested in applying for the UK residencies hosted by D6: Culture in Transit in Newcastle.
ARTIST BRIEF
Climate change is caused by greenhouse gas emissions driven by human activity. The Impacts of climate change are global and unprecedented in scale. Drastic action is needed to limit the increase of rising temperatures to at least 1.5 degrees Celsius to limit the consequences of warming oceans, rising sea levels and extreme weather events that will be catastrophic for both the planet and people worldwide.
In March 2022, one month after Russia's invasion of Ukraine Antonio Guterres, the UN Secretary general warned it was putting global climate targets out of reach. The east of Ukraine and also the whole European continent is at risk of ecological catastrophe caused by the shelling of chemical factories, nuclear power plants, the neglection of safety measures at coal mines and more.
(Re)grounding was originally planned to take place around Soledar and the post industrial towns of Eastern Ukraine, inviting UK artists to work alongside Ukrainian artists to explore post industrial landscapes and environmental impact through artistic practice. Now 2 Ukrainian artists will be invited to be in residence in Newcastle, an 18th and 19th century accelerator of the industrial revolution that spread to the world. The global impact of the industrial revolution on the climate crisis is plain to see.
EXPECTATIONS OF THE ARTIST:
Research Visit (November 2022) in Newcastle to visit sites, organisations and cultural projects relevant to the project theme, and to meet organisations and networks supporting Ukrainian refugees in North East UK

Joint Residency (February 2023) in Newcastle to explore the (Re)Grounding theme, based at D6's Studios in central Newcastle

Community engagement: Resident artists will engage the local arts community and with Ukrainian communities in the region.

Artwork: The artists will each produce new work in response to the theme.

Public Presentation: The artists will present their practice at an artist's talk in Newcastle. We are currently planning to raise further funds to invite artists to an international conference in London, September 2022 and an event focused on art and ecology with the Ukrainian Institute.
EACH SELECTED ARTIST WILL BE OFFERED:
A private studio space for the residency (non-residential) for 30 days from 1 February - 1 March 2023

Professional development support from IZOLYATSIA and D6

Support from a local Ukrainian assistant producer to facilitate connections with Ukrainian communities in the North East

A production budget of £500

A per diem to cover subsistence costs while in residence

An additional budget to ensure information and communication is provided in an accessible format if required (for example: in translation to another language, large print, audio, braille)

Participation in a 2-day workshop in Newcastle upon Tyne in November 2022 with a wider group of artists and producers considering artists in exile
ELIGIBILITY
Artists can be at any stage of their career, and we welcome applications from Ukrainian artists in exile (in the UK or Europe) or in Ukraine. D6 will support visas and sponsorship. If an artist needs to relocate with their family in the UK through the UK Government, D6 will support this by engaging with local support networks and schemes.
TIMELINE FOR ARTISTS IN RESIDENCE at D6
Date
Activity
September 2022
Final selection of 2 artists
October 2022

Online meetings with artists and producers

Desk-based research for artists to explore the theme of the project (environmental impact/Anthropocene) in relation to North East England

late November 2022
1-week research visit for artists to meet artists, cultural organisations and organisations supporting Ukrainian refugees

1 February - 1 March 2023

Joint Residency for 2 Artists and public presentation in Newcastle
---
HOW TO APPLY
Please complete this form with your application
You can complete the application form in English or Ukrainian. You will be asked:
Tell us about your art practice (150 words maximum or a 1 minute video or audio recording)

Tell us why you are interested in this opportunity and how it will help you to develop your visual arts practice (150 words maximum or a 1 minute video or audio recording)

What would you like to develop during the residency? (250 words maximum or a 2 minute video or audio recording)

Up to 3 images or links to view your work
---
We will shortlist up to 4 artists. If you are shortlisted, we may invite you for a short, informal conversation to talk about your proposal in more detail.
If you have questions or would like a conversation about the opportunity, please contact [email protected] or [email protected]:
Deadline for opportunity: 16th September 2022
All applicants notified: 27th September 2022
Equality and Diversity Statement: D6 and IZOLYATSIA seek to ensure that no present or potential member of staff, artist or project participant is treated less favourably than another on grounds of race, colour, nationality, ethnic origin, gender, gender identity, marital or civil partnership status, disability, sexual orientation, religious or political beliefs, age, social class or offending background.
---
FURTHER INFORMATION
IZOLYATSIA – aims to effect systemic change in Ukrainian society through the agency of cultural projects. The foundation is developing an institutional environment, which promotes networking between cultural agents and creates the necessary conditions for the emergence of new players. IZOLYATSIA orientates its activity toward the new Ukrainian generation that is involved in the creative and cultural sectors. Through artistic practice, the foundation aims to change public opinion on politically sensitive themes and marginalised communities. IZOLYATSIA aims to be a catalyst of cultural decentralisation, implementing projects in regional Ukraine with a strong focus on producing and sharing knowledge about the social and cultural characteristics of East Ukraine
D6 Culture in Transit – are visual arts producers with a rooted local presence and established international reach. Our work is co-produced with artists and partners and focused on societal issues that concern and connect us. Through artistic exchange and commissions, we draw threads between communities of difference and explore international common ground with partners across continents. D6 has a long history of supporting residencies, with access to local resources (such as printmaking) to support artistic practice. D6 is well networked within the cultural community of the city, and has a long history of both welcoming international artists and of supporting those who arrive in the UK as refugees.

The photo of Nick Nice from Unsplash was used to create project banner.
Published:
17 August 2022, 20:21