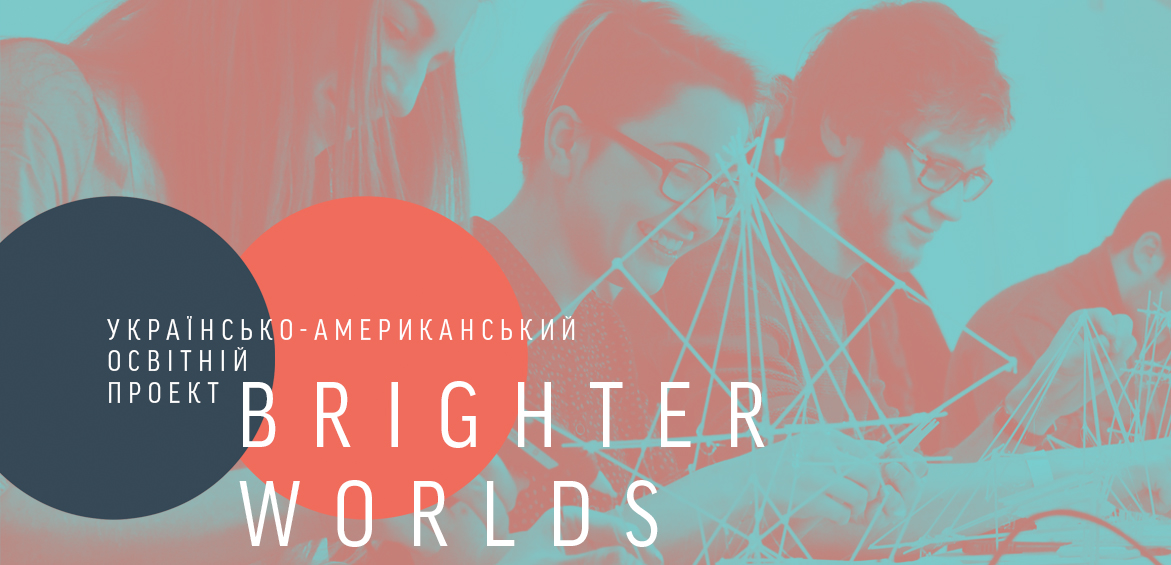 1 September 2015 — 31 July 2016
IZOLYATSIA foundation in partnership with AS220 (Providence, US) has launched an innovative educational project for Ukrainian and US youth. Confronting Violence Through Youth-оriented Media is a Museums ConnectSM project. Museums Connect is an initiative of the US Department of State's Bureau of Educational and Cultural Affairs that is administered by the largest museum organization in the world — the American Alliance of Museums.
The joint project Confronting Violence Through Youth-оriented Media (CVTYM), a.k.a. Brighter Worlds, brings together Ukrainian youth from different regions of Ukraine, who have directly experienced the negative effects of the conflict in Eastern Ukraine and the annexation of Crimea, and a cohort of 'at-highest-risk' American youth (youth in the social service system, juvenile detention facilities, disadvantaged socially and economically, etc.) from Rhode Island.
The goal of Brighter Worlds: CVTYM is to involve Ukrainian and American youth who have experienced hardship in their lives into an active role in their communities, teach new skills, creative methods of self-expression, and ways to promote their ideas, offer self-improvement opportunities, and demonstrate to the youth that regardless of external factors, they are the only ones responsible for designing their bright futures.
The open call for recruiting students and instructors for the project continued through February 2015. Based on the results of the open call 4 instructors and 10 students were recruited. The education programme that includes seminars, lectures, meetings, workshops, exhibitions will launch on March 5, 2015. The student exhibi­tions in Kyiv and Providence will take place in summer 2016.
Project social media:

Planned activities
RESEARCH SEMINARS
4-hour research seminars will be held every other week (tentatively March through June 2016). Seminars for American youth (at AS220 art centre) will take place simultaneously with seminars for Ukrainian youth (at IZOLYATSIA's creative space — IZONE). During the seminars, Ukrainian students will learn various research methods, get an introduction into creative industries by learning about the labs and workshops at IZONE — Photo Lab, the Woodshop, Lithography, Silkscreen workshops, and the IZOLAB digital fabrication lab, learn how to design unique projects, art works, prototypes by combining science, technology and creativity. Project instructors will also give directed readings to students about the political, social, and cultural climate in Ukraine and the US.
SKYPE DISCUSSIONS
During Research Seminars, students from AS220 and IZOLYATSIA will engage in discussions once a month via Skype to analyse political and social issues as an international group. By communicating with American youth, Ukrainian students will gain a greater understanding of the existing political, social and cultural climate in the US, and will compare what they will learn with the situation in cities in Ukraine. Offering context and different perspectives through active dialogue, students will become informed about important issues, and they will gain better understanding and feedback on each other's ideas and exhibition concepts.
CREATIVE REPORTING LABS
Alternating with the research seminars, every other week students will meet for 4 hours to practice self-expression and communication with the general public. During these seminars, Ukrainian students will develop technical and creative writing skills and will produce creative reports on their research findings via social media devoted to the project (collective blogs, class website, social networks). Students will learn web-based media and begin producing creative online content (blog posts, graphic design, infographics, podcasts, videos, etc.).
PRINTMAKING EXCHANGE
Tentatively in April, IZOLYATSIA instructors will travel to Providence, Rhode Island to meet the US project participants and conduct a two-day intensive lab on printmaking techniques in AS220's Printshop.
SUMMER LAB INTENSIVE
In summer 2016, students from AS220 and IZOLYATSIA programmes will attend a 2-week Summer Lab Intensive programme focused on digital fabrication and design, and creating unique models and prototypes. The Summer Lab Intensive will include an overview of prototyping construction methods (3D printing, laser cutting, CNC routing), programming, video production/editing, printmaking techniques, photography and more. During this lab experience, students will use these methods as well as other skills learned throughout the project, and will conceptualize and create exhibition projects that imagine future worlds, spaceships, sustainable environments, or new urban designs.
EXHIBITIONS
The programme will culminate with exhibitions of the youths' projects in both Kyiv and Providence. Students of Brighter Worlds: CVTYM will experience the process of designing, presenting, and installing their own works and learn methods of documenting their creative research. Promotion for the exhibitions will be carried out by students and instructors during the entire project.