Producing Visual Codes in Cities: Art, Urbanism, Advertisements, Municipal Authorities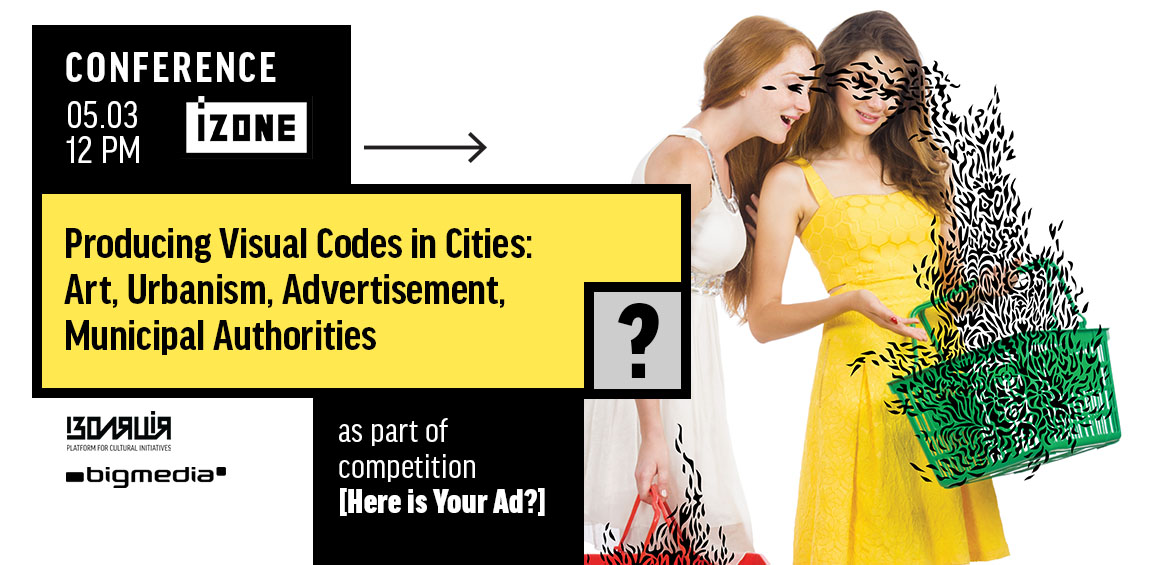 On March 5, 2019, at 12 PM, in the space of the Creative Community IZONE, there will be a conference as the result of a joint project of the IZOLYATSIA Foundation and BigMedia, [Here is Your Ad?]. The project invites artists to consider the means of outdoor advertising as a potential media for artistic expression in the public space.
During the project, a number of problem issues were identified, which requires the particular discussion within the professional environment. The conference aims is to involve representatives from different fields, which are somehow tangent to the appearance of a public space, in the dialogue. During the conference participants will try to find answers to such multidimensional and complex issues:
How should a city look?
What are the cross-sectional points between each of the stakeholders affecting its visual code?
The conference will consist of four consecutive sessions and a final joint discussion where participants will be able to present the work done during the sessions trying to come to a common denominator.
Schedule:
Session with Advertising Agencies
12 PM — 1:30 PM
During the session, representatives of advertising and other creative agencies will discuss the topics of advertising content, as well as strategies for communicating with potential clients to prevent the use of non-professionals or the implementation of the client's own idea.
Urban Session
2 PM — 3 PM
During the session, there will be a dialogue between representatives of city authorities and urbanists. The following topics will be discussed:
Is the city interested in the realization of social initiatives. How does it affect the city image?
How to place advertising in the urban landscape at the stage of planning new housing districts or the historical part of the city?
Art Session
3:15 PM — 4:15 PM
As part of the session, there will be a presentation of the winner of the competition [Here is Your Ad?] — #Through_Hapiness_Codes by Maxim Finogeeva. After the presentation, the speakers — artists working in the public space — will share their vision of solving the problem with the appearance of outdoor advertising.
Concluding Session
4:30 PM — 6:30 PM
The participants will present each other their own proposals, developed during each session, and try to identify the points of intersection.
---
March 5; 12 PM
Creative Community IZONE
Naberezhno-Luhova, 8 (Kyiv; Ukraine)
Entry is free
Published:
27 February 2019, 16:46