Maksim Finogeev, #Through_Happiness_Codes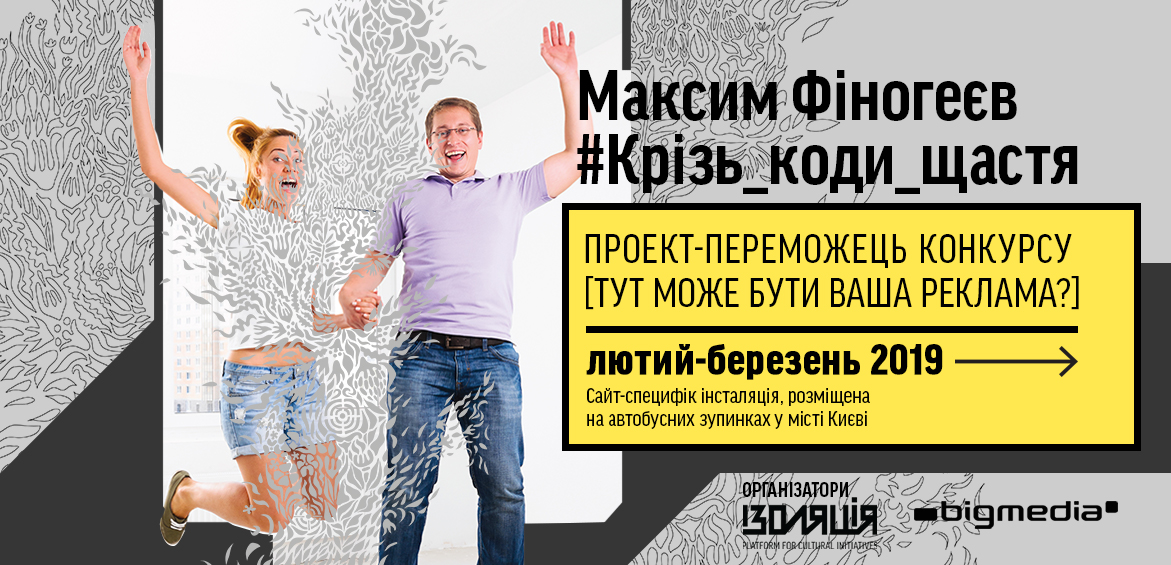 22 February 2019
#Through_Happiness_Codes is a site-specific artwork installed at bus-shelters across Kyiv; February-March, 2019.
In the fall of 2018, the IZOLYATSIA Foundation, together with BigMedia, announced a competition for Ukrainian artists to create a project on outdoor advertising, [Your Ad Here?].
The winner of the contest based on the results of popular vote was the project #Through_Happiness_Codes, by the artist from Odesa, Maxim Finogeev.
Formally, the project was executed in the technique of vytynanka - a kind of Ukrainian folk decorative art, whose name comes from the Ukrainian word "vytynaty", "to cut". Like other types of decorative and applied arts, vytynanka was used to decorate the home, a reflection of the desire for beauty and happiness. The artistic language of ornamental compositions narrated dreams, events and stories associated with beauty, such as the wedding or the harvest.
The artist's creative idea combines tradition and modernity into one coherent picture - carving patterns into stock photographs from a photo bank, which depict smiling, happy people in different situations. These situations are based on data gathered in 2018 which provides insight into which visual images reflect the modern needs of Ukrainians and what the most commonly depicted situations on outdoor advertising in the city are.
The project consists of 10 citylites. For his stories, the artist has chosen the citylites at bus stops, which are the transit zones, and built a section of the route, where each image is subject to this or that situation — the purchase of a dream home or car, a celebration, a concert. Each image evokes a feeling of happiness and joy, as well as containing a loose pattern which deconstructs each photo and makes the viewer look beyond the image. Both traditional and contemporary Ukrainian cultural practices are combined in this project.
Photo archive
Video archive