Causes of Militarization: How does the War Appear in the Mind of Ukrainians?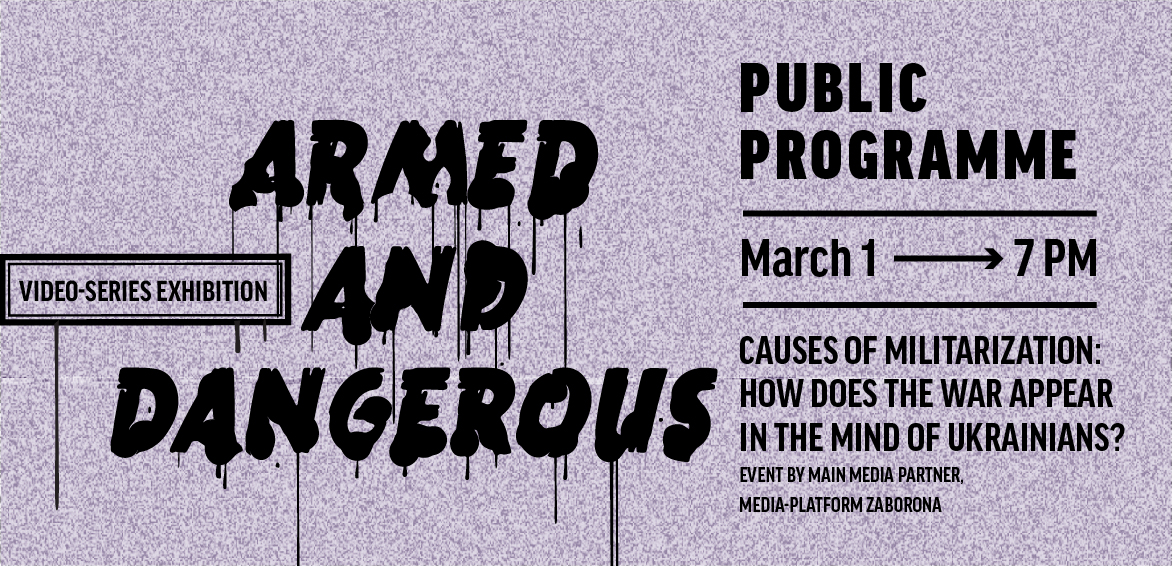 On March 1, at 7PM, as part of the Armed and Dangerous project, the lecture Kateryna Yakovlenko will be an event by main media partner, media-platform Zaborona.
It is already the fifth year of the war in eastern Ukraine. During this time, many have noticed that outside the military zone, in 'peaceful cities', the war is not visible. But the longer the war continues, the more it is visible in discourse, changes in rhetoric, culture, appearance. During this discussion, the participants will consider how the war penetrates private life and what this leads to.
Moderator:
Katerina Sergatskova is a journalist, editor-in-chief of the media project Zaborona.
Participants:
Vyacheslav Likhachev, the researcher of far-right movements;
Pavel Khailo, the artist problematizing the military education;
Natalia Topchiy, the chief of the department of national-patriotic education and cultural, educational programmes of the Kyiv Oblast Youth Center (Kyiv Oblast Council).
---
March 1 (Friday), 7 PM
Creative Community IZONE; the 4th floor, Studio 2
8 Naberezhno-Luhova St. (Kyiv, Ukraine)
Entry is free; but, please, fill in the form
---
On January 31, at 7 PM, IZOLYATSIA invites to the opening of the video-series project Armed and Dangerous. The project reflects on the ambiguous state of Ukrainian society undergoing an external intervention and internal disruptive movements. Armed and Dangerous is a project-platform that brings together a group of artists and film directors working on the intersection of contemporary art and experimental cinema. From January 31 to March 17, as part of the project, there will be a public programme including a series of cinema screenings, discussions and lectures.
Published:
31 January 2019, 11:38