ZMINA 2.0: Program results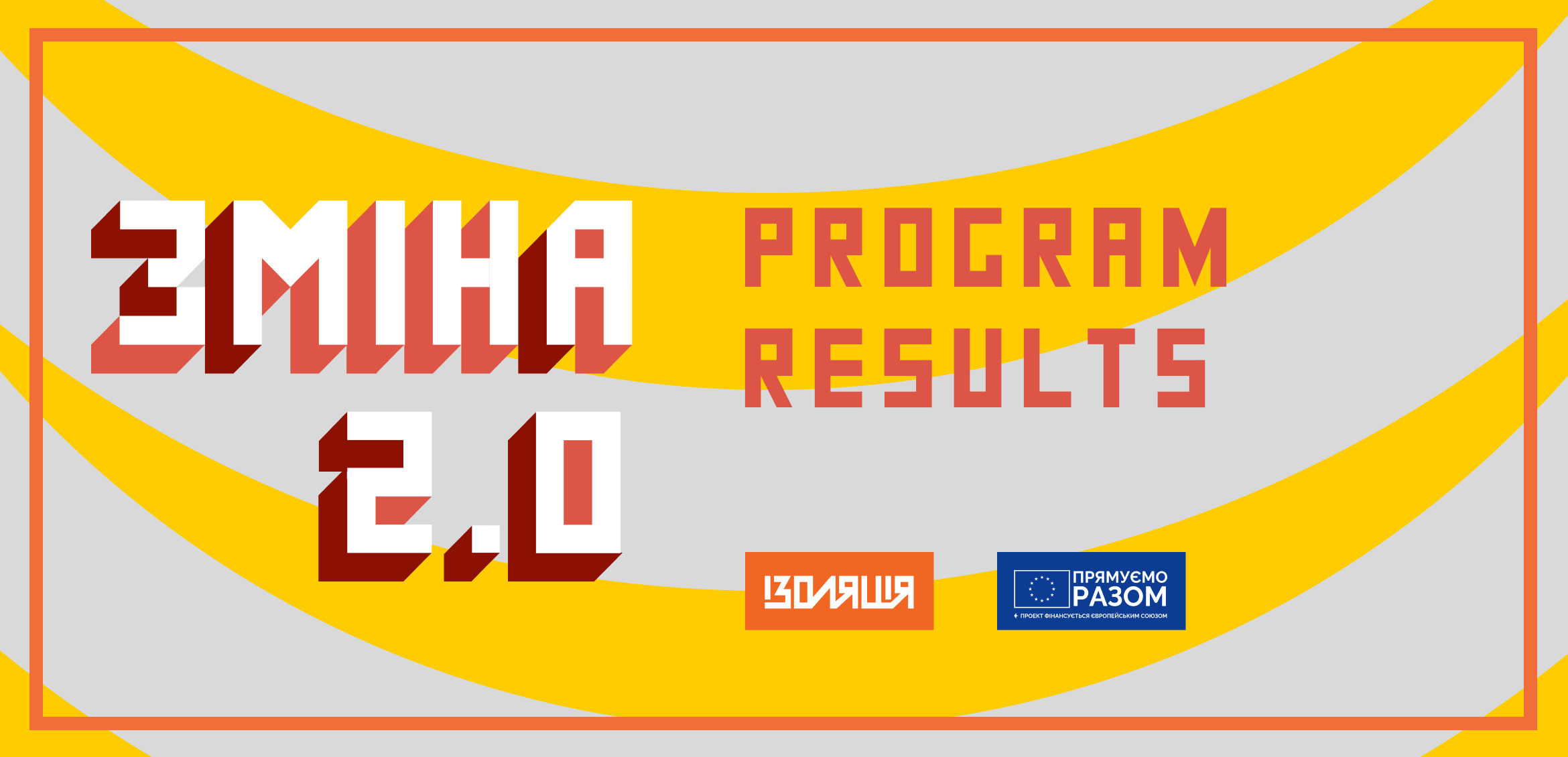 ZMINA 2.0 is a project to provide emergency assistance to the war-affected population of Ukraine and support art projects. The project was implemented from 25 January 2022 to 24 July 2023 with the financial support of the European Union. As a result, the final beneficiaries of the programme were 428 035 people, including 236 690 women, 190 403 men and 942 people who did not indicate their gender.
---
ADDRESSING THE IMMEDIATE WAR-RELATED POPULATION NEEDS
In total, 239 663 final beneficiaries received emergency assistance under the programme, of which 47 170 were IDPs and 192 493 were war-affected people.
Emergency assistance was provided in 21 regions of Ukraine, namely: Kherson, Volynsk, Ivano-Frankivsk, Kyiv, Lviv, Vinnytsia, Dnipropetrovs'k, Donetsk, Zhytomyr, Zakarpattia, Zaporizhzhia, Kirovohrad, Kharkiv, Chernivtsi, Khmelnytsk, Chernihiv, Odesa, Poltava, Rivne, Sumy and Ternopil regions.
As a result, 68 communities in these regions received emergency assistance. In particular, over 18 months, 96 requests for assistance were received and satisfied, 12.5% of which were requests for repair and renovation. 26 communities also received assistance in connection with blackouts and emergency insulation.
Assistance was provided to 40 shelters, 35 (87.5%) of which received equipment and 5 received repair costs.
As part of the programme, 13 humanitarian aid shipments were made at the request of communities, 16 328 food packages and 11 487 hygiene kits were distributed.
SUBGRANTS FOR CULTURE PROJECTS
According to the programme, 71 cultural projects were supported, of which 12% were implemented online, 68% offline, and 20% in a mixed format.
A total of 292 events were held during the two waves. The first wave supported 27 cultural projects, and the second wave supported 42 projects to restore cultural life and support culture in local communities as part of Ukraine's struggle for freedom and independence.
Cultural projects under the ZMINA 2.0 programme were implemented with the support of 127 local authorities in 15 regions of Ukraine.
The final beneficiaries of the programme were 188 372 people.
Cultural projects under the programme were carried out in various formats, namely: 18% in the form of performances and concerts, 40% in the form of workshops, training and seminars, 18% in the form of podcasts, videos and multimedia events, and finally, 24% of projects were multidisciplinary (discussions, creative meetings, etc.).
The projects under the ZMINA 2.0 programme received 1356 mentions in local and national media, as well as 2044 mentions in social media.
---
The project page on this website was created and is being maintained with the financial support of the European Union. Its content is the sole responsibility of the IZOLYATSIA Foundation; it does not necessarily reflect the views of the European Union.
Published:
20 November 2023, 13:38