ZMINA 2.0: Immediate war-related population needs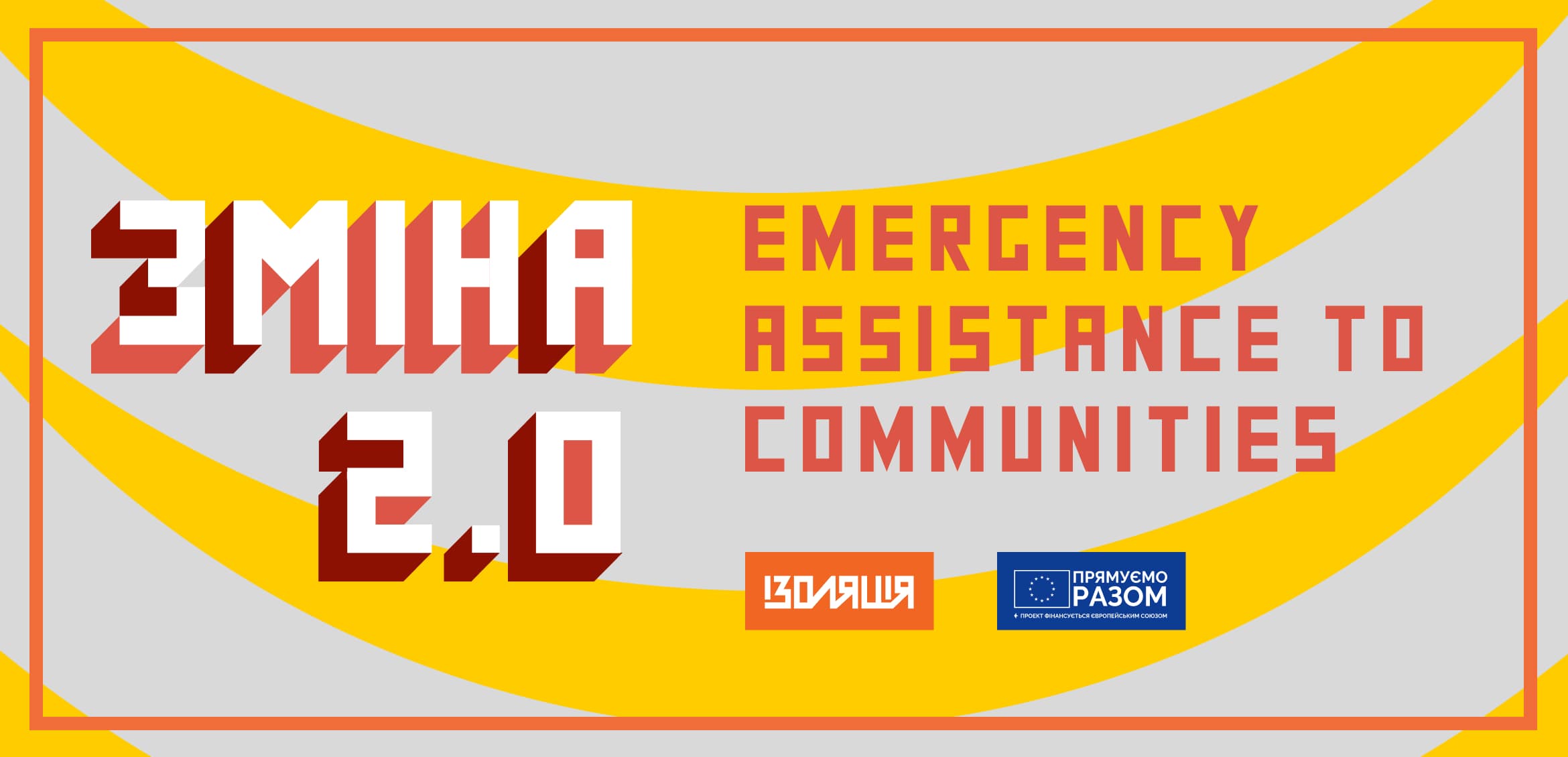 1 June 2022 — 30 June 2023
Acceptance of applications is closed from June 30, 2023.
---
The ZMINA 2.0 project, with financial support from the European Union, provided emergency assistance to meet the urgent needs of war-related communities beyond those covered by humanitarian aid, including:
Addressing the immediate needs of the population, including access to water, sanitation, energy, food, medical care and health products, and shelter to reduce the impact of the war on the affected population, complementing humanitarian and EU assistance in the area of civilian protection;
Implementation of short-term rehabilitation and reconstruction measures to enable victims of war to enjoy basic socio-economic standards;
Supporting measures to overcome the consequences of sudden displacement of the population and war victims;
Strengthening crisis and conflict response capacity and improving the security of war-affected populations and critical service providers.
We collaborated with war-affected communities, as well as host and transit communities:
Communities most affected by the war: Donetsk, Zhytomyr, Luhansk, Sumy, Kharkiv, Kherson, Chernihiv regions;
Transit communities (including, but not limited to the following): Vinnytsia, Dnipropetrovsk, Zaporizhia regions;
Host communities (including, but not limited to the following): Volyn, Zakarpattia, Ivano-Frankivsk, Lviv, and Chernivtsi regions.
---
In total, 239 663 final beneficiaries received emergency assistance under the programme, of which 47 170 were IDPs and 192 493 were war-affected people.
Emergency assistance was provided in 21 regions of Ukraine, namely: Kherson, Volynsk, Ivano-Frankivsk, Kyiv, Lviv, Vinnytsia, Dnipropetrovs'k, Donetsk, Zhytomyr, Zakarpattia, Zaporizhzhia, Kirovohrad, Kharkiv, Chernivtsi, Khmelnytsk, Chernihiv, Odesa, Poltava, Rivne, Sumy and Ternopil regions.
As a result, 68 communities in these regions received emergency assistance. In particular, over 18 months, 96 requests for assistance were received and satisfied, 12.5% of which were requests for repair and renovation. 26 communities also received assistance in connection with blackouts and emergency insulation.
Assistance was provided to 40 shelters, 35 (87.5%) of which received equipment and 5 received repair costs.
As part of the programme, 13 humanitarian aid shipments were made at the request of communities, 16 328 food packages and 11 487 hygiene kits were distributed.
---
For more information on the conditions for receiving emergency aid for communities, please follow the link.
---
The project page on this website is created and maintained with the financial support of the European Union. Its contents are the sole responsibility of the IZOLYATSIA Foundation and can in no way be taken to reflect the views of the European Union.