War-wilding and Abandoned Landscapes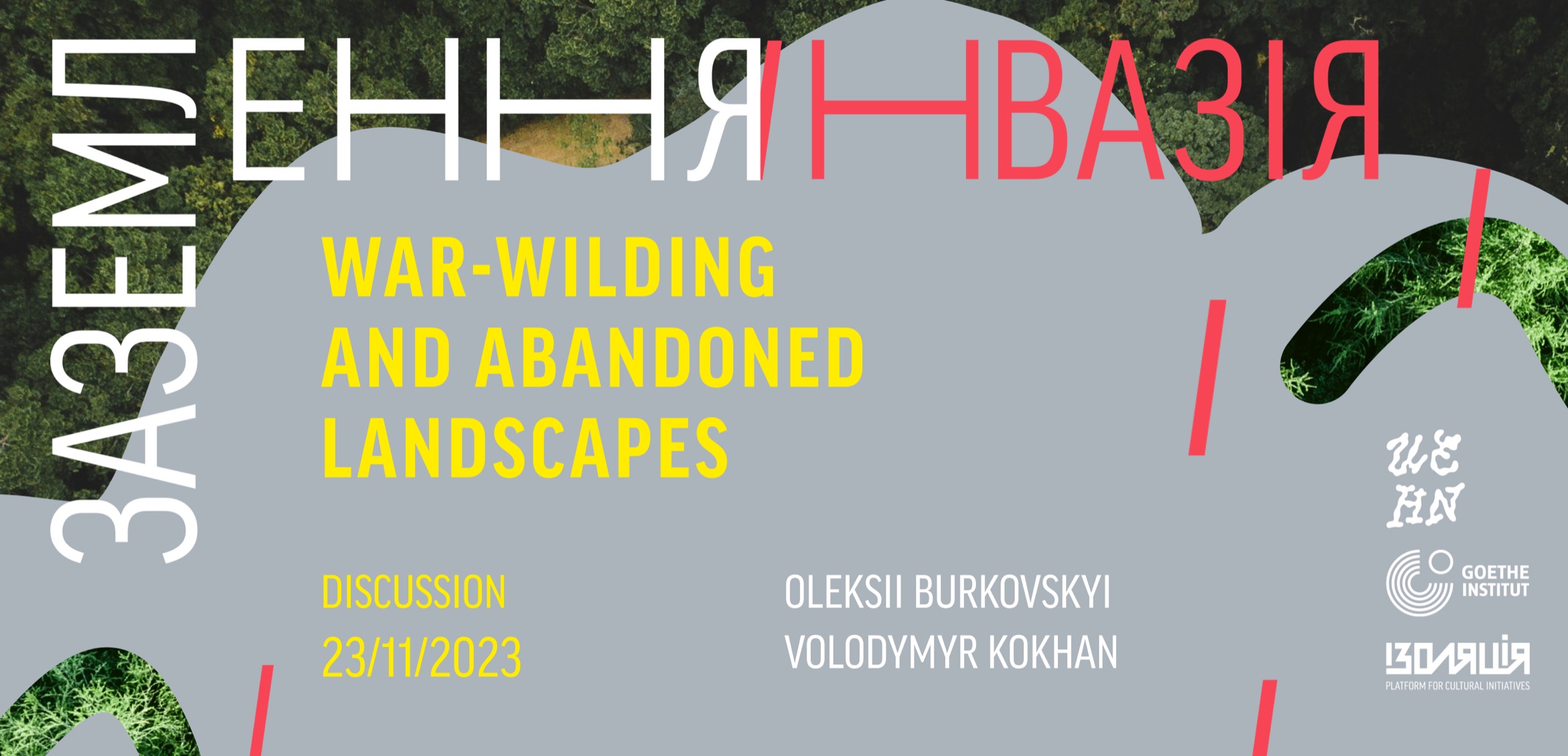 On 23 November 2023, at 19:00, the fourth public event within the framework of the Grounding. Invasion residency.
At the public meeting, Oleksiy Burkovsky and Volodymyr Kokhan will talk about their research and practices in Ukrainian villages abandoned or neglected by people and the restoration of the natural ecosystem in the steppe part of Ukraine. Oleksiy Burkovsky and Volodymyr Kokhan are engaged in drawing attention to environmental issues and history. The focus of both experts is on the consequences of the military invasion and active intervention in the South and East of Ukraine.
---
---
Volodymyr Kokhan is the ideologist and author of the Thickets project. Volodymyr was involved in organising and developing tourist tours and hiking routes, organising public events in the field of tourism, local history and historical research, and expeditions to little-known and unpopular places and routes in Ukraine.

He has worked and volunteered in a number of European countries, travelled and explored provincial Europe, which allows him to conduct comparative analysis and research on the problems of the Ukrainian province. In 2019, he created the YouTube project "Thickets". Since 2020, he has been working on a project designed to draw public attention to the issue of the disappearance of Ukrainian villages, provincial towns, architectural and natural monuments. He is the leader and author of all the ideas and expeditions that are reflected in the project's expeditions.

Since the beginning of the full-scale invasion, their project has reoriented itself to producing documentaries covering the consequences and progress of the war in Ukraine.

Oleksii Burkovskyi is a Ukrainian ecologist, an agronomist by profession, and an activist of the All-Ukrainian Ecological League and the Save the Ukrainian Steppes public campaign. Oleksiy is implementing a unique project to restore the steppe on his own 6 hectares of land.

Oleksii is a co-author of the rationale for the creation of local landscape reserves Barantsevyi Yar, Vorontsova Polyana, and Byk River Floodplain in Dobropilskyi district of Donetsk region and a local botanical reserve Brandushkin Yar, and local landscape reserves Karakovskyi, Prytorskyi, Halyna Hirka, and the natural monument Sychyn Dub in Pokrovsk district.

Oleksiy is the author of the adventure novel Green Alert, which is dedicated to the topic of eco-tourism.
---
Event date: 15.11.2023
---
The Grounding.Invasion project is funded by the Stabilisation Fund for Culture and Education 2023 of the German Federal Foreign Office and the Goethe-Institut.
Published:
19 November 2023, 21:43