Public presentation Environmental consequences of Russia's invasion of Ukraine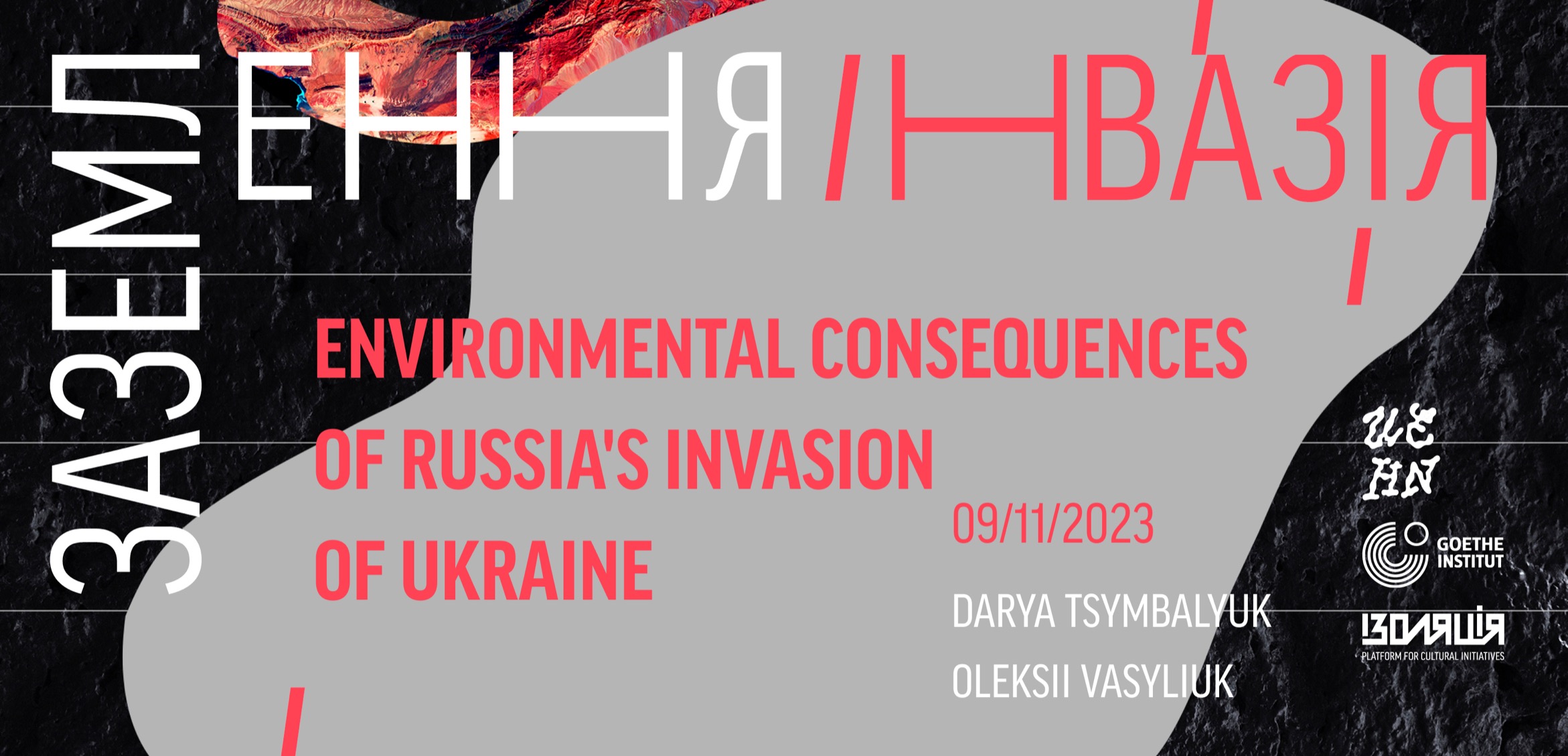 On 9 November 2023, at 20:00, the first public event within the residency Grounding. Invasion framework. During the event, researcher Darya Tsymbalyuk and ecologist Oleksii Vasyliuk will discuss the environmental consequences of Russia's invasion of Ukraine.
---
The experts of the event will present an overview of the environmental consequences of Russia's war in Ukraine, the links between genocide and ecocide practiced by the Russian Federation in Ukraine, and will also talk about decolonisation in the Ukrainian environmental context.
The Grounding. Invasion is an online residency for Ukrainian artists who create works to revise the consequences of aggressive military intervention and draw attention to the ecological state of the country today. The programme takes place in an online educational and artistic format, which will consist of a public discussion programme with experts in the field of ecology and the post-industrial era, as well as an online residency during which four participants will develop their projects with curatorial and mentoring support. The programme will result in an online presentation of art projects and their publication on the website.
---
---
Darya Tsymbalyuk is a Ukrainian researcher, author and artist. Her work lies at the intersection of environmental humanities and artistic research and is based on feminist and decolonial methodologies. Darya received her PhD from the University of St Andrews in 2021. In 2022-2023 she was a Max Hayward Visiting Fellow at St Antony's College, University of Oxford. Currently, she is a Visiting Fellow at the School of Advanced Study, University of London. The artist is a co-author of the documentary film Displaced Garden. The film is based on the author's PhD research and tells the stories of people and plants displaced from eastern Ukraine as a result of the Russian invasion in 2014.
Oleksii Vasyliuk is a Ukrainian ecologist and zoologist, environmentalist, public figure, and musician. He is an employee of the Department of Monitoring and Protection of Wildlife at the Institute of Zoology of the National Academy of Sciences of Ukraine, and chairman and co-founder of the Ukrainian Nature Conservation Group. He is the author of more than 700 different publications, mostly popular science, including more than 30 books and brochures, including several scientific monographs and reference books.
---
Date of the event: 09.11.2023, 20:00
The event will be held at the link: https://fb.me/e/1pdpAr1m9
---
The project Grounding. Invasion is funded by the Stabilisation Fund for Culture and Education 2023 of the Federal Foreign Office of Germany and the Goethe-Institut.
Published:
2 November 2023, 19:44