Intensive program of theatre management as a part of a parallel education program of International Festival of Physical Theater MIME WAVE FESTIVAL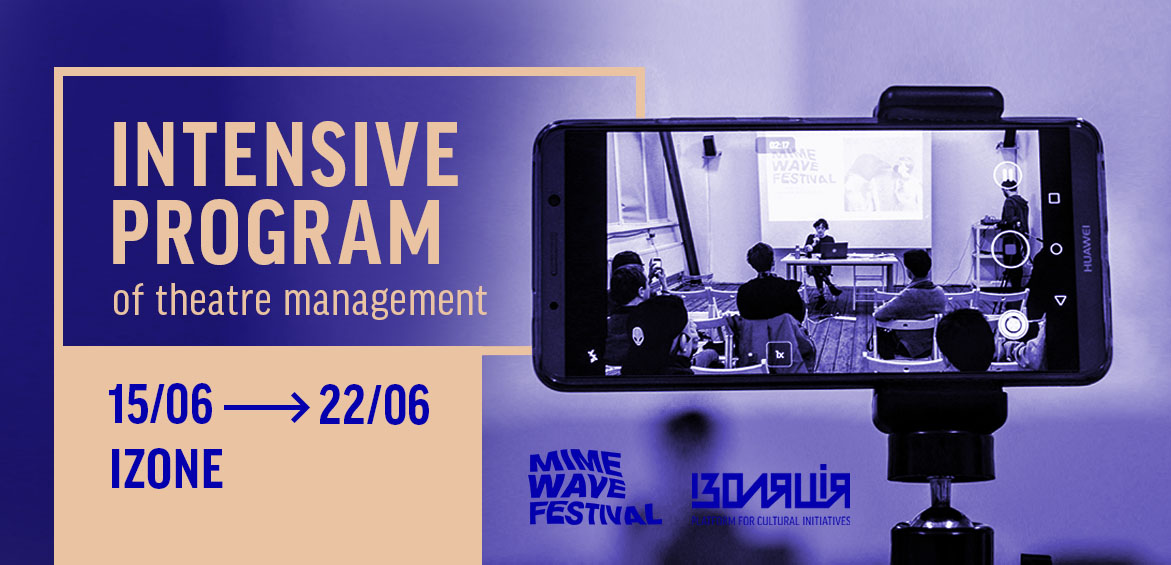 Members of the intensive program will gain understanding of theater' industry work in Ukraine, learn about all the phases of creating a project, starting with forming the idea and ending with the final implementation. They will work with texts and images and get acquainted with important figures of the theater environment from Ukraine and abroad (Ide van Heiningen and Karina Holla from the Netherlands, Jean Daniel Wer Lerberg / Switzerland, Veronica Bedecs / Sweden, Andriy Palatnyi and others).
In the framework of the intensive program, we envisaged from 10 to 16 vacant positions, 50% of which are reserved for managers and 50% - for performers. On the last day of the intensive program, based on the results of the pitching, the expert committee will select two participants, who will be supported in organizing of a trip to Amsterdam in order to get them acquainted with the local theater environment.
To join the intensive program you can through our Open Call
---
Contacts:
Lina Romanukha
097 986 38 39
[email protected]
---
June 15 - June 22
IZONE Creative Community; 4th floor
Naberezhno-Lugova, 8 (Kyiv, Ukraine)
Intensive program will be partially sponsored by the Cultural Bridges Program.
MIME WAVE FESTIVAL is devoted to the development of physical theater and creation of a platform for promotion of cultural and international cooperation in the field of theatrical art.
Mime Wave organization was founded in 2010 by Anastasiia Liubchenko with the support of the Academy of Performing Arts (MAPA). The main goal of the organization is development of cultural cooperation between the Ukraine and the Netherlands, in the field of theater and performance, as well as the association of various disciplines in the field of stage practice.
Published:
18 April 2019, 12:18