Results of the Open Call: Intensive program of theatre management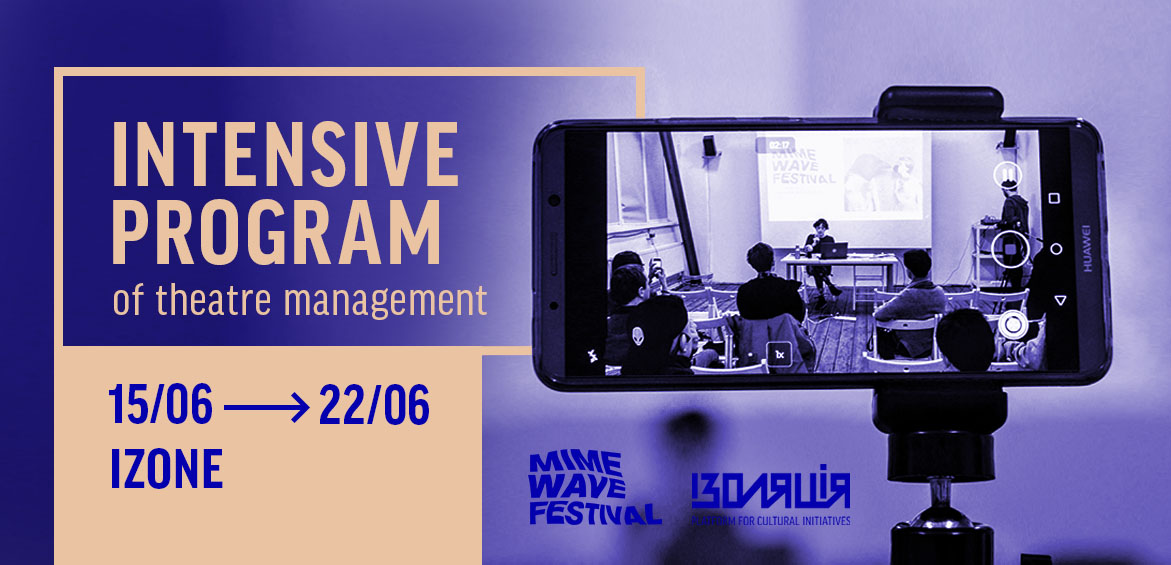 IZOLYATSIA together with the organizers of Mime Wave Festival, are pleased to announce the results of the Open Call for the theater workers. Based on the specificity of the intensive program and projects that potential members will work on, the following artists and theatrical managers were selected:
Oleksandra Basovska
Tetyana Yanko
Olena Gorokhovska
Danil Nabiullin
Oleksandr Zhugan
Olena Mamai
Olga Demchishina
Taisiya Melnyk
Oleksiy Titarenko
Arina Kalimulina
Anna-Efrosinia Pivovarova
Marianna Gonchar
Anastasia Kuzmenko
Irina Kharlamova
---
Contact for more details:
[email protected]
+38 093 987 25 57
---
June 15 - June 22
Creative community IZONE; 4th floor
Naberezhno-Lugova, 8
The Intensive program of theater management takes place within the MIME WAVE FESTIVAL, which is devoted to the development of physical theater and creation of a platform for promotion of cultural and international cooperation in the field of theatrical art. Mime Wave organization was founded in 2010 by Anastasiia Liubchenko with the support of the Academy of Performing Arts (MAPA). The main goal of the organization is development of cultural cooperation between the Ukraine and the Netherlands, in the field of theater and performance, as well as the association of various disciplines in the field of stage practice. More about the festival: www.mimewave.com
---
Partners: IZOLYATSIA. Platform for Cultural Initiatives., Центр Леся Курбаса, Amsterdam Academy of Theater and Dance, Kyiv Municipal Academy of Circus and Variety Arts Kyiv School of Pantomime, Stockholm University of the Arts.
The project is implemented under the Culture Bridges Programme. Culture Bridges is funded by the EU and managed by the British Council in partnership with the European Union National Institutes for Culture (EUNIC) network in Ukraine.
Published:
4 June 2019, 18:26