21.08 – Gurtobus in Bakhmut!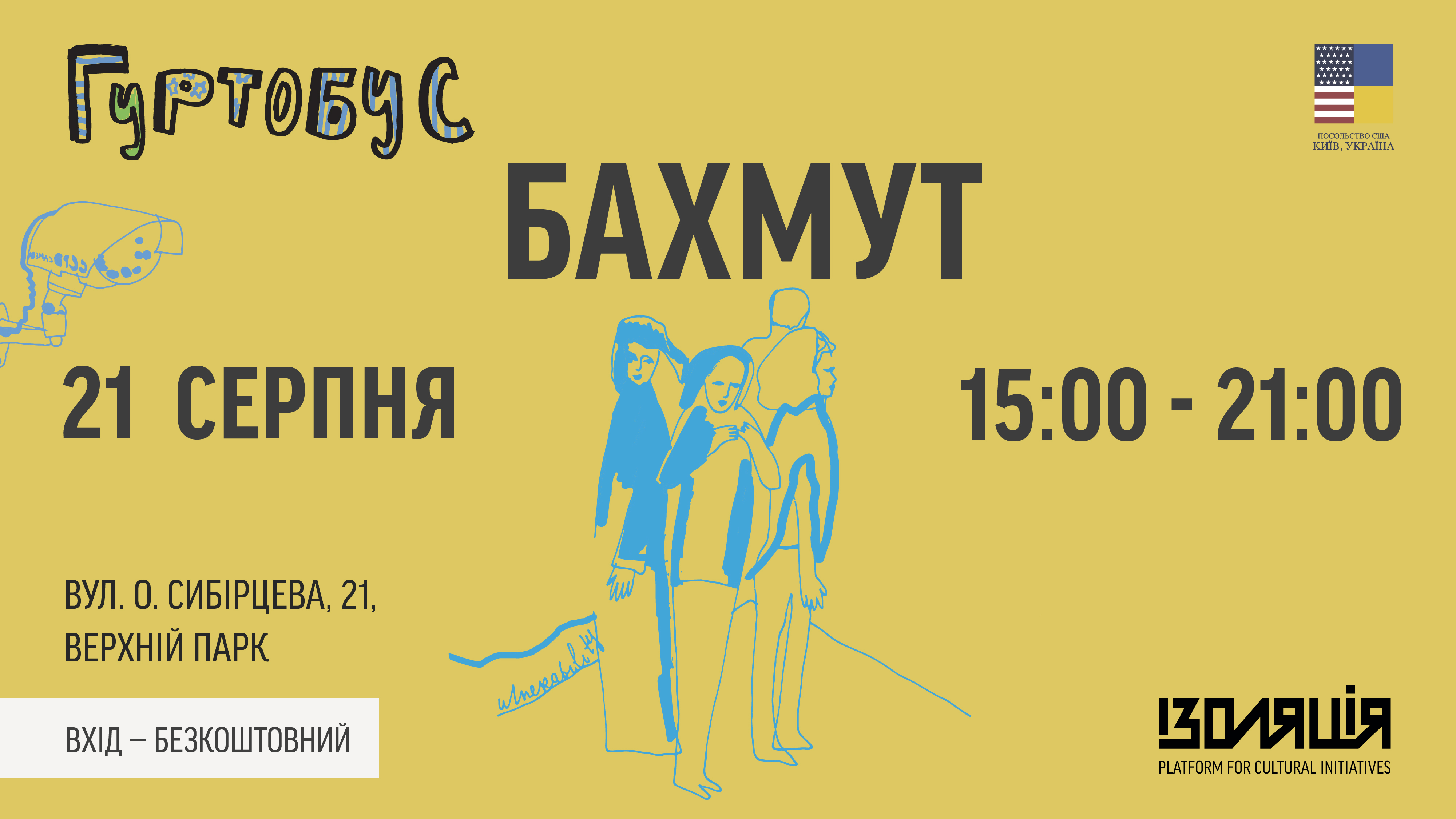 We are the Gurtobus team, and we are putting together a big family album.
Artifacts that make up the history of the 20th century. Stamps, old photographs, letters, time capsules, herbariums, buttons, ribbons. We travel with artists, photographers and filmmakers – men and women who are ready to work with anyone who wants to create something new, regardless of age, gender or experience. Some of the created things will travel with us – as a kind of message between cities, and all together they will become a large mosaic of a common family album.
Method: There are artists who work with us on every trip to give collage and photography workshops. We will take photos and copies of artifacts that the townspeople want to share: photos, diary pages, stamps, letters, videos – everything that together will create a new family album.
For workshops, you will need photographs / herbariums / memories / stamps of anything that can be considered an artifact.
Exhibition and workshop by photographer Garry Efimov:
We propose to create a portrait of the city together and take part in a workshop on street photography. Let's explore the city together and find new, unexpected perspectives.
Silk-screen printing workshop:
We teach silk-screen printing techniques, create series works together with our artists and artists. The workshop will be interesting for children and adults.
Workshop by artist Alevtina Kakhidze:
Alevtina Kakhidze is an artist who gathers fairy tales and seeds. The artist is interesting in fairy tales which were told to today's adults in Donbas by their parents and the older generation. She gathers seeds for people from the occupied part of Donbas. In her lifetime the artist's mother bought flower and vegetable seeds for herself and her friends when she came to Kyiv to visit her daughter from uncontrolled territory. After her death Alevtina decided to gather any seed from those who wanted to give them and transfer them there, to the temporarily occupied part of Donbas, with the offer to swap it for something from there. We look forward to seeing you with memories of the fairy tales told in your childhood and with packets of seeds that you can share with your neighbours.
At the kiosk you will be able to swap seeds for memories:
A fairytale that was told to you in childhood;

A photograph with a recollection from your childhood;

A herbarium;

A photo of a children's toy;

An old ticket for a journey or for the cinema;

Anything which is connected to memories of your family.
Fairytales will be recorded on a dictaphone from your words. All artifacts will be scanned and returned to their owners.
Cinema: this year Docudays UA / Gurtobus travels with us. The language of documentaries will help us in the dialogue between the personal stories of the heroes of the films and those people whom we meet on the road. The film screening starts at 20:00.
GURTOBUS is a project of the IZOLYATSIA cultural initiatives platform in cooperation with the US Embassy in Ukraine.
GURTOBUS is a bus that we have turned into a mobile cultural center for workshops, seminars, lectures, interactive projects, film screenings, exhibitions and much more.
The mission of the project is to support the processes of decentralization by strengthening the cultural development of the regions of Ukraine. We are creating an alternative public space that becomes a free platform for cultural and educational events, as well as for communication and exchange of experience of local communities.
The goal of GURTOBUS is to maintain and shape cultural ties and diversity throughout the country.
Published:
14 August 2020, 16:35