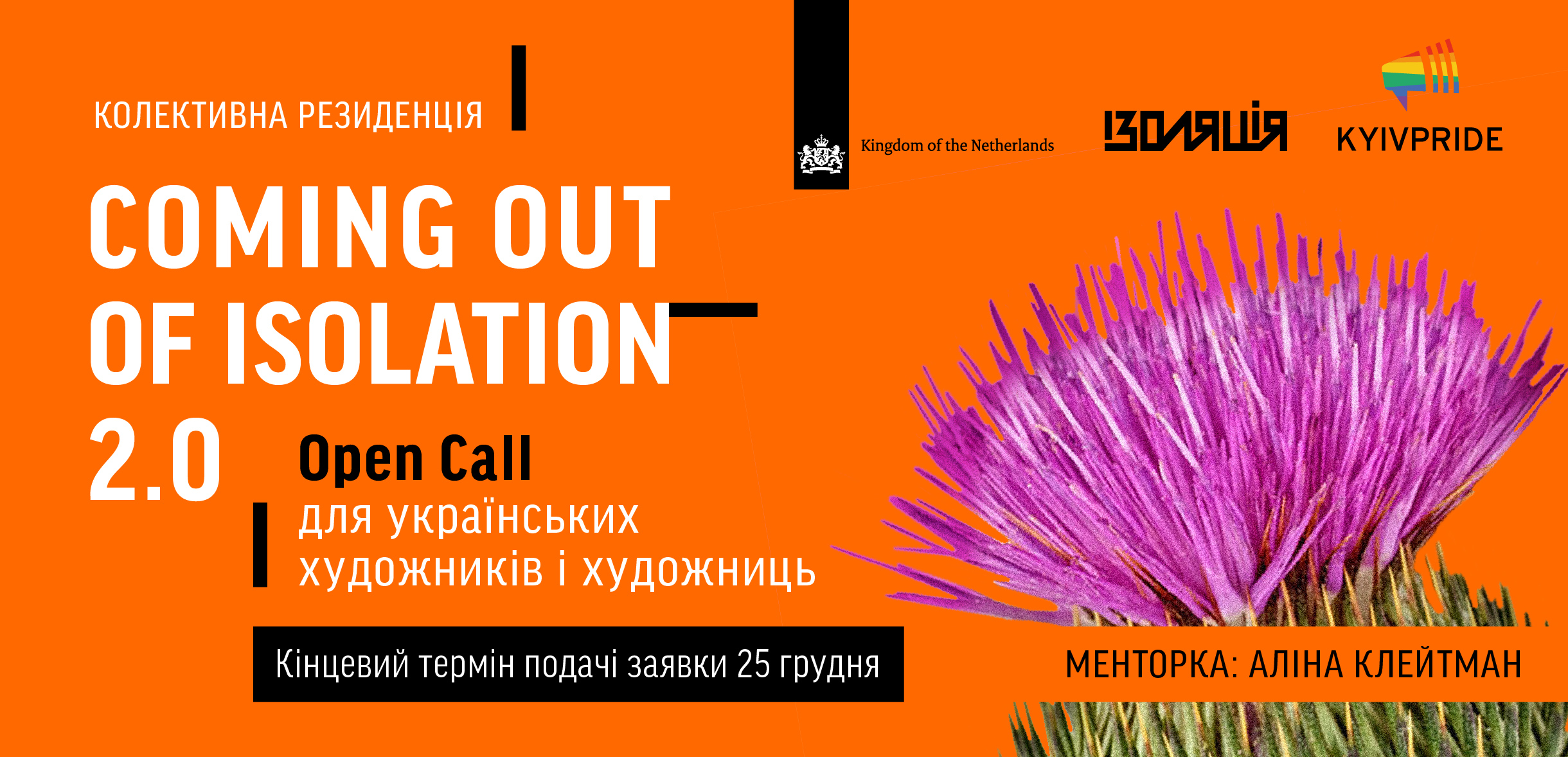 From November 27 to December 25 IZOLYATSIA and KyivPride are calling for applications for the residence within the framework of Coming Out of Isolation 2.0 project, aimed at the elimination of discrimination, xenophobia and prejudice towards members of the LGBT+ community in Ukraine. The project is supported by Human Rights Fund 2019.
IZOLYATSIA and KyivPride announce open call for artists, who work or would like to work with media of video.
The residence will be held from January 27 to February 28, 2020 within the framework of Coming Out of Isolation 2.0 (more here). During the residence 4 to 5 participants mentored by artist Alina Kleitman will work on video about lives of LGBT+ people. Lectures and workshops for the participants and wide audience conducted by invited speakers will take place during the residence.
On March 9 2020 public presentation and pitching of the projects carried out during the residency will be held. The winners will be granted 50 000 UAH for implementation of their personal projects, a video on the theme of the residence.
May 2020 is the deadline for the projects, carried out during the residence.
The projects will be distributed at Ukrainian festivals and included to KyivPride and Community Culture Bus programs.
We invite Ukrainian artists and directors to apply, regardless of their age, gender identity and region.
Participants from outside of Kyiv (maximum 3 persons) are provided with accommodation and traveling expenses.
On compensation of participation costs for all participants contact IZOLYATSIA +380 50 477 26 20.
The application for the residency shall include a CV (resume), a portfolio of the artist and a short cover letter (up to 400 words) explaining why the artist would like to work on the LGBT+ topic. All the documents shall be sent in PDF-format (the name of the file shall be the following: Surname_Name of the applicant) to the following e-mail address: opencall@izolyatsia.org