Business Cup Extreme Final 2017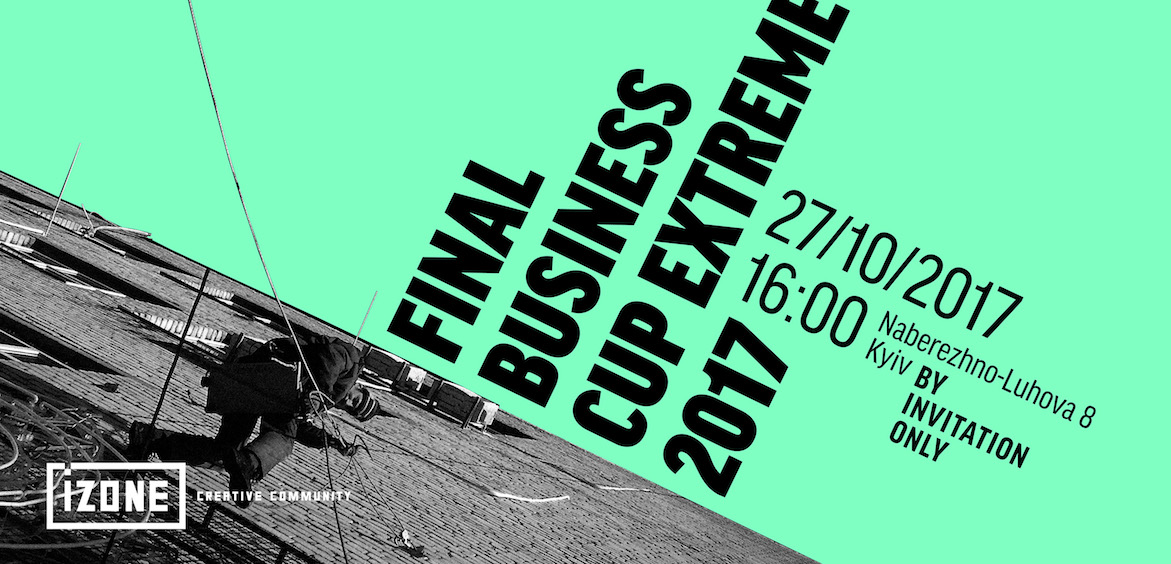 On October 27, from 4 to 8 PM, the IZONE Creative Community hosts the final of the Business Cup Extreme 2017 contest.
Want an invite? Drop us a line!
Business Cup Extreme 2017 is the first European competition for business ideas and startups mastering the disaster as well as dual-purpose inventions. The technical inventions of the participants have been highly valued by the contest's partner organisations: Creative Business Cup (Denmark), Burda Bootcamp (Germany), European Youth Award (Austria), Prototron Inkubator (Estonia), Erasmus for Young Entrepreneurs (The Netherlands), Kyiv Minor Academy of Sciences (Ukraine).
The 2017 finalists are:
- Gadget information support (authors Vadym Kontseba and Kyrylo Martin);
- Universal Robotic Assistant for people with visual disabilities (author Pavlo Mikush);
- Combined silencer with automatic control of the rest of the rounds and the warning of the "petarded shot" (author Oleksiy Tesliak);
- Moonshot Idea (author Roman Reznikov);
- UnexploredCity (author Maryna Chornovil).
Business Cup Extreme 2017 final's schedule:
4 – 5 PM

Patent stock market

5 – 6 PM

Panel discussion with Yuriy Solodkovsky (dean of Kyiv National Economic University), Taras Kyslyi (leading EPAP lawyer in matters of intellectual property rights), Serhii Bratusov (Google).
Presentation of the IZONE hub business model and business metrics by the financial director Yulia Parkhomenko.

6 – 7 PM

Q&A with the 2016 winner Stanislav Okolot.
Pitches of the 5 2017 finalists and announcement of the national winner and runners-up of Business Cup Extreme 2017.

7 PM

Informal communication
The Business Cup Extreme 2017 final will take place at vul. Naberezhno-Luhova 8.
Published:
13 October 2017, 16:14