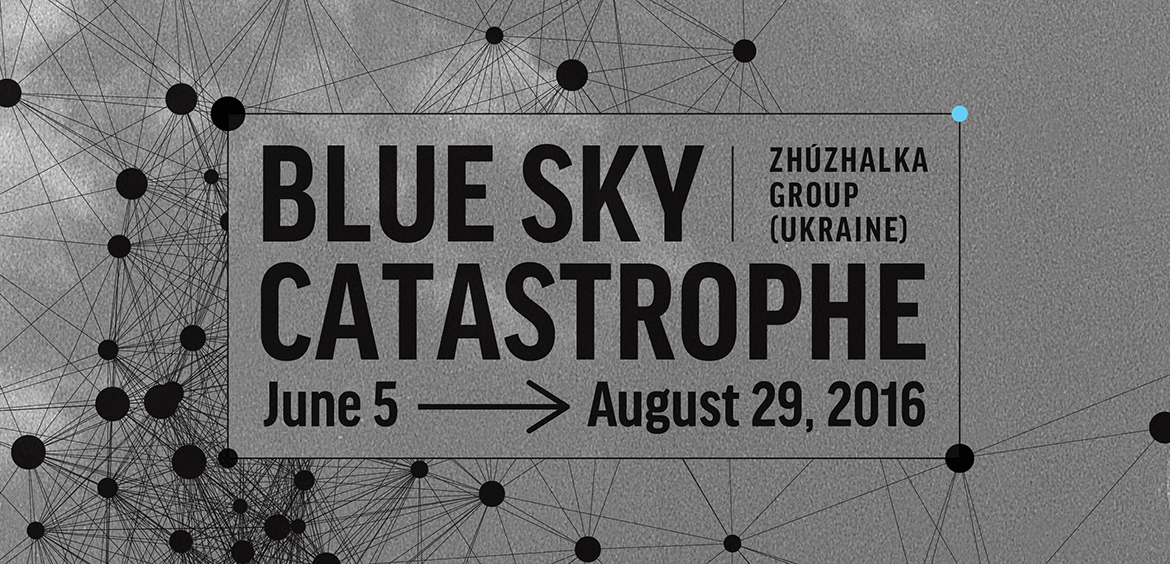 On June 4, at 6 pm, the exhibition Blue Sky Catastrophe opens at Villa Arson, Nice (France).
As a joint project with Villa Arson, IZOLYATSIA opens Blue Sky Catastrophe exhibition at the Galerie Carrée, part of the Villa Arson complex.
Blue Sky Catastrophe exhibition was developed and created by Ukrainian art group zhúzhalka (Victor Corwic, Viacheslav Sokolov and Roman Yukhimchuk).The title was derived from a contemporary theory of mathematics. The project resonates with Five Minutes To, zhúzhalka's last exhibition shown at IZOLYATSIA in Donetsk, shortly before the military seizure of the foundation's territory in June 2014. The name of the Donetsk exhibition implies a warning and says a lot about the situation of a hidden crisis. Understandably, zhúzhalka members considered the subsequent events as well, trying to find connection between them and other types of crisis in the world. The stable equilibrium of societal phase spaces is time to time interrupted by catastrophes, whether in the shape of war or the crash of financial markets. In effect, the evolutionary trajectory of complex systems is aided by a series of catastrophes, moulding the world that we inhabit. While the scale of transformations in dynamic systems may first appear to be miniscule, their consequences often prove to be colossal. Enabling the emergence of new evolutionary passages, critical points are characterised by the unpredictability of the turn towards greater chaos or emergence of a new structure.
In collaboration with IZOLYATSIA, Villa Arson welcomes regularly Ukrainian artists in residency, on open calls. Participants of the previous programmes include Kateryna Radchenko (October 5 — December 21, 2015) and art collective Sveta Libet and Dobrybya Ivanov (February 1 — May 2, 2016). Parallel to the Blue Sky Catastrophe exhibition, Kateryna Radchenko will present her works created during her residency, at the Villa Arson as well as at the Museum of Naive Art of Nice.
About zhúzhalka
zhúzhalka group is an artists collective founded in Donetsk, Ukraine, in 2012 by Victor Corwic, Vyacheslav Sokolov and Roman Yukhimchyuk. The collective members straddle artistic practices with professional activities in architecture, design, programming and economics. Initially, the collective's main interest was in the exploration of the heritage of Donbas area through a self-published and eponymously titled zine that used photography as its main language. zhúzhalka were interested in pushing the limits of photography as a self-standing medium, and testing its ability to deviate from representation. Subsequently, the collective has expanded their engagement with other media forms and artistic formats, often exploring the links between scientific rationalities, the social and the anecdotal. Despite the fact that the recent events in Donetsk and Ukraine have separated the group geographically, the members are continuing their collaboration.
Victor Corwic (born 1985, Donetsk) — artist, architect and designer. His main field of interest includes zines and publishing. Member of the Ukrainian Photographic Alternative since 2012. Currently lives in Kyiv, Ukraine.
Viacheslav Sokolov (born 1985, Donetsk) — artist and programmer. Previously worked as a photojournalist and VJ. Currently lives in Warwick, UK.
Roman Yukhimchuk (born 1984, Donetsk) — painter and economist. Currently lives in Poltava, Ukraine.
About Villa Arson
The Villa Arson, known as a National School of Fine Arts and art center, is an elite establishment and research institution for contemporary art, located in Nice, France.
Institution's main activities encompass art education, with a student body of around 200 in a single art programme of five years (MASTER), the production of artworks and exhibitions in the framework of a programme which features ten exhibitions per year as well as other art events; the hosting of artists-in-residence, critics and students through international exchanges, information and documentation related to contemporary art, with a specialised library and resource centre.
About IZOLYATSIA
IZOLYATSIA, the cultural platform founded in Donetsk and subsequently forcibly occupied by the DPR para-military and then exiled, relocated to Kyiv in June 2014, from where it initiates and presents projects, as well as throughout Ukraine and the world. These include ZMINA, a series of educational and creative initiatives in Eastern Ukraine, the international residency program Architecture Ukraine (Mariupol-Kyiv), the exhibition Culture and Conflict: IZOLYATSIA in Exile held at the Palais de Tokyo (Paris), in DOX (Prague) and in the Heinrich Böll Foundation (Berlin), #onvacation project at the 56th International Art Exhibition of La Biennale di Venezia and project Letters to the Mayor in collaboration with Storefront for Art and Architecture (New-York). In 2016, IZOLYATSIA participates in the the 15th International Architecture Exhibition of La Biennale di Venezia with its project Architecture Ukraine — Beyond the Front.
Opening: June 4, 2016, 6 pm
Address: 20 Avenue Stephen Liégeard, 06100 Nice, France
Schedule : June 5 — August 29, 2016.
Open every day, except Tuesday, from 2 to 6 pm in June ; and from 2 to 7 pm in July and Augsut.
Free entrance.
Media partners