Invisibility — a Five-Day Workshop by Andrea Riedel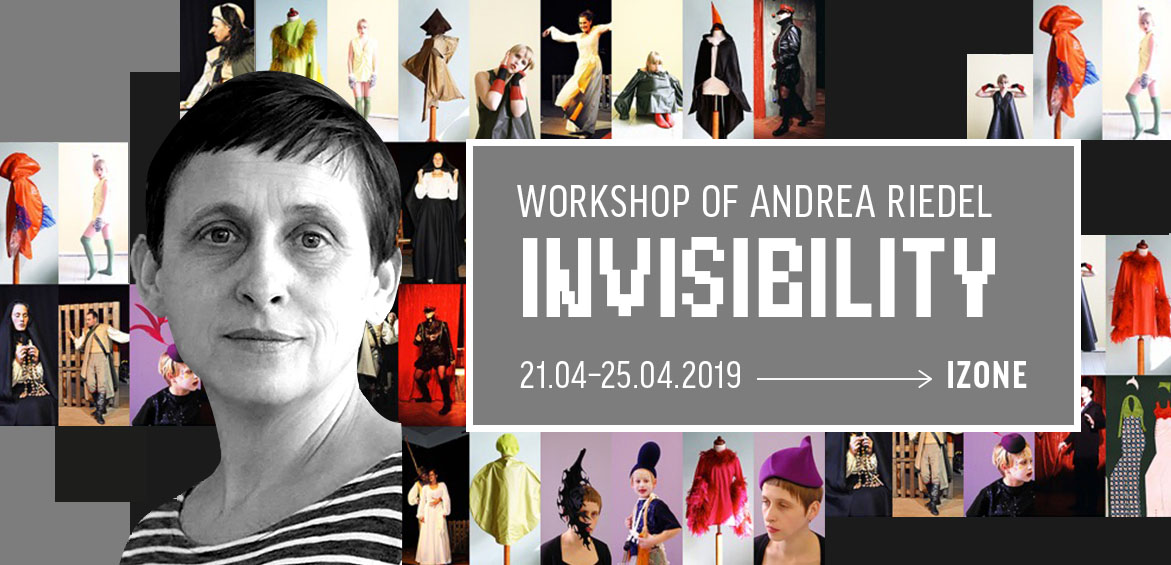 1 April 2019 — 3 June 2019
April 21–25, 2019, as part of the EMERGENCE: Living Heritage / Reframing Memory project, IZOLYATSIA in cooperation with the Arts & Theatre Institute / Prague Quadrennial (Czech Republic) will host the 5-day workshop by German artist Andrea Ridel called Invisibility, which will take place at IZONE Creative Community.
During the five-day workshop, Andrea will share her many years' experience of working with theatre workers, artists and performers. Andrea describes the topic of her workshop:
"Chaotic and destructive situations, which challenge our lives, require swift and intuitive action. If fighting proves to be futile, we turn to refuge, freeze or try to be invisible. In dangerous situations, we are forced to decide which strategy would save our lives.

In the animal kingdom, many creatures have no choice than to run away and avoid danger, to hide in thickets of the jungle or dissolve into the surroundings by means of their camouflage.

Chameleon is the master of metamorphosis in the animal world. In case of a danger or conflict, they change colors as camouflage and seem to fade into the environment. Another way of protecting is a certain body posture that simulates death. Chameleon is growing until the end of its life, which means it must constantly change.

This strategy of survival is the incentive idea to develop or create costumes which seem to merge into the townscape of Kyiv. Visible body parts will be concealed by body make-up."
Andrea Riedel is a stage and costume designer from Berlin. After her internship at the atelier at the Mannheim National Theatre, she worked at the opera houses and theatres of Germany and Austria. From 1987, she studied stage and costume design at the Academy of Fine Arts in Munich and, in 1993, graduated from the Berlin University of the Arts. After completing her education, she worked as a stage designer and began developing her concept of colour. From 2004 to 2011, besides working as a stage and costume designer, she taught acting and costume design at the Berlin University of the Arts. That work inspired her to create an internet forum and a blog for costume designers. Since 2010, she is the administrator of the forum kostuemforum.de, where she publishes cultural and political news, exhibitions updates, book reviews, etc. Since 2013, she is a board member of the Bund der Szenografen e. V, a professional association of theatre workers in Berlin. As a stage and costume designer, Andrea works for theatre, independent scene and film industry.
---
April 21–25, 2019
6–9 PM
IZONE Creative Community; the 4th floor
Naberezhno-Luhova, 8 str.
Entry is free
Learn how to apply for participation
---
The workshop will take place as part of the project EMERGENCE: Living Heritage / Reframing Memory, which is supported and partially funded by the Creative Europe programme.
Photo archive
Video archive