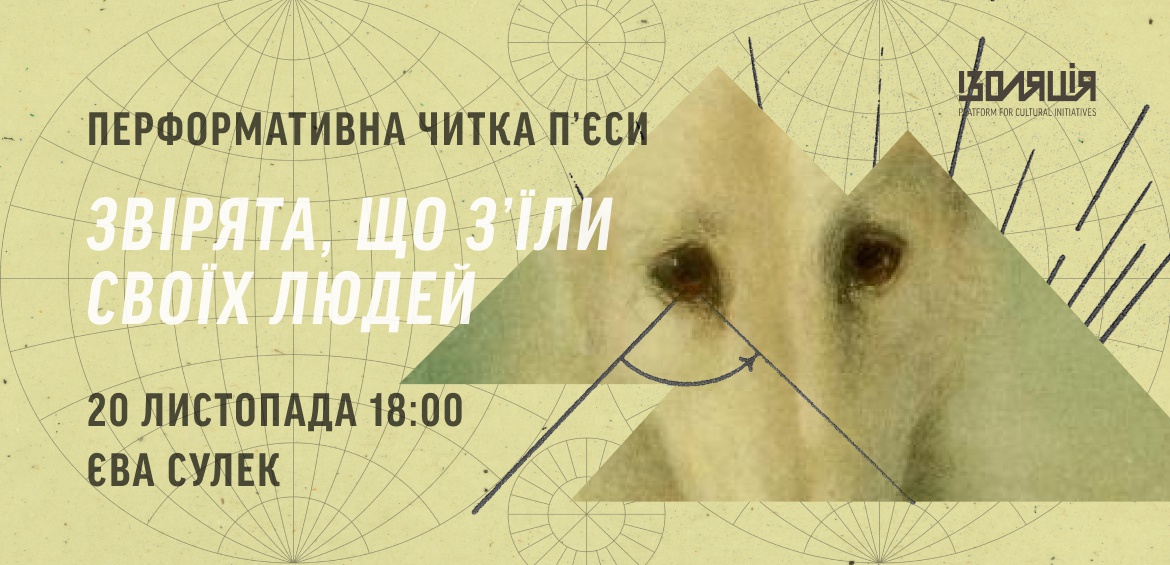 Performative reading of a drama by Ewa Sułek Animals Who Ate Their Humans will take place online on November 20 at 6:00 p.m. (Kyiv time 18:00)
This dark and surreal play follows two Ukrainian soldiers, alongside their dead dogs, trapped in a bombed-out pet shop on the Eastern front in Ukraine. Animals Who Ate Their Humans questions what it means to die, to be human, to experience war. Once dead, are we objects to be stuffed and hung on a mantlepiece, or are we sacred, to be left untouched? Are we, as humans, senseless killers or superior beings? What value do we and should we place on human and animal life? In this grotesque and surrealistic story, human perspective is mixed with that of animals, the well-known world, although under fire, slowly disappears in the fumes of absurdity. The text questions the anthropocentric perspective and the right to decide the fate of other living creatures, as well as comments on the ongoing Russian-Ukrainian conflict in Donbas. The drama premiered on the small stage of the ADC Theatre in
Cambridge, United Kingdom, in March 2020.
Ewa Sułek is an art historian, curator, writer. The author of the book Chłopak z pianinem. O sztuce i wojnie na Ukrainie (The Boy With the Piano. On Art and War in Ukraine, nominated for the Identitas Award 2021), award-winning short stories and theatre plays. She is currently working on a doctorate on contemporary Ukrainian art at the Nicolaus Copernicus University in Toruń (Academia Copernicana) in cooperation with Cambridge Ukrainian Studies at the University of Cambridge in Great Britain. Awarded the Fulbright Junior Research Award at Harvard University (2021-2022), Młoda Polska National Center for Culture scholarship in the field of visual arts (Young Poland 2017), ZAiKS scholarship in the field of literature (2016, 2017, and 2019), and IAFOR (The International Academic Forum) scholarship (2019). Together with the artist Paweł Zaręba, she founded and runs the Lescer Art Center in Zalesie Górne near Warsaw, Poland.
You can join the event by the link IZOLYATSIA Facebook page. Platform for Cultural Initiatives or by the link to the zoom conference.
This project is financed by the International Aid Fund for Organisations Working in Culture and Education of the Federal Ministry of Foreign Affairs of the Federal Republic of Germany, the Goethe-Institute, and other partners: www.goethe.de/hilfsfonds