The Cultural Transformation Movement Project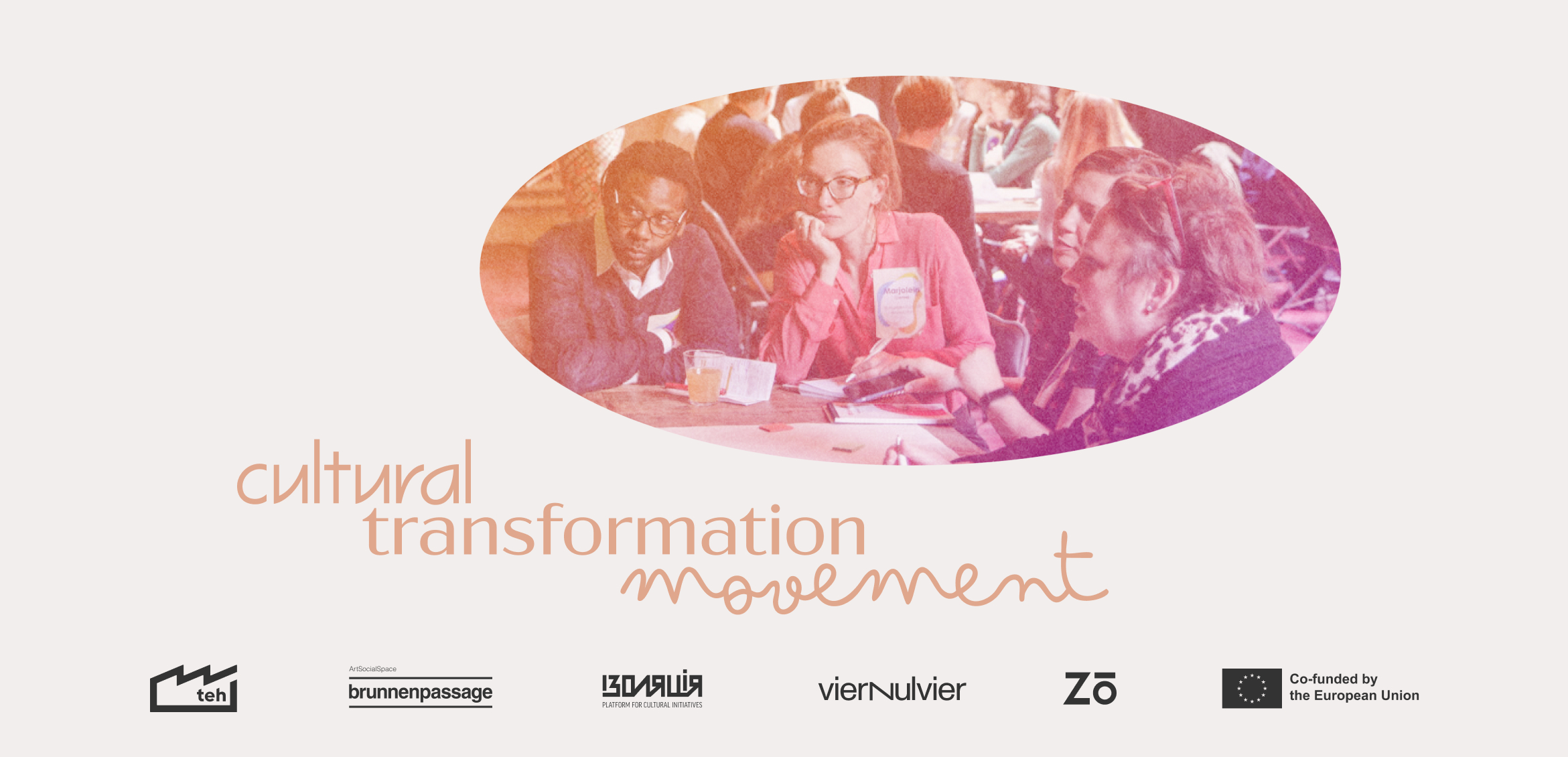 1 March 2023 — 1 March 2026
The Cultural Transformation Movement Project (CTMP) is a four-year project that aims to transform cultural organisations by implementing strategies and methodologies of cultural management and creation processes that are developed with the full engagement of under-represented communities (URCs).
It is the first project to invest in the topics of social and spatial justice through reducing inequalities from within organisations and inspire the European cultural sector to do so.
The project is led by Trans Europe Halles with four of TEH members who are multidisciplinary art centres and production houses from Austria, Belgium, Italy and Ukraine. This project researches and examines two dimensions, one within and the other around the partner centres/organisations, and questions the relationship between artmaking, policymaking, the context and the resulting art forms.
---
Who is involved?
TEH CTM movement members are all engaged in this project. However, the official partners are:
Project Researcher Israel Aloni, Artistic Director & Co-Founder of ILDance
During 2023, the following activities will take place:
Four Residencies start at four TEH member centers in Belgium, Austria, Italy and Ukraine.
Four workshops on trans-cultural competence development to be delivered at the four centres.
Four Diverse Leadership Capacity Building workshops to be delivered at the four centres.
Mentorship Program starts at the four centres, each program connects five mentors to 10 mentees, duration of one year.
Two Transnational Circulation – Collective Reflection Workshops will take place during TEH annual meetings.
Four awareness workshops and mobilisation Campaigns for artists and communities at the 4 centres.
A roundtable for Transnational Circulation of the Knowledge.
The Production of the Knowledge (the project research).
First Project Partners Meeting.
---
Contact
If you have any questions about the project please drop a line to our Senior Project Manager & Researcher – Ceyda Berk-Söderblom at [email protected].
Ceyda manages the Cultural Transformation Movement project and coordinates the CTMP consortium. She's in charge of developing TEH's relationship with the academic sector to be updated on the relevant academic literature on social justice, spatial justice, Diversity, Equity, Inclusion (DEI), and other topics relevant to underrepresented communities.
---
Funders
The project is funded by the Creative Europe programme of the European Union.