Coming Out of Isolation: Announcing the Winners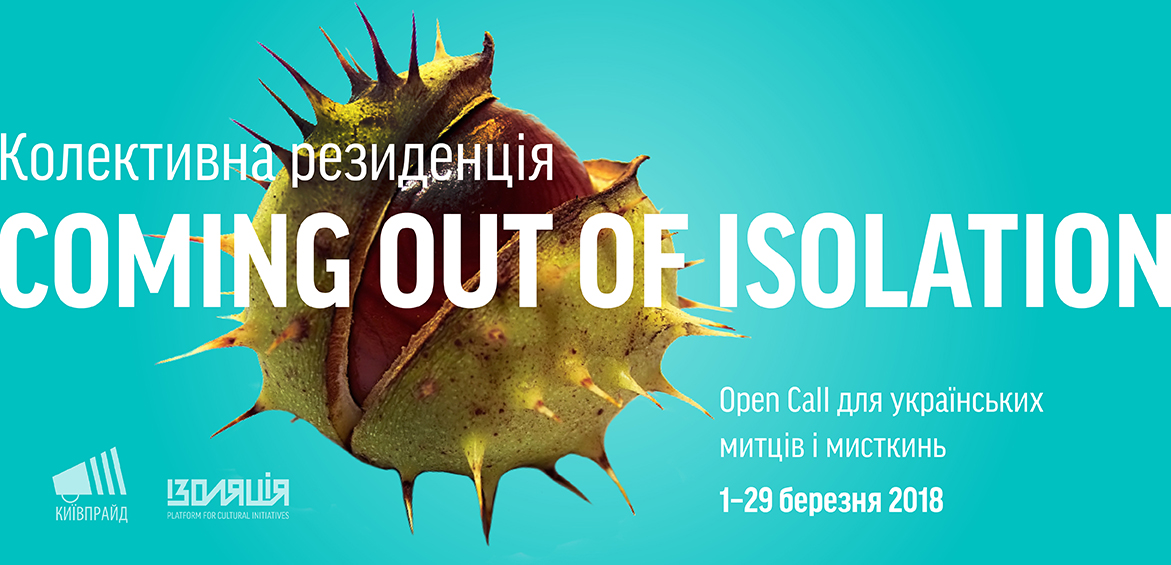 IZOLYATSIA and KyivPride are pleased to announce the results of the open call for Ukrainian artists as part of the joint project Coming Out of Isolation. The winners are Tatiana Kornieieva (Kyiv), Anton Shebetko (Amsterdam-Kyiv), and Alexey Salmanov (Kyiv-Odesa).
The selected artists will participate in a collective residency to be held on March 1-29, 2018 at the IZONE Creative Community. The artist-in-residence programme will feature a series of lectures, mentor supervision and production of final works throughout 2018. The participants are expected to produce a site-specific installation at IZONE, an artwork in Pride House, and a media campaign in Kyiv and other regions of Ukraine.
Mentors for the residency are:
Karol Radziszewski (b. 1980) – artist; lives and works in Warsaw (Poland) where he received his MFA from the Academy of Fine Arts in 2004. He works with film, photography, installations and creates interdisciplinary projects. His archive-based methodology, crosses multiple cultural, historical, religious, social and gender references. Since 2005 he is publisher and editor-in-chief of DIK Fagazine. Founder of the Queer Archives Institute.
Juliet Jacques (b.1981) – writer and filmmaker based in London. She wrote two books Rayner Heppenstall: A Critical Study (Dalkey Archive Press, 2007) and Trans: A Memoir (Verso Books, 2015). She has been included on The Independent on Sunday Pink List of influential LGBT people in 2012, 2013, 2014 and 2015, and appeared on a panel at the PEN International Congress in 2014.
Anna Dovgopol (Kyiv) – Programme Coordinator, Gender Democracy/Women Rights/LGBT-Rights. Member of KyivPride organizing committee in 2013-2016. She has been an activist and member of several LGBT organisations in Ukraine and Kyrgyzstan. MA in gender studies.
Illya Strongovsky – graphic designer specialised in collage and book design. Co-founder of the Dobra Lystivka charity foundation and Vydavnytstvo publishing house working with children and young adult literature tackling sensitive issues. Author of several iconic Euromaidan slogans and posters.
Open call for Ukrainian artists as part of the Coming Out of Isolation project has been held from January 24 to February 12, 2018. 42 applications were received.
Coming Out of Isolation: Through Art to Visibility is a joint initiative of IZOLYATSIA and KyivPride that received funding from the EVZ foundation (Germany) as part of the SOGIdarity campaign. Using art as the medium, the aim of the project is, to shed light on discrimination based on sexual orientation and gender identity within Ukrainian society. The organisers hope to ignite a public discussion around these topics.
Published:
16 February 2018, 13:12