IZOLYATSIA at the Book Arsenal 2018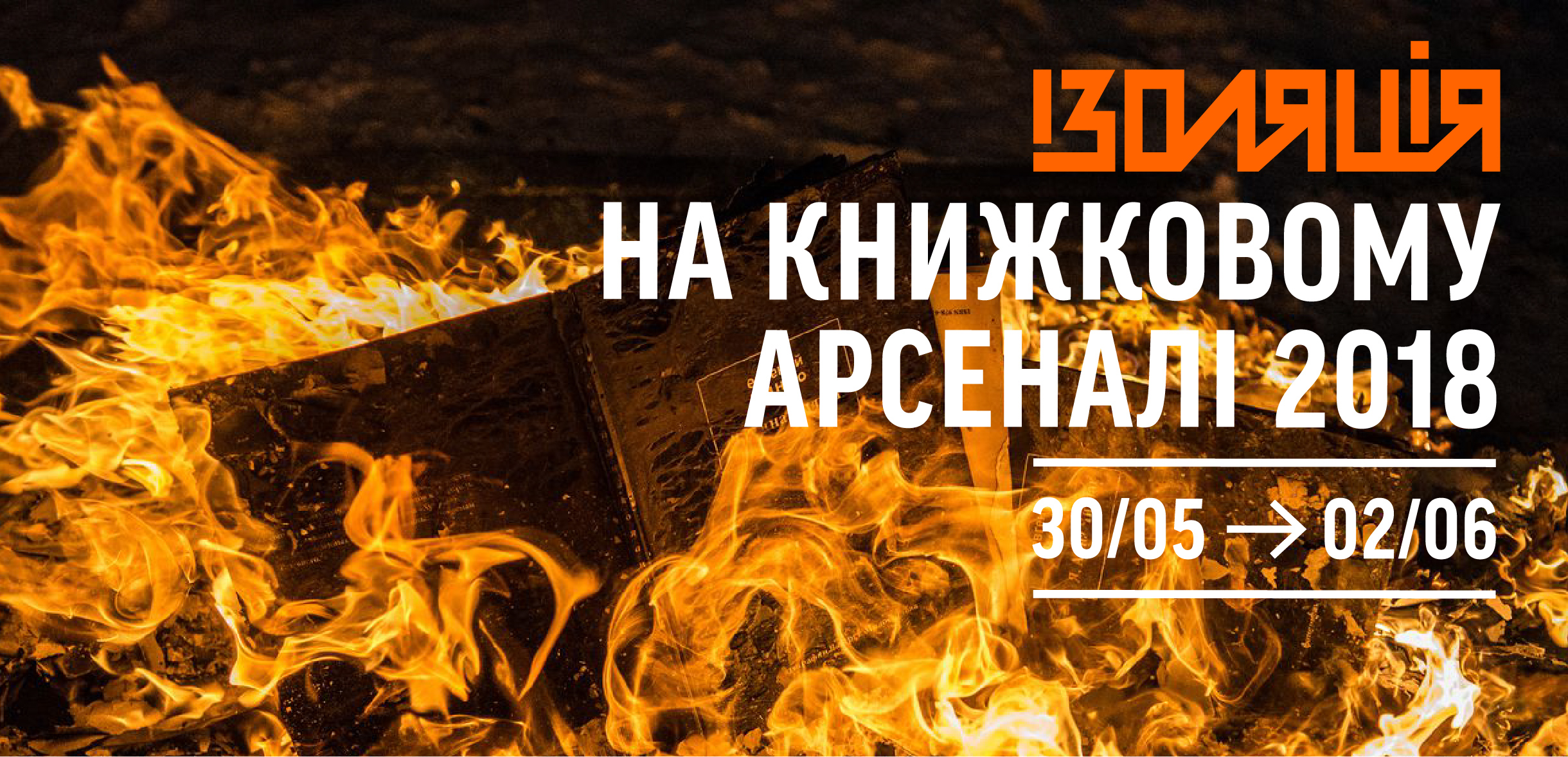 On May 30 – June 3, 2018, IZOLYATSIA participates in the Book Arsenal, presenting a range of special events including a panel discussion from the Donbas studies project, a Book Art Wednesday and the presentation of the Ukrainian translation of the latest book by Anne Applebaum.
PROGRAMME
Wednesday May 30, 3 PM – 3.45 PM
Location: Cafe Europe
Discussion The Holodomor of 1932-1933
Discussion The Holodomor of 1932-1933: A look into the past, present and future will take place as part of the presentation of the Ukrainian translation of Anne Applebaum's recent book Red Famine: Stalin's War on Ukraine.
Participants:
Anne Applebaum (USA) – historian, writer, journalist
Yuriy Ruban – head of the Main Department of Humanitarian Policy of the Presidential Administration of Ukraine
Lyudmyla Hrynevych – Director of the Holodomor Ukrainian Research Centre
Stanislav Kulchytskyi – Institute of History of Ukraine of the National Academy of Sciences of Ukraine.
May 30 – June 3, 11 AM – 8 PM
Location: Workshops
Book Art Wednesday
The Art Wednesday project will celebrate its second anniversary at the Book Arsenal. As part of the festival, Art Wednesday will create a free zone for communication and reading. Visitors will have an opportunity to get acquainted with the book projects that were presented at Art Wednesdays in IZONE, to flip over the books, have a closer look at the illustrations and to communicate with artists. There will be several thematic zones in the space and many examples of works on display: zines, photo projects, book illustrations, etc.
On May 30, at 7 PM, the Book Art Wednesday will present the most interesting cases which will include artist's works, stories and a Q&A session. The list of participants includes artist Dima Krasnyi and author Victoria Khomenko presenting their new zine Not at Home; artist Yevhen Yakshyn with the zine War and Peace; writer Yevhen Minko and photographer Valeryi Miloserdov with the project My name is Anna; painter and graphic designer Olga Lisovska with embroidered illustrations, posters and a zine; photographer Sasha Kovalenko with a photobook project Model; maker Oleksandr Manukyans and his works.
Art Wednesday is a project by IZOLYATSIA that gives creative people a space for the presentation of their art practices. Young artists / photographers / performers / designers creates their art environment each Wednesday from 7 to 9 PM in the space of the IZONE Creative Community. Each participant chooses the format themselves: it can be a presentation, exhibition, film screening, performance, lecture and/or discussion. Art Wednesday's goal is to provide space for creative people to present their artistic practices, as well as to give them an opportunity to share information about current research and ideas, to find like-minded audiences and get an expert feedback.
Participants:
Alina Gaeva, Sasha Kovalenko, Dima Krasnyi, Olga Lisovska, Oleksandr Manukyans, Valeryi Miloserdov, Yevhen Minko, Yaryna Saenko, Viktoria Khomenko, Yevhen Yakshyn
Moderator:
Lina Romanukha
Thursday, May 31, 6 PM – 7.45 PM
Saturday, June 2, 12 PM – 1.45 PM
Location: Workshops
Tour of the Book Banquet, Kitchen and Fluorescent Room by Alevtina Kakhidze and Kateryna Svirgunenko
Book Lunch is an art project initiated by artists Alevtina Kakhidze and Kateryna Svirgunenko in the spring of 2007. The project focuses on books created by artists and includes all components of the book process (content development, design, production, distribution). An artist book may be an author's copy, a hand-crafted unique copy, a limited edition or a normal published version. The first steps of the Book Lunch were towards creating a platform for cooperation, exchange and public presentation of this project at the Centre for Contemporary Art at NaUKMA. In 2012, the Book Lunch was a special guest of the Book Arsenal. This year, the Book Lunch will once again introduce artist books to the audience, this time under the name of the Book Banquet and in collaboration with IZONE Creative Community.
Book Banquet 2018 is a project based on the works of artists created in silk-screen printing technology and presented in the form of intellectual visual food: each visitor can individually form their "lunch"—a book collection. Artists work with themes such as "kitchen", "Ukrainian passport", "sex", "bizarre", "the best of". The exhibition will also include an "open kitchen" equipped with various printing tools. Visitors will have the opportunity to print some collections themselves.
Participants:
Alevtina Kakhidze, Kateryna Svirgunenko, Stas Volyazlovsky, Oleg Gryshchenko, Olena Staranchuk, Krolikowski Art, Masha Reva, Marina Samokhina and others.
Curator:
Alevtina Kakhidze, Kateryna Svirgunenko, Marina Samokhina
Saturday, June 2, 5 PM – 5.45 PM
Location: Cinema Hall
Discussion Perspectives and problems of cultural initiatives in the Donbas
On Tuesday, June 2, at 5 PM, IZOLYATSIA presents a discussion as part of the ZMINA: Impulse project about the possibility of social and cultural changes in the small cities of the Donetsk and Luhansk regions (Mariupol, Kramatorsk and Slovyansk). Scholars, activists and opinion leaders from these cities will participate in the event.
For three months, an interdisciplinary group of researchers has analysed social, cultural and economic changes in the Donbas as well as the activity of NGOs in Mariupol, Kramatorsk, and Sloviansk. The research was focused on the influence of the armed conflict on these cities' economies, labour market, human rights; presence of internally displaced people in local media of Mariupol, Kramatorsk and Sloviansk; civil society development; and the potential of cultural and creative spheres for regional development of the cities in eastern Ukraine affected by the conflict.
Speakers:
Anastasiia Boichuk – fundraising manager, social activist, PhD student at the Kyiv-Mohyla Academy; studies the financing of the cultural and creative sectors in Ukraine
Anton Lyagusha – PhD in history, professor at the Vasyl Stus Donetsk National University; writes about the history of Eastern Europe in the 20th century
Liudmila Heraimovych – researcher, coordinator of municipal projects in resource efficiency and sustainable development, graduate of the Master's programme in Finance at the Vadym Hetman National Economic University; writes about financing sustainable development
Mariia Gryshchenko – urban analyst at the CEDOS think tank, Master in Sociology at the Taras Shevchenko National University of Kyiv
Andrii Solodko – migration policy analyst at the CEDOS think tank, Master in International Law at the Human Rights Institute, Université Catholique de Lyon, France
Oleksandra Slobodian – migration policy analyst at the CEDOS think tank, Master in Economy at the Kyiv-Mohyla Academy and Kyiv School of Economy, Master in Applied Economics at the University of Houston, USA, professor at the Kyiv-Mohyla Academy
Moderator:
Dmytro Chepurnyi.
Published:
14 May 2018, 16:38