Presentation of works by reisdents of the Grounding short-term art residency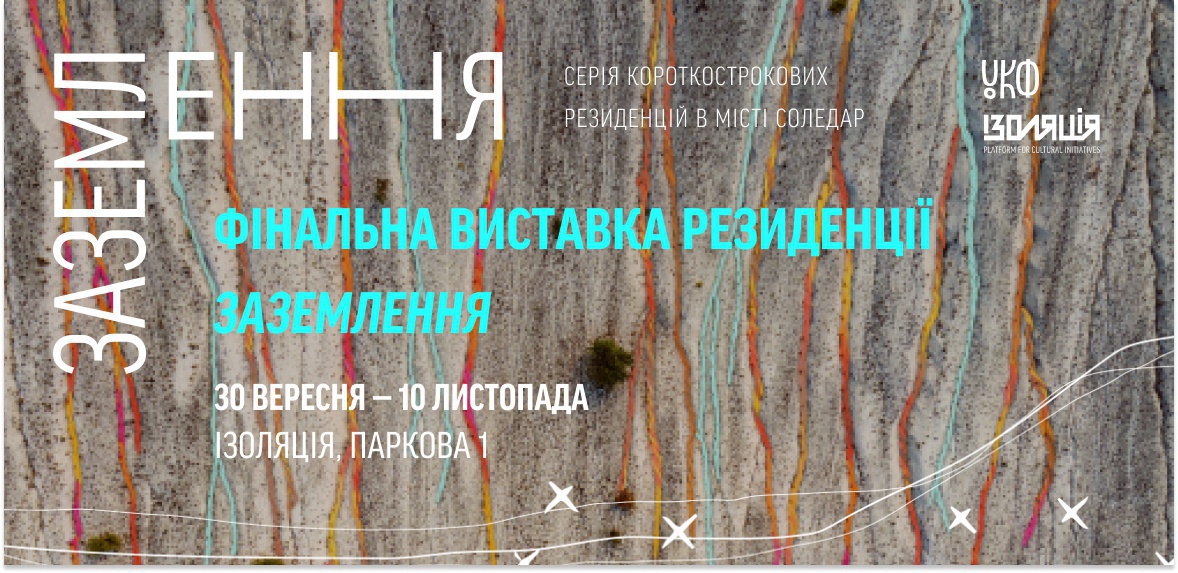 30 September 2021 — 10 November 2021
Over the course of nine months in 2021, the IZOLYATSIA Foundation, in collaboration with the Soledar Amalgamated Hromada and with the support of the Ukrainian Cultural Foundation, conducted the Grounding short-term residency series in the city of Soledar for artists and researchers working with the theme of the Anthropocene.
Since 2019 the IZOLYATSIA Foundation has been working on a research concept under the name Grounding, which takes the concept of the Anthropocene as its starting point. This idea was developed in the early 2000s by scientists and rather quickly appropriated by different areas in the humanities, including contemporary art. 'Anthropocene' describes the geological epoch which modern humanity finds itself in, and which it defines as the central geological force, fundamentally changing the planet's atmosphere, hydrosphere and biosphere.
It was precisely the area's industrial history, the landscapes changed by human activity and the natural diversity of the east of Ukraine that the 19 researchers, artists and art collectives which worked on their projects in Soledar addressed in their exploration of the area.
Thanks to the local residents who willingly shared their knowledge of the city and its history, and joined in the activities offered by the residents, the residents created a series of art works in diverse media such as video, photography, sculpture, painting and installations. Some of the projects are in the post-production stage, and others are already completed. Works by Open Place, Nazarii Zanoz, Valentina Bero, Zoya Laktyonova, Natalya Lyubchenkova, Vitalii Agapeev, Bohdana Voytenko, Natalia Mikhalchenko and Yulia Kirichenko, Evhen Korshunov, Svyatoslav Koverznev and ruins collective will be presented at a mini-exhibition. Astian Rey's sculpture and Roksolana Dudka's mural can be seen in the city's public space on a permanent basis
The video works will be shown according to a timetable.
Nazarii Zanoz's sound walk Briny Steppes will come on every hour.
The Grounding project will continue, and soon an educational programme will be announced, focusing on art, music, the creative industries, and urbanism. Follow announcements on the IZOLYATSIA Foundation's pages on social media and the Telegram channel IZOLYATSIA Soledar.
The residency programme took place with the support of the Ukrainian Cultural Foundation.
The project's media partners:

Photo archive
Video archive