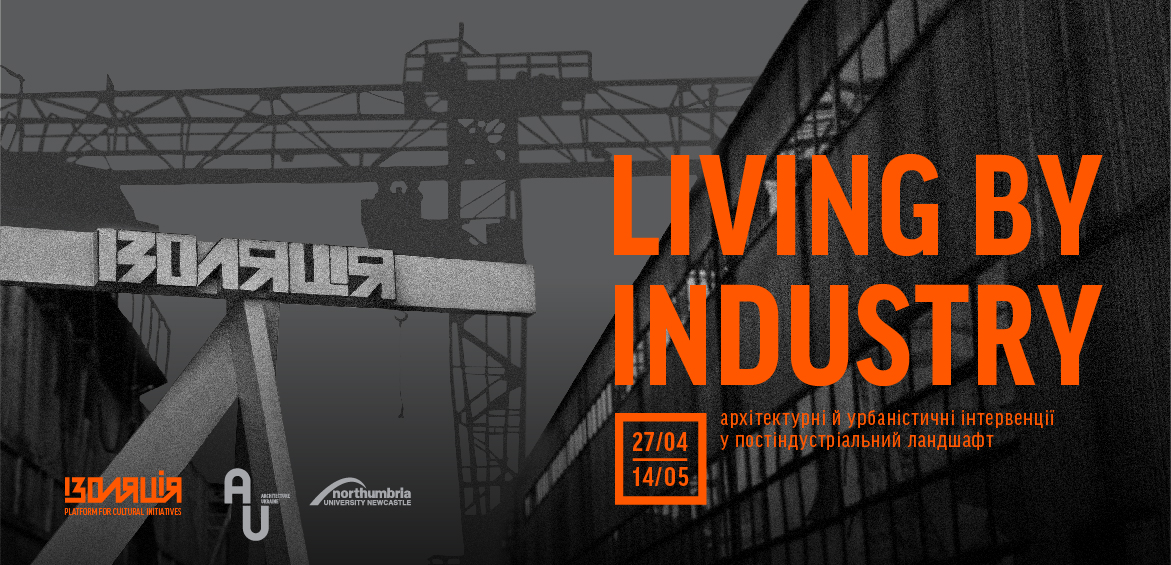 27 April 2017 — 14 May 2017
On April 27, 2017, IZOLYATSIA presents the exhibition Living by Industry, curated by Professor Paul Jones (Northumbria University) and Professor Nick Dunn (Lancaster University). The project is part of a long-term initiative Architecture Ukraine by IZOLYATSIA, started in 2015 and thus far comprising an international artist-in-residence programme in the city of Mariupol, two pop-up exhibitions, and a collateral event of the Biennale Architettura 2016.
The exhibition Living by Industry showcases theoretical projects produced by architects, academics and students from the North of England that are set within, and derive inspiration from, post-industrial landscapes. The curators of the work recognise similarities and parallels in the industrial landscape of Ukraine and those of the North of England. The exhibition consists of two parts: one is principally concerned with architectural responses in relation to urban blight and post-industrial landscapes in the North East of England; the second one explores the immediate environment of the IZONE Creative Community in Kyiv, considered as a post-industrial landscape.
Part 1. Speculative responses to post-industrial landscapes in England
Architect Participants: Joe Crinion, Chris Permain, Marion Price, Aaron Young, David Hunt, Mark Todd, Mark Whiting, Jonny Flavin
The North of England was, in the past, an industrial powerhouse. Indeed, the industrial revolution started in the region and during its golden age 70% of the world's ships was produced here; the first train and rail-network was also developed which revolutionised the movement of goods and services around the world. As a consequence of this explosion of industrial activity, the landscape of Northern England was transformed from rural countryside to a densely populated man-made environment comprising factories, mills, warehouses and tanneries. The 19th century journalist, Angus Reach (1849), described the landscape as '…Hell on Earth' characterised by '…grimy mills and smoke-pouring shafts.'
In the latter decades of the 20th century, the industries collapsed in the UK leaving contaminated landscapes, industrial ruins, significant health issues, and social problems associated with high levels of unemployment. These post-industrial settlements are slowly rebuilding themselves and are finding new economic opportunities; however, the industrial blight remains.
At the exhibition, a collection of theoretical architectural and urban design projects have been compiled that look to improve these post-industrial landscapes by presenting buildings that are a catalyst for new employment and educational opportunities. A number also speculate new industries for the region that use renewable and clean energy.
Part 2. Case study: IZOLYATSIA
IZOLYATSIA – a speculative design for a new cultural quarter
Student Participants: Joss Ryan, Matt Glover, Taylor Grindley, Sarah Kidd, Harvey Cullis, Bart Vautravers, Laurie Blower, Lauren di Pietro, Sophie Thompson, Naveen Jayasinghe
A speculative project for IZOLYATSIA looks to regenerate the IZONE building and its wider landscape into a cultural quarter for Kyiv. The project envisages creating exhibition spaces; studios and workshops for artists and designers; event spaces; living accommodation; cafés and recreational venues; and an open air theatre.
Heels Overhead: A Study of the IZONE Landscape as-found
Artist Participants: Shaun Young, Joseph Wilson
The post-industrial landscape surrounding the IZONE building is a place of peculiar beauty with particular qualities. Overhead warm water pipes, concrete totems, silver trees, and pink dust deposits are some of the physical things that when seen in relation to each other constitute a picturesque landscape of unorderly grace. This collection of drawings and photographs is a record of this extraordinary landscape as-found .
EXHIBITION DETAILS
Curators:
Paul Jones, Nick Dunn
Participants:
Laurie Blower, Joe Crinion, Harvey Cullis, Jonny Flavin, Matt Glover, Taylor Grindley, David Hunt, Naveen Jayasinghe, Sarah Kidd, Chris Permain, Lauren di Pietro, Marion Price, Joss Ryan, Sophie Thompson, Mark Todd, Bart Vautravers, Joseph Wilson, Mark Whiting, Aaron Young, Shaun Young
Schedule:
April 27 – May 14, 2017, Monday to Sunday, 12 PM – 8 PM
Address:
IZONE Creative Community, 8 Naberezhno-Luhova Street, Second Floor
Contacts for press:
Oleksandra Kravchenko, Public Relations Manager
[email protected]

Media partners

Curators