Playwright Lianna Makuch in residence at IZOLYATSIA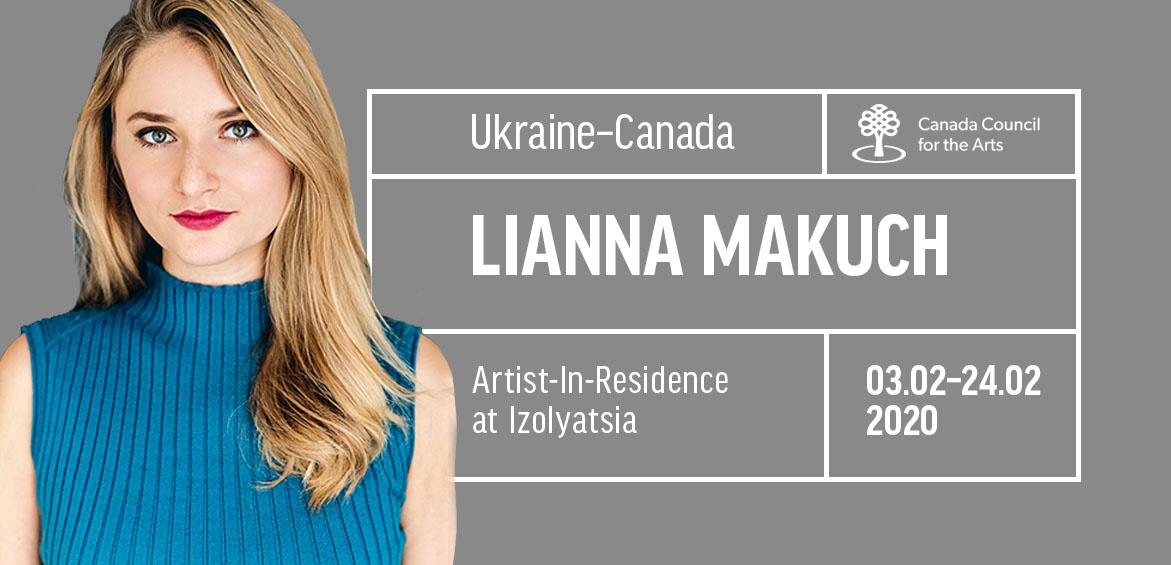 On February 3 - 24, 2020, playwright Lianna Makuch from Canada with Ukrainian origins is in residence at IZOLYATSIA.
Lianna Makuch is a second-generation Ukrainian Canadian theatre artist. She is a graduate of the BFA Acting Program at the University of Alberta and is a co-Artistic Producer with Pyretic Productions.
Pyretic Productions is a Canadian independent theater company dedicated to presenting boundary-pushing contemporary theatre. The company's work raises awareness of political and social issues that affect Canadians and international communities.
Lianna is the playwright and principal performer of the award-winning play Blood of Our Soil. The play is inspired by the experiences of her grandparents who fled Ukraine during WWII, and true stories from the country's ongoing conflict. To develop the play, Lianna and Pyretic Productions' key creatives travelled to Ukraine in October 2017 on a self-funded research trip. There they interviewed close to 50 people living in the heart of the conflict zone in Eastern Ukraine. In October 2018, Pyretic Productions workshopped the script with the Kyiv-based theatre company Дикий Театр (Wild Theatre) and presented a staged reading at the Les Kurbas Centre to a sold-out audience of Ukrainian artists, veterans, social activists, members of the Canadian embassy. Blood of Our Soil premiered in Edmonton (2018) and Toronto (2019) to sold-out audiences and critical acclaim.
Lianna is also a founding member of Canadians in Support of Ukrainian Political Prisoners (CSUPP), and was an integral part of creating and circulating a petition calling upon the House of Commons to demand the release of Ukrainian political prisoners. The petition was tabled in parliament by Linda Duncan on November 9, 2018 and received a supportive response from the Minister of Foreign Affairs, Chrystia Freeland, on January 31, 2019. Lianna was also a key leader in fundraising for the Ukraine-based NGO Our Children, a group which supports families of political prisoners in Crimea.
During the Residency at the Izolyatsia Platform Lianna will be with her colleague Matthew MacKenzie — an award-winning Canadian playwright and dramaturg of Métis heritage, artistic director of Punctuate! Theatre, founder and artistic associate with Pyretic Productions and Canadian liaison of the Liberian Dance Troupe. Together they will focus on the research and development of a new play in collaboration with the Ukrainian veteran community.
Lianna and Matthew will explore the experience of living through contemporary war, the impacts of PTSD, and how it affects the day-to-day lives of civilians and veterans.
On February 21, at 7 pm, Lianna and Matthew will have a script-reading of a play and a talkback (the event will be in English) at IZONE Creative Community (Naberezhno-Luhova, 8), studio 2, 4th floor.
This residency is made possible by Canada Council for the Arts.
Published:
3 February 2020, 12:59